Benefits of Telehealth for Doctors and Patients
Telehealth is the provision of healthcare remotely by means of telecommunications technology. Telehealth can also be defined as the use of "electronic information and telecommunications technology" to offer support to long distance clinical care, public health and health administration. The technology used include the internet, video conferencing, streaming media, store-and-forward imaging and wireless communications.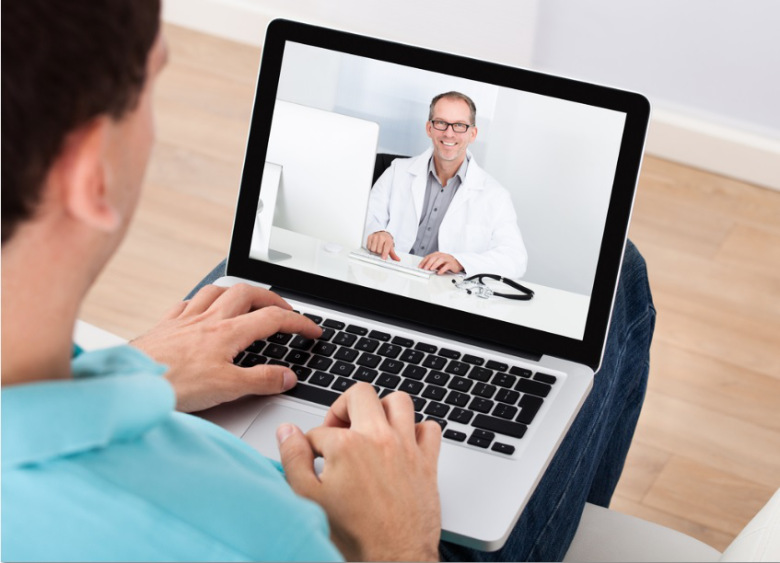 In the following, we will elaborate on the benefits of telehealth for doctors and patients one by one.
1. Saves time for both doctors and patients
Telehealth goes a long way in helping save time. People who live with a disability can attest to this. Usually, it takes a long time driving to see doctors that are not conveniently located to receive their latest test results. This process can easily be done through a video consultation. A perfect platform for having such a video consultation is on ezTalks Cloud Meeting. This cloud-based telehealth video conferencing system gives room to collaborate and communicate online.
Telehealth technology has made it possible for the patients to stay in their home. Supervision can be done through use of telehealth. When patients are close to home, recovery is faster. In addition, children miss out less school time if a doctor through telehealth can see them. It is effective and fast. Patients who opt to forego treatment due to reasons such as time saving and money can receive healthcare through telehealth. Additionally, the danger of traveling during winter weather is removed. Telehealth reduces unnecessary admissions and readmissions to hospitals.
2. Helps doctors manage patient's conditions effectively
Telehealth allows remote specialists to determine whether a patient will need to be transferred to another health facility or they can remain where they are. This will allow the patients to manage their health conditions more effectively at their own personal support network. If the patient can have access to internet, then they can easily access doctors through web conferencing and have professional doctor instructions passed to them. Telehealth benefits are made possible by such technological innovations.
3. Helps clinicians access patient readings any time they need them
Clinicians have access to patient readings any time they need them. Telehealth technology allows doctors to keep these records and access them whenever they need them. This increases the efficiency of the service provided by the clinicians. This also greatly reduces the instances that clinicians misdiagnose their patients due to either having the wrong patient readings or even losing them fully. Patient readings can help clinicians do proper follow ups to their patients and even ensure that they vastly improve their health and prevent any other negative health occurrences that may have taken place to proceed on.
4. Enables patients understand their condition more
Telehealth enables patients to understand their condition. Telehealth involves use of the internet. The internet is a broad tool that contains many links to various different information. The internet is also very user friendly and on a search platform such as google, patients can type in what they are feeling and the search engine will convey to them results that match their symptoms. This goes a long way in helping the patients understand more about their conditions.
Additionally, the patients can also access home remedies that may help them control their condition. This helps the patient feel better and is a benefit of telehealth nursing. Other than studying their symptoms on the internet, web conferencing can also be part of the solution that the patients might need. If a patient does not have the knowledge to search their condition online, they can organize an online meeting with their doctor and their condition will be explained to them more and in a professional manner. Indeed, this is a prolific telehealth benefit.
5. Helps health facilities attend to more patients
For the health facilities, telehealth has made it possible for hospitals to attend to more patients. This is because many patients opt to stay at the comfort of their homes. Though the patients do not show up physically to the hospitals, they still get the vital services they need. This leads to freeing up of capacity in the hospitals thus resulting to better, faster and more efficient service delivery by the hospitals.
6. Diverts the attention a doctor passes to a patient
Even though telehealth can have many positive effects on patients, it poses some dangers to it too. Some patients need to be followed up in order for the doctor to ensure that they are following all the instructions provided to them for full recovery. Some medical drugs are sensitive and if they are not well taken, the desired results may not be achieved. Thus, a doctor's constant review on a patient may be helpful in preventing such a situation from taking place. There are several pros and cons of telehealth but at large, telehealth has gone a long way in improving the lives of many patients.
In conclusion, the above listed telehealth advantages go a long way in assisting a patient to get well soon. Telehealth technology has improved the way doctors pass their critical services to patients and ultimately, it has helped in transforming lives.