Engage customers across the globe easily
A complete online engagement platform that enables you to quickly and cost-effectively send text message, fax and make phone call to your customers and partners.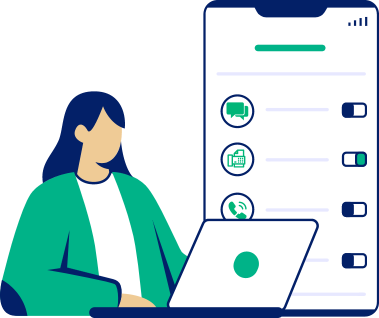 Top 3 reasons customers choose eztalks
Easy to use
No need to learn complex skills, your focus on your content. We will get rid of all of the work. Sign up eztalks today to get free credits and Toll-free phone numbers to trial.
All-in-one platform
One platform helps your business get private phone numbers, two-way chat with customers, send and receive bulk SMS messages and faxes, and make voice calls.
Pay-as-you-go
No subscription cost, and all products and services are in the Pay-As-You-Go price model. Add and spend credit whenever you choose. Stay in total control.
Easy to get started — explore our products today!
Message
SMS Message
Send and receive text messages online. Easily send bulk messages with campaigns.
Learn More
MMS Message
Engage your customers via picture, file, audio, and video message.
Learn More
Fax
Send Fax
Easy and affordable to fax online anywhere with any e-device. Send faxes securely globe with confidence.
Learn More
Receive Fax
An online Fax inbox for your business to receive and manage your fax easily and securely. Get real-time notifications for every fax received. Never lose connections with customers!
Learn More
Voice
Make Calls
Quickly call global customers and close deals with click-to-dial online anywhere and on any e-device.
Learn More
Receive Calls
Make customer experience a competitive advantage with cloud call center IVR menus, skill-based routing, live call monitoring, and more.
Learn More
Phone Number
Local Numbers
Get the local phone numbers the same as your customers in different regions. More trustable and reliable for local customers!
Learn More
Toll-Free Numbers
Get Toll-free numbers for your businesses and organizations, and make it easy and inexpensive for customers to contact.
Learn More
It's easy to get started. Sign up for free.
Create your account and get free credits and a free number today