Best 5 Auto Webinar Player Alternatives 2019
Automated webinars (also called pre-recorded webinars) are regarded as a key to successful demand generation. Auto Webinar Player is one of the pre-recorded webinars platforms in the market. Several Auto Webinar Player features help to automate your webinars successfully. For example, emails you set can be delivered within a couple of seconds of the intended scheduling. But you may find extremely limited Auto Webinar Player reviews on the webpage. Also, some complain that it only focuses on pre-recorded webinars.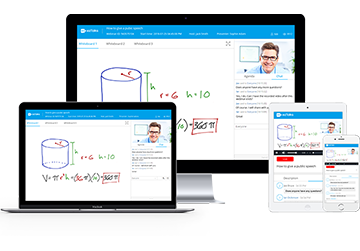 Top Auto Webinar Player Alternative
Free for up to 100 Participants
Fluent HD Video/Audio Quality
Screen Sharing and Whiteboard
Polls, Survey and Recording
Rebranding and Paid Webinars
Sign Up Free Now
Are you looking for Auto Webinar Player alternatives? Here is a list of best 5 Auto Webinar Player alternatives that may help you out.
1. ezTalks Webinar
ezTalks Webinar is the best choice whether you want to autoplay your webinars over and over again or host live webinars easily. As for the Automated Webinar service, you can conduct live simulated online webinars anytime with minimal resources. Here are some of the advantages of ezTalks Webinar:
Advantages
Automated Webinar
★ More cost-effective
a) Affordable pricing plans start at $32/mo/host for 100 participants.
★ More time-saving
a) Easy & free to log in with ezTalks, Facebook or Google account.
b) Able to join the automated webinar via the web browser without software download.
c) Customize your automated webinar with your brand and your webinar pages quickly by virtue of its default webinar templates.
★ More active
a) Deliver a pre-recorded webinar via HD video and crystal-clear audio frictionlessly.
b) Chat with a single participant or all participants.
★ More productive
a) Get automated incomes by setting up paid webinars.
b) Get reports to analyze your webinar and improve the upcoming webinars.
More Functions for Live Webinar
a) Allow up to 100 participants and 10,000 audiences in a live webinar for free.
b) Enable an interactive whiteboard to graphically explain some points and ideas.
c) Support smooth screen sharing with other participants.
d) Conduct polls to collect the audiences' feedback.
e) Can record the webinar for playback and sharing to boost your webinar exposure. (You can also upload the recordings as automated webinars after downloading.)
Why not try this powerful Auto Webinar Player alternative to make every live or automated webinar a great success?

2. Stealth Seminar
As a popular alternative to Auto Webinar Player, Stealth Seminar is also an automated webinar platform, which can present automated webinars that play at times you designate. You can run unlimited automated events and at the same time, you can run a live chat.
Advantages
a) A few standout features include the ability to schedule unlimited events, schedule intricately timed "call-to-action" sequences during events, and even incorporate with the email marketing system.
b) It allows you to track who attend your webinar, how long they stay and automatically enter them into the sequence you desire based on the length of time they have stayed at your webinar.
Disadvantages
a) Pricing plan is relatively expensive - Initial fee of $97 and then monthly fee of $69.95.
b) You have to purchase an upgrade to allow integrations with your email service provider.
3. OfficeVP
OfficeVP is one of the strong Auto Webinar Player competitors. It is an all-in-one solution to help you create webinars that play on autopilot. It especially boasts of its smart email services. As a digital marketing solution, if you focus more on marketing, OfficeVP may be your right pick.
Advantages
a) Lots of professional features are available like Email Analytics, Email A/B Slit Testing, designed templates and so on.
b) This automated software offers all-in-one email services with no need to open third party accounts with email marketing providers like aweber, constantcontact and mailchip verticalresponse.
Disadvantages
a) You can only enjoy the Automated Webinar service after you buy the pricey ENTERPRISE pricing plan.
b) Its features are so professional that you need to spend more time learning how to take control of this software.
4. Demio
Demio gives you the chance to put your events on autopilot with a pre-recorded presentation and other simulated elements. What you should do just to upload the video in Demio and you're good to go, or you can easily select one of your past Demio recordings in your account.
Advantages
a) It is possible to schedule your automated webinar to run at specific times on specific dates, or recurring options such as daily, weekly, or monthly.
b) You can create Polls and Handouts with preset times in order to completely automate engagement and increase audience interaction.
Disadvantages
a) Registration page customization is a little basic.
b) You can set up an automated webinar after you pay for the GROWTH PLAN of $69/mo.
5. EverWebinar
Created in November 2015, EverWebinar is a product from Genesis Digital, also the maker of WebinarJam. But it is designed for webinar automation. Why it can be in the list of the best Auto Webinar Player alternatives? Here are the obvious advantages:
Advantages
a) The Live Chat Simulator can be made full use of, which creates automated chat responses during the webinar.
b) The EverWebinar integrations allow you to connect PayPal for paid webinars like ezTalks Webinar.
c) You can pre-record a custom video to play for attendees while they're sitting in the "waiting room" waiting for the webinar to begin.
Disadvantages
a) Some users complain that it is not easy-to-use enough, so sometimes, creating automated campaigns may be confusing.
b) Most suggest another solution if you want to host live webinars.
Conclusion
Do you want to use automated webinars to engage prospects? Do you want to use automated webinars to maximize your revenue? Do you want to use automated webinars to attract more leads and conversion? Don't hesitate to pick your ideal software! Among those AutoWebinarPlayer alternatives, ezTalks Webinar definitely performs the best in terms of its price, features and ease of use.