EverWebinar Review and 5 Best EverWebinar Alternatives
Acquiring emails are a great way to build relationships with potential customers. To close the sale, you need a webinar. A webinar is one of the best marketing tools you can use to give leads extra value, talk about your product, and close the sale.
Setting up a webinar is easy for some, and complicated for others. There are a host of webinar providers that promote stability, automation, and an array of features. Today we introduce EverWebinar review and share some best EverWebinar alternatives.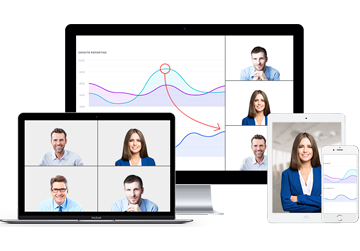 Best EverWebinar Alternative
Free for up to 100 Participants
Fluent Group Video/Audio/IM Chat
Screen Sharing and Whiteboard
Webinar Polling and Recording
Webinar Custom Branding
Sign Up Free Now
EverWebinar Review
What is EverWebinar? Created in November 2015, EverWebinar is a product from Genesis Digital, also the maker of WebinarJam. It focuses on webinar automation.
EverWebinar Features
EverWebinar is mainly used to schedule and create automate webinars, which is good for making evergreen webinars. The everwebinar integrations allow you to connect PayPal for paid webinars. Facebook Ads, Infusionsoft, Leadpages, and MailChimp are others. You can use the Live Chat Simulator, which creates automated chat responses during the webinar. You can also track sales using their sales and everwebinar affiliate platform.
Price
The EverWebinar pricing is standard. An annual fee of $597 gives you access to all features.
Pros
-A lot of handy features to get automated sales.
-You can get an EverWebinar discount of $100 when you sign up.
Cons
-It's not "live" so you have to feel comfortable creating a simulated webinar.
-Creating automated campaigns are confusing, and time-consuming on the platform.
-No YouTube Live and Facebook Live integration.
-Most EverWebinar reviews suggest another solution if your focus on live webinars.
5 Best EverWebinar Alternatives
If you have a ready-made video funnel, you can automate sales of EverWebinar. If you're looking to connect and engage the audience with a live webinar regularly, it's not the best webinar tool for the job. Below is 5 best EverWebinar alternatives recommended for you.
1. ezTalks Webinar
ezTalks Webinar is one of the best EverWebinar alternative setting up a webinar free and easily. It delivers a seamless webinar experience with multiple interactive tools such as a HD video and audio chat, screen sharing, whiteboard, polls, etc. brand, ezTalks Webinar is becoming a more and more popular choice for those to host a webinar with thousands of participants.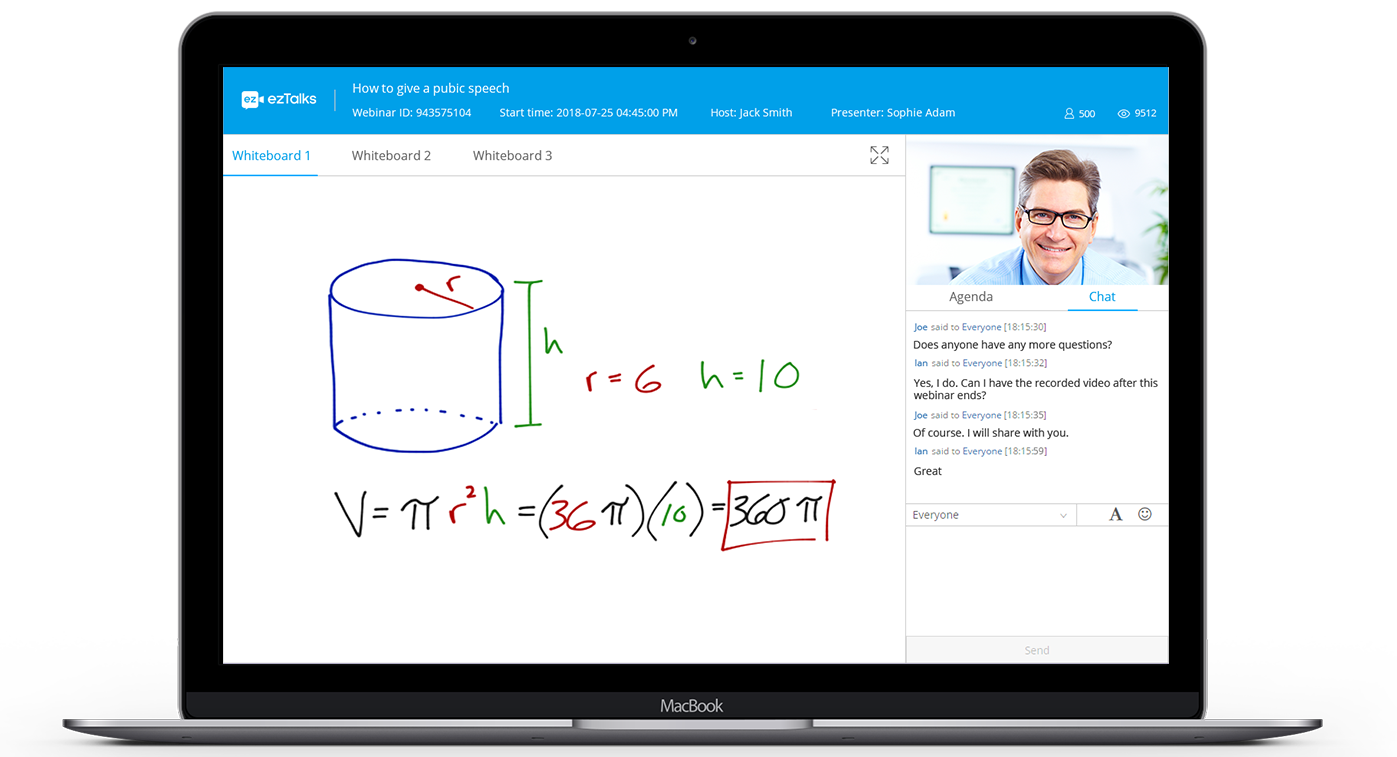 Features
ezTalks Webinar stands out with up to 10,000 attendees and 100 active video participants, which is excellent for webinars with a large audience. It has a simple interface, so webinars can be set up with a few clicks. Before the webinar, you can customize agendas, invitation pages, and logos. In the webinar rooms, ezTalks Webinar has features like attendee management, chat features, quizzes, and whiteboard. Analytics built-in can give you attendee and webinar stats. They also optimize for mobile with a downloadable app.
Pricing
ezTalks webinar pricing starts at $40 per month for up to 100 video participants and 100 audiences.
Pros
-Very scalable with up to 10,000 participants and 100 presenters.
-Very easy to use for the new users unfamiliar with webinar setup.
-Outstanding HD audio and video quality even under low bandwidth.
-Can customize brand, webinar waiting room and registration.
-Multiple interactive tools like screen sharing, whiteboard, and webinar polling.
-Webinar recording with 2GB cloud storage.
-Detailed webinar report for webinar analysis.
Cons
It only offers a free webinar trial with 100 minutes duration; However, you can flexibly choose to use whenever you want.
ezTalks Webinar is an excellent choice if you look for the best webinar software with quick setup, HD quality, and robust reporting at a competitive price.
2. AnyMeeting
AnyMeeting is another EverWebinar alternative that performs well. You can use it to broadcast your information to a large audience for multiple purposes like marketing, training and broad communication. It has a range of features that give the user what they needs.
AnyMeeting Features
AnyMeeting Webinar Pro can work with up to 1000 attendees and 4000 invites. It also allows 6 live presenters simultaneously. It provides 1GB storage, which means you can keep your PowerPoint Slides on the platform. Other features include, polling and quizzes, emoji responses, on-demand webcasting, and email marketing management.
AnyMeeting Pricing
AnyMeeting charges $48 monthly for 50 attendees and $248 per month for 1000 attendees. These are all billed annually.
Pros
-PayPal Integration allows users to charge for webinars.
Cons
-High bandwidth needed. Webinars crash if internet connection is not fast enough.
-Does not scale well for larger audience needs.
3.WebinarJam
WebinarJam comes from the same company that created EverWebinar. So why would the same company create two webinar products? The concept of EverWebinar vs webinarjam is simple. One creates live webinars and one specializes in automated webinars. Webinarjam focuses on live with a host of features to support it.
Features
WebinarJam integrates with products like Facebook Live, YouTube Live and Google Hangouts. To set up a live webinar, they provide landing page templates and email management and marketing. Inside the webinar, you get whiteboards, hand-raising, quizzes, and attendee management.
WebinarJam Pricing
One yearly payment of $479 every year or three monthly payment of $189 every year.
Pros
-Good for live stream events online
-Support broadcasting to Facebook Live and YouTube Live
Cons
-Customers reported constant crashing and bandwidth issues.
-Some webinars are blurry and have delays.
-Only 6 active video participants (co-presenters) are allowed in one webinar.
4.Livestorm
Livestorm is a simple webinar provider based in Europe. They have a range of features and focus on being lightweight and easy to use.
Features
The strength of Livestorm comes from operating in browsers only. This means lighter resource use for presenters and participants. It also comes with other features like email reminders, email invitations, chat features, presentation sharing, and landing page templates. It integrates with some marketing tools to assist with reminders.
Livestorm Pricing
$90 USD monthly for 100 attendees.
Pros
-Lightweight as it is browser based.
-Automated reminders, follow ups make it easy to use.
Cons
-High price point.
-No on-demand webcasting
-Users have reported issues in Firefox browser
-Simple but useful features missing like whiteboards and hand-raising.
5.RingCentral Webinar
RingCentral webinar is part of the RingCentral Technology. Its focus is for enterprise customers, providing webinars for over 10, 000 atttendees and 500 presenters.
Features
RingCentral webinar has customizable registration forms. You can customize invitations via email and integrate various business platforms. Audio management, chat and attendee management are available on this platform.
RingCentral Pricing
RingCentral Webinar Pricing starts at $40 per month per host for up to 100 attendees and $990 per month per host license for up to 3,000 attendees.
Pros
-You can integrate RingCentral's products for a more interactive experience.
-Scalable with up to 3,000 attendees with up to 200 presenters for live webinar sessions.
Cons
-Webinar interface is not so user friendly, confusing for users to sign up for webinars.
-Users experience difficulties in the setup of RingCentral software at times.
-Customer support is pretty poor when there are issues; it takes a long time to get a response.
Conclusion
Setting up webinars can be confusing (for example webinar jam vs EverWebinar). More and more webinar providers are coming out, each claiming to make the experience fast and valuable. To select the best webinar hosting platforms, there are several EverWebinar alternatives out there. For a powerful lightweight approach, ezTalks Webinar look like the best bet.