3 Free Online Video Conferencing Software
Video conferencing technology gradually becomes a preferred method for enterprises that have distributed workplaces to break the geographical restriction to collaborate together and do cross-region business. With the increasing market demand,a great deal of video conferencing software emerge. However,some video conferencing software turn out to be too expensive,especially for small businesses and start-ups which have limited budget.
If it troubles you,don't be! There are still some free online video conferencing software with rich feature,which satisfy your need of remote collaboration easily.
1. ezTalks Meetings
2. Zoom Cloud Meeting
3. Skype
1. ezTalks Meetings
ezTalks Meetings as the name implies,is a free online video conferencing software that empowers you to host and join meetings online easily. It has just launched 100-participant plan for free that no enterprises ever provided before. It's such a good piece of news that small business and start-ups are able to connect with up to 100 remote employees and cooperation partners living in different places simultaneously with no cost.Advantages:
•Host up to 100-participant meeting;
•Unlimited meeting times;
•Share interactive whiteboard & screen to sharpen your ideas;
•Record any sessions and save as audio or video for review later;
•Meet right now or at a scheduled time;
•Share webcams in high definition;
•Offer full screen and gallery view to give you a real eyeful;
•Support both instant group chat and person-to-person chat;
•Provide concise and intelligible interface for you to easily handle;
•Fully compatible with a feature-rich video conferencing equipment - ezTalks Onion.Disadvantages:
•Group meetings end after 40 mins automatically.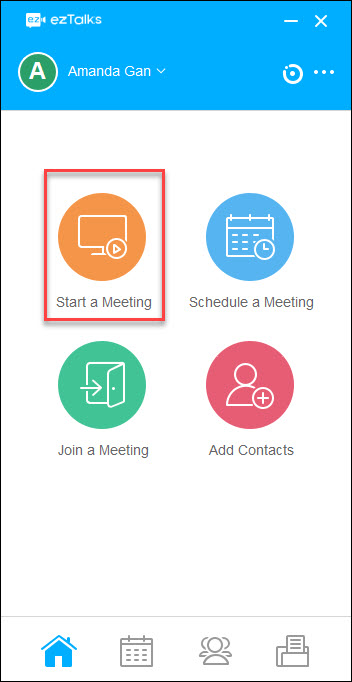 2. Zoom Cloud Meeting
Just like ezTalks Meetings,Zoom Cloud Meeting is also a cloud-based free HD video conferencing software to allow you to stay connected wherever you go. By using it,you can start or join a 50-person meeting face to face online for free!
Advantages:
•Meet with up to 50 participants;
•Unlimited number of meetings;
•Offer active speaker view,gallery view and full screen to meet your visual enjoyment;
•Share multiple whiteboards to draw,draft and type;
•Support screen sharing with co-annotation and files sharing;
•Fully compatible with Mac,Windows and Linux;
•Host a meeting at once or schedule a meeting at a fixed time;
•Chat with any one or all with the built-in IM,and save the chat history;
•Make anyone to be the host and take the meeting under full control;
•Enable to record audio and save as MP4 or M4A files.
Disadvantages:
•40 mins limit on group meetings;
•Screen sharing is easy to be paused;
•Emoticons can't be sent in the built-in IM;
•Video can't be recorded.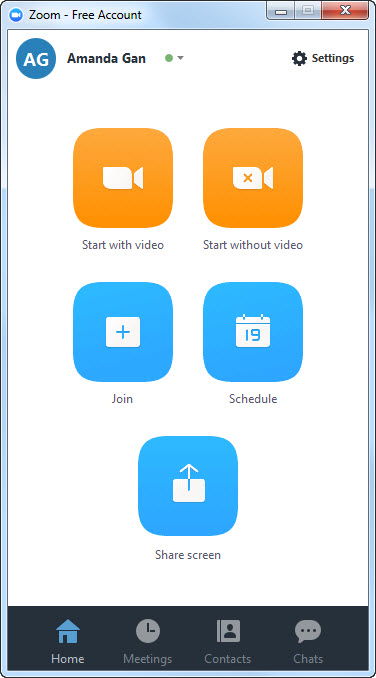 3. Skype
Skype is more than a well-known social networking software,but free video conferencing call software. It makes it easy to get up to 10 people on group video calls to to chat and work closely with each other. Just download and install Skype,and start collaborating!
Advantages:
•Make one-to-one video calls;
•Make free group video calls;
•Send instant messages to catch up with anyone in the group;
•Support screen sharing and files sharing in a group video call.
Disadvantages:
•Only meet with up to 10 participants in a group video call;
•All participants should have Skype installed on their computers connected with a video-capable camera or on their devices.