5 Best Way to Livestream an Event Online
One main benefit of livestreaming an event is that it enables the sharing of valuable information. You are in a position to share information with your customers, employees, sales team and clients. Moreover, you are also able to achieve engagement and instant feedback through polling, chat and social media platforms like Twitter. Another important benefit of livestreaming is that it greatly helps in saving money and time. With live streaming, long-distance travel is not required and therefore the cost of live streaming an event is cheaper. Consequently, here are the 5 best way to livestream an event online.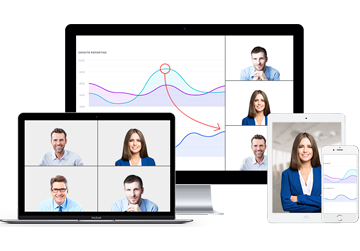 ezTalks Livestreaming Tool
Free for up to 100 Participants
Fluent Group Video/Audio/IM Chat
Screen Sharing and Whiteboard
Webinar Cloud Recording
Webinar Custom Branding
      Sign Up Free Now
I. ezTalks Webinar
The ezTalks webinar platform is specialized for the purpose of providing you with reliable solutions for live event stream. The ezTalks webinar is regarded as one of the best way to livestream an event for its capabilities and rich features which allows up to 100 interactive participants per session. The live event broadcasting can not be much easier with ezTalks Webinar for the easy steps and rich interactive features like screen sharing, polling, customized invitation, online IM chat etc. The following are the steps to live event broadcasting using ezTalks platform.
a. Go to the website of ezTalks and proceed to register an account. Once your identity has been verified by the software is when you will be able to proceed further.
b. Go to the Webinar option on the left menu and click on Schedule a Webinar, fill in the Details, Waiting Room and Registration pages as below, then click on Preview or Publish. In this process, you can also choose whether to stream your webinar on YouTube & Facebook or not.
c. Once is it published, it will show on the My Webinars page. Right click on it and you can Preview/Start/Edit/Close/Delete it.
d. Invite potential participants. You can do that by inviting your attendees by Emails or by contacts. Alternatively, on my webinar page, use the sharing link provided to share on different social media platforms.
e. Start your webinar. Click "Start A Webinar" on the ezTalks client and then start the live event stream.
e. Do a follow up after hosting your webinar with cloud recording feature. Ask if any of your webinar participants or attendees have questions based on the particular topic you just addressed. To be able to make any future webinar adjustments, you can employ the use of polls and survey and a feedback function for tracking the engagement of the attendees.
So how much does it cost to livestream an event using ezTalks. Users can use the free trial opportunity which allows 100 minutes for free to experience all the paid features. The cost of live streaming an event is $40/month, which is quite affordable.
II. Facebook Live
Facebook is one of the best way to livestream an event that enable us to be able to stay connected anytime. One of its recently introduced features is livestream functionality. Using the Facebook Live feature, one is able to share a moment or an event that is happening where you are. This tool provides you with various features to enable live event broadcasting. Some of the features offered include the ability to choose your audience and track the number of viewers during various points of your event. In addition, using Facebook Live is not as complex compared to the traditional livestreaming platforms.
a. On the News Feed section, simply tap the option for "Live" that is symbolized using the camcorder icon.
b. Facebook will prompt you to give it access to your microphone and camera.
c. Choose your preferred privacy setting.
d. Write a description that is captivating.
e. Tag your friends, select a location or add the activity.
f. Set up camera view.
g. Add filters, lenses, drawing or writing to your video.
III. Instagram Live
One of the recently added Instagram features is Instagram live as the best way to live stream event and the feature is part of the Instagram Stories feature. The major difference between Instagram Live and other broadcasting products including Periscope and Facebook is that this particular feature is ephemeral. Meaning that when the Instagram Live video ends, the video disappears and therefore there is no replay.
a) Access the "Your Story" camera tab.
b) Set up video and appropriately configure your settings.
c) Engage with your viewers.
d) You can turn off comments or pin a comment.
e) When done, simply end your video.
IV. YouTube Live
This tool is free and it is available to all users of Google and YouTube. The free tool permits for up to 10 broadcasters to instantaneously participate. Once a broadcaster is live, anyone having the link is able to view your livestream.
Other features included chat room capability, viewing invitations and event scheduling. The livestreaming tool provides a simple option for livestreaming having the potential to reach even a wider audience because of the popularity of the YouTube service.
a. Once you are logged in on your specific YouTube channel, then on the top right side of your channel, there is a camera icon provided. When you click it, there are two options provided which are "Upload Video" and "Go Live".
b. Once you have enabled live streaming, you proceed to either start streaming straightaway or simply schedule an event live.
V.  Google Hangout
This feature also allows you to be able to host live events online. The tool is perfect, particularly, for broadcasting business events. That is broadcasting presentations, discussions, webinars, and large meetings. Using a webcam that is well-placed, you are able to broadcast live event sessions and allowing people to watch through your Google+ page.
a. Go to Google Hangout on Air section, plus.google.com/hangouts/on air.
b. Select the option for "Create Hangout On Air".
c. Provide your live stream with a name and a description.
d. Select a time. Either you can immediately start broadcasting or just schedule your event.
e. Select your preferred privacy settings.
f. Click share and right away invite people.
In conclusion, these are only some of the best ways for live event broadcasting. There are other various ways available and as I had said earlier you do not have to concern yourself with how much does it cost to livestream an event. It is cheaper compared to holding face to face meetings or events. Live event broadcasting is the way to go.