How to Record Webinars on PC
Webinars can be described as online seminars that transform a presentation into a conversation in real-time from anywhere on the globe. They basically facilitate online discussions,slides and document sharing among a large group of participants regardless of their physical locations. There are many reasons why it is necessary to record a webinar as listed below: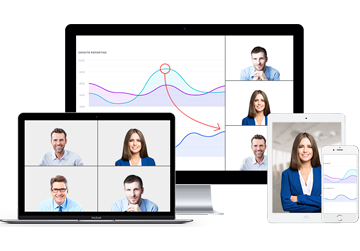 ezTalks - Best Free Webinar Tool
Free for up to 100 ParticipantsFluent Group Video/Audio/IM ChatScreen Sharing and White BoardWebinar Cloud/Local RecordingWebinar Custom BrandingSign Up Free Now
Why Need to Record Webinars on PC?
• It is quite useful with regard to the simultaneous training of a group of staff.
• Recorded webinars can be used multiple times to make presentations.
• Recorded webinars are useful to individuals who experience difficulty in grasping content in a webinar at once as it allows them to clear any doubts that they might have.
• Recorded webinars are invaluable when utilized as self-paced learning tools,especially for slow learners.
• Webinars,especially free ones,should be recorded because a large percentage of percentage of audiences who register fail to attend it. This means that the recorded webinar link can be sent via email to those who missed,so that they can also view the presentation.
• Webinars should be recorded as it allows attendees to share the knowledge they have acquired with other people.
• Recording webinars are also useful social marketing tools to be used on social network sites.
• Recording webinars,especially for paid seminars,is useful as it can be sent to the audience that missed instead of a cash refund.
How to Record Webinars on PC?
Video conferencing has become a very popular solution for collaboration and ezTalkssoftware is at the frontline. This is because it is a platform that is easy to use when communicating with co-workers,customers as well as colleagues. ezTalks is a professional webinar recording software and a top video conferencing solution all over the world. It can accommodate up to 10,000 participants in a webinar. There are many interesting features that define ezTalks Webinar,and the main ones are as listed below:
• Large Meeting Capacity
ezTalks Webinar can easily accommodate up to one hundred participants in a webinar for free,and up to 10,000 participants with its Pro plan. Furthermore,it supports unlimited cyclical meetings and an unlimited number of meetings.
• Face to Face Collaboration
ezTalks Webinarclearly imitates the traditional face-to-face communication,but the only difference is that it has moved it online and utilizes crystal-clear audio and ultra-HD video. This fosters sound business relationship as well as maintains collaboration that is both productive and interactive.
• Instant Chat
It provides real time private and group chat. This allows for attendees to send messages in the form of text during a webinar to an individual or even to the group chat room. This helps in the sense that it does not disrupt the meetings.
• Discussions and Sharing
ezTalks Webinarhas a powerful sharing function that is inclusive of interactive whiteboard and screen sharing. Whiteboard and screen sharing allows users to freely share any ideas as well as proposals. It does this while permitting participants to easily co-annotate to enable fast decision making. This promotes collaboration and easy information sharing.
• Recording and Playback
ezTalks Webinarenables consumers to record an entire webinar that is useful for online learning and staff training. Playback promotes reinforcement of useful information and getting missed information.
• Host Online Meetings
ezTalks Webinarallows for seamless online meetings from mobiles and desktops. It is compatible with Android-based devices,Windows,iOS and Mac.
The features listed above are just but a few as this webinar recording software has an array of interesting as well as useful features.
3 Steps to Record a webinar on PC
There are usually some unexpected reasons that make people to miss webinars and this is why it is good to record webinars. The following are the steps to follow on how to record a webinar on your PC with ezTalks Webinar.
Step 1. Download ezTalks Client on your Windows or Mac PC and install it. Run the software. Proceed to enter both email address as well as password in order to sign in to an ezTalks account.
Note: Click the Downloas button to download the windows version. For Mac version downloading,you can click Download Center.

Step 2. Click Schdule a Webinar and right click to start the scheduled webinar,as this allows you to navigate through the interface of a virtual webinar room.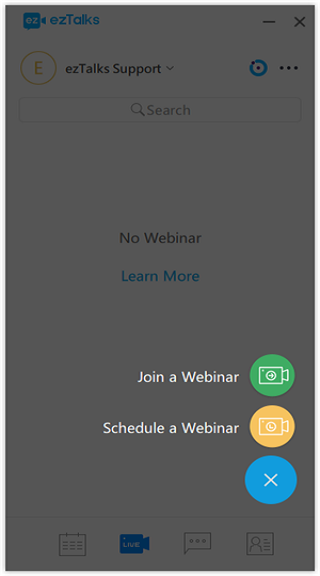 Step 3. Then,invite customers and colleagues to attend the meeting. Click on the red circle dot in order to begin recording a webinar. If you want to pause the recording,simply click on Pause and Resume to proceed with the recording of the online meeting. In case you wish to stop recording of the webinar,simply click on Stop. Click on the red circled dot once more if you want to start another recording.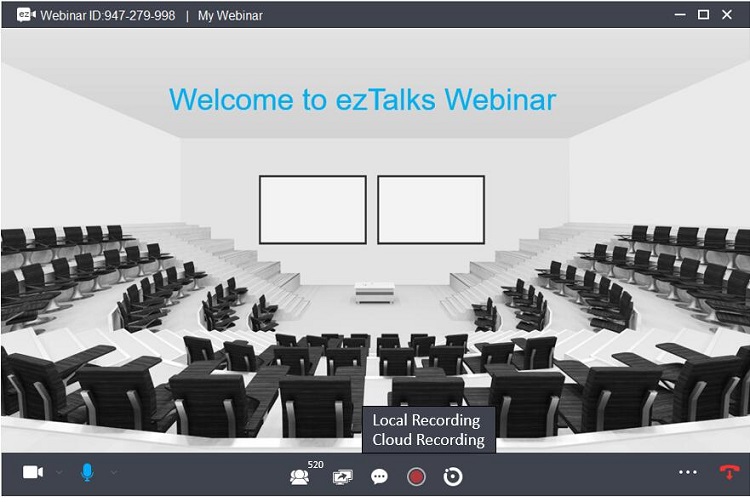 If you choose cloud recording,the recorded webinat will be automatically saved to the cloud storage. If you choose local recording,then the recorded webinar will be automatically savedto local computer at D:Program Files (x86)ezTalksezTalksDesktopRecord and this applies to both audio and video recordings. However,this file acan be changed if desired.
Conclusion
The above three steps indicate how simple it is to record a webinar on PC with ezTalks Webinar. Now that you know how to record a webinar on your PC,try using this amazing software today.