Top 8 Web Conferencing Software for 2017
The internet has made it possible to overcome the challenges pertaining to geographical distance and the barriers of time. There are many ways and means by which we can get in touch with one another individually or as a group. In this article we will be looking at the various facets of web conferencing. We will try and find the answer to the question what is a web conferencing software. Additionally,we will also try and have a look at 8 web conference software service providers. We are sure this will provide customers with some idea about the various things to be kept in mind while choosing these service providers.
What Is Web Conferencing?
Put in plain and simple words when we talk about web conferencing software we are referring to an internet based online service. This will allow you to hold live conferences,live meetings,trainings and presentations making use of the internet. You will in most cases be making use of TCP/IP connections. The conference can be held either by connecting with the people at the other end using telephone or by using the computer speakers. You also could use the microphone and in all the above cases you will be making use of the VoIP protocol.Hence,when you are planning to go in for the right web conferencing software,you must keep the above basic technology in mind. It would be pertinent to mention here today that a sizeable chunk of businesses and commercial dealings happen through such web based conferencing and discussions. It certainly makes the job easy,cost effective,efficient and productive. Even small and medium sized organizations are going in for web based conference software because of the obvious benefit and advantages associated with it.
Top 8 Web Conferencing Software for 2017
Now that we have some idea about web conferencing and the reasons for its popularity,we will now look at 8 great web conferencing software for 2017. This will help customers have some basic information and then take the right decision. The list is quite big and therefore we have listed down the ten most popular in terms of popularity from the customers' perspective.
1. ezTalks Meetings
Many customers feel that this is an easy to use online software web conferencing solution. It is cost effective and you can host unlimited high quality HD video conferencing and could easily accommodate up to 100 people per meeting for free. It offers the best of audio and video conferencing,content sharing,screen sharing. It is suitable for a host of applications including government,training,education,healthcare,community,military and much more. It is suitable for teaching,webinar and meetings.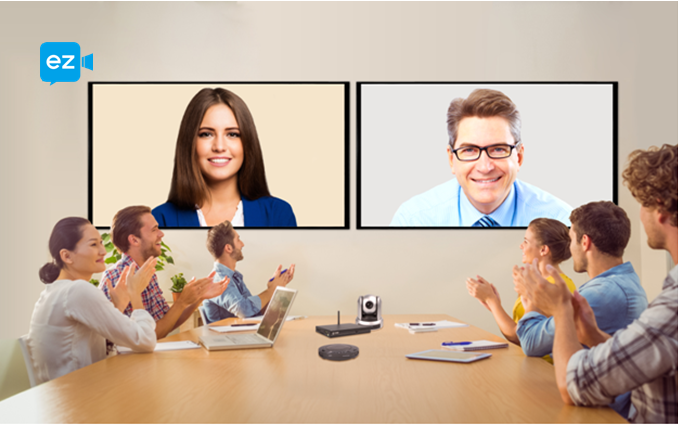 2. Zoho Assist
This is a web based conferencing software which is a simple and straightforward user interface. It helps to get connected to any computers located in remote corners of the world,provided they are hooked on to the internet. It can go through proxies and firewalls once the users at the other end give the required permission. It is also quite affordable with basic packages being available for $12 per month per user. It can be deployed on the web,SaaS,and cloud environments.
3. TeamViewer
When you have TeamViewer you will be able to connect to any service,device or PC across the world within a few seconds. It is available in thirty different languages. According to many customers it is one of the most popular when it comes to providing quality online meeting software. It is suitable for remote monitoring,IT asset tracking,and also for providing the best cloud backup solutions. They have something known as ITbrain which also is suitable for anti-malware functions and various other such jobs.
4. Adobe Connect
Adobe might be famous for PDF and other such documentation files,but they also have a wonderful online web conferencing software known by the name Adobe Connect. This is certainly quality software offering a wide range of functionalities. It is something that can be used for a number of purposes,including virtual collaboration and much more. Hence Adobe web conference software is for those who look for quality.
5. Cisco WebEx
Cisco is another company which provides one of the best web conferencing software WebEx meetings. They have packages starting at $24 per month. They have many different bundles and the same can be clubbed together,keeping in mind specific needs and requirements. There are quite a few things good about the Cisco web conference software and it also offers a limited free trial. It has the capability of the meeting calling you instead of you making the call.
6. GoMeetNow
For those looking at a quality web conferencing software,it is quite obvious that they should look at the GoMeetNow web conferencing software. It is a powerful tool for those who are in the need of making the best of interactive whiteboard applications. However,there are a few who feel that the user interface is dated.
7. ReadyTalk
They have over the years become a reputed and respected online web conferencing software solutions provider. They are known for solutions that are easy to use,intuitive and quite affordable and not taxing on the pocket. You also can expect the best of support which can compare with quality service providers in the world.
8. Speek
Speek perhaps could be the place to be in for those who are looking for super simple conference call solutions. They have a quality visual interface. End users could use a personal or business link instead of using a phone number of PIN. There is no software download needed and elevator music is also not there.
Conclusion
There are just a few of the many web conferencing software solutions available in the market today. Though most of the other offers almost the same functionalities,it would be worthwhile looking at a few of them and then taking a decision.