How to Conduct a Webinar
A webinar refers to a web based seminar which can be a lecture, meeting or presentation. Webinars are becoming popular in the modern world where Internet access is soaring, and businesses are operating on tight schedules and budgets. A typical webinar often includes more than 20 participants. Webinars give the freedom to add your team to a conference or meeting in the most convenient manner. The good thing is that you can conduct a webinar from anywhere and anytime. Webinar programs usually have some common features such as:
• Live chat option
• Recording option
• Offer file sharing between the participants
• Easy screen sharing
• Reminders to help you schedule, reschedule or cancel webinars
Why Should Companies Conduct Webinars?
Before showing you how to conduct a webinar, we'd like to tell you why companies like conduct webinar now. Webinars are taking different aspects of business such as marketing by a storm since they allow real time audio and video conferences to take place even when the participants are in different physical locations. Below is a discussion on some of the benefits of webinars to companies.
Face to Face Interaction with Your Customers: It is always a nice idea to have an idea about the needs of your clients rather than using guesswork. As face to face interaction with your customers helps make the deal better. You will end up with a group of clients who are always satisfied with your services which translate to improved profit margin. The face to face interaction also helps build and maintain healthy relationships with your customers since it allows you to hear and interact with your clients in real time.
It Is convenient: A webinar allows you to interact with your customers, colleagues and business partners all over the world without traveling or having them leave their offices. You avoid hours the long hours of traveling.
Highly Cost-effective: If you are hosting a meeting or conference through a webinar, you are avoiding traveling expenses which are cost effective and more attractive is the fact that some of the webinar software is available free. The webinars that come at a fee assure more flexible features and more benefits.
Helps You with Your Promotion: Scientific research shows that videos tend to enhance people's understanding of the issues by at least 80 percent. This means that if you are demonstrating features of your product or service through a video chat, then you can have a significant impact on how your audience perceives your product or service.
How to Conduct a Webinar for Free?
ezTalks Meetings is a high-quality HD video conferencing tool which offers both small and big businesses a suitable platform for the best webinar conducting. It gives you the power to conduct a webinar for free for up to 100 participants. It is also one of the best webinar programs currently available in the market. Some of the outstanding features of ezTalks Meetings include:
• You can start to conduct webinars freely by simply joining its free plan.
• You can add up to 100 people to your webinar freely.
• It gives you the freedom to record webinars for future reference.
• It supports all types of operating systems, say Windows, Android, Macintosh and iOS
• With it, you can easily schedule, reschedule or cancel a webinar with sending reminders to your webinar participants.
• It also offers you with a variety of tools such as an online whiteboard tool for explanation purposes, an online screen sharing tool, an instant messaging tool and much more.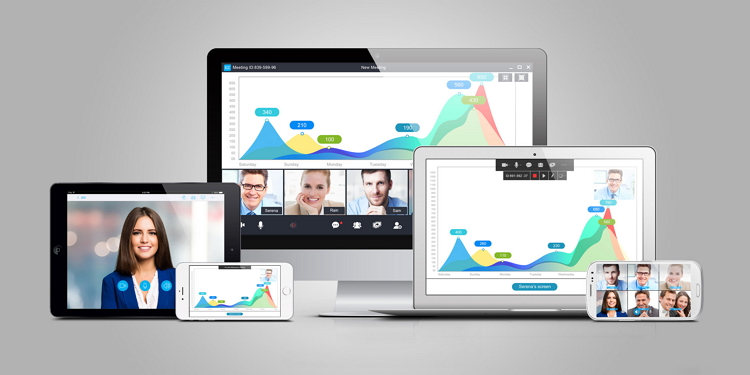 You can also upgrade to its premium plan with a monthly or annual subscription for webinars which allows to host up to 500 participants. Apart from having exciting features such as lock meeting, permit speaks and kick out, the program also provides you with the much-desired flexibility to host or join webinars from any device. Be it your laptop, tablet or even Smartphone.
A Step-by-step Guide on How to conduct Webinars freely with ezTalks Meetings
Having already got an idea about ezTalks Meetings? Here is a quick guide on how to conduct a free webinar with the program.
Step 1: Download ezTalks Meetings
The first thing you need to do is download the latest version of ezTalks Meetings from the official website here. There are options for Windows, Macintosh OS X, Android, and iOS. Once you have downloaded the program, you will have to install it on your device.
Step 2: Sign Up for ezTalks Meetings
Once you have successfully installed the program, open it, and you will be prompted to sign up. Click on Sign Up, in the lower right corner of the Login interface. A page pops up which requires you to fill in your email. Do so and click on Sign Up free. An email is sent to the provided email address. Go to your email and open the new mail from ezTalks. Click on the activate account. A page pops up requesting you to fill in your email address and preferred password. Do so and click on "Activate Account."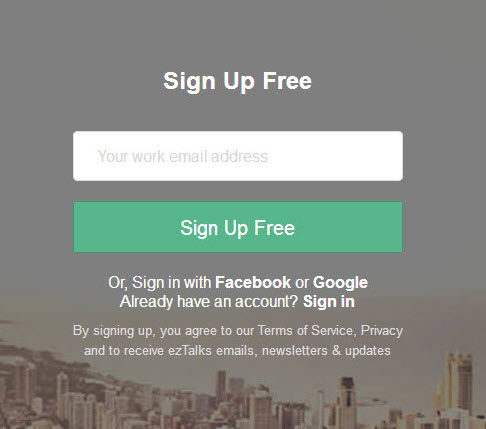 Step 3: Start Conducting a Webinar via ezTalks Meetings
Make sure that your camera, speaker and microphone are in the right place and functioning properly. Click "Start a Meeting" option to enter into your webinar room. You can click on the Invite button to invite people to the webinar.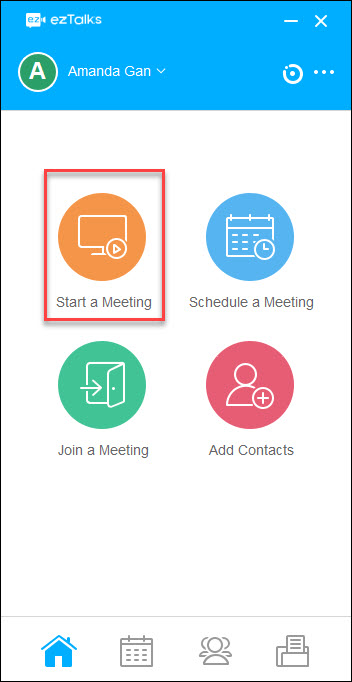 Final Thought
In summary, webinars offer an effective communication solution for modern day businesses. There are numerous reasons why each company should conduct webinars online. Whether it is meeting business partners or training your sales people, a webinar will get the job done in most interesting way.