Top 5 Meeting Apps For iPhone
Live meetings refer to holding meetings online mainly for business purposes. A company with foreign branches needs to connect its employees and well as branch managers. Live meetings can be held from a smartphone/iPhone using intuitive applications. This is more convenient compared to accessing the service on PCs or physically.
Live meeting apps for iPhone support conferencing by allowing employees to share presentations when away from the office. These apps have enhanced video and audio features to ensure effective communications. Business owners and managers can schedule meetings online using a simple process on their iPhone,and can invite employees to attend and share ideas virtually. This discussion aims at giving an insight on some of the best iPhone live meeting applications.
1. ezTalks Cloud Meeting
This meeting app for iPhone brings simplicity to online meeting. It comes with a free version for online meeting and screen sharing in high definition. It supports interactions of up to 100 members at a time for a session of 40 minutes. It provides a collection of unique features,like screen sharing,hosting a meeting,scheduling online meetings and remote control.This app also packs features like group chats,private chat,online meetings recording,an interactive whiteboard sharing,among others. It is a very secure app with the capabilities of protecting participants' information with encryption and advanced fraud protection. The support team is always available in case of any complications. It has 3 plans,namely the starter,pro and enterprise subscriptions host up to 100,500 and 10,000 participants respectively.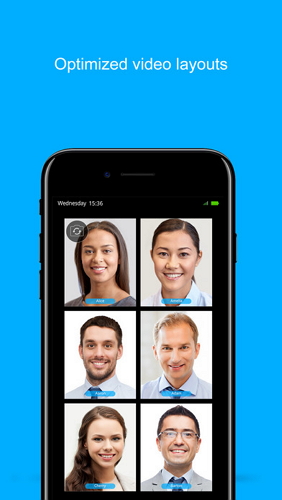 2. iMeet
iMeet for iPhone offers a new conferencing experience. You can start and join a meeting through video and are capable of sharing presentations from your iPhone. The user interface is very intuitive and comes with updates. There are personal meeting controls which allow you to navigate and view meetings much easier. The meeting schedule and other meeting details can be sent via an email.
Enhanced audio features allow you to communicate more clearly via a wireless connection. You can also delegate presentations using iPhone. This iPhone meeting app also provides cloud storage and chat capabilities. All contacts in the iPhone are automatically synced. You only need to sign in using your iMeet credentials,to join or start a meeting. It comes with a free version with all premium features for up to 3 participants.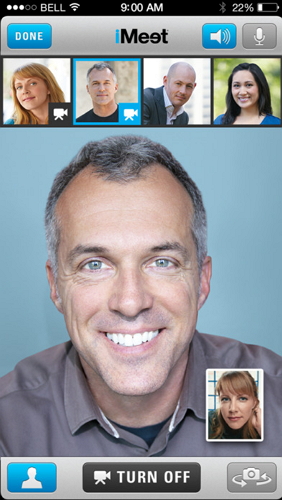 3. FCC-Dialer
FCC-Dialer allows you to join or host conference calls easier and faster without using dial-in credentials. It allows you to save numbers and conference access codes. This iPhone meeting app keeps your teams,families,and friends connected. You can also store and create multiple conferencing accounts. They can distribute different invitations and dial into conference calls instantly.
It is free to download as well as create the account. You can host up 1000 callers for an individual conference session or call. Call management can be done by using simple commands. You are provided with calling reservations around the clock. It supports international conferencing and eliminates the need to remember access or dial codes. It provides cloud storage for existing accounts.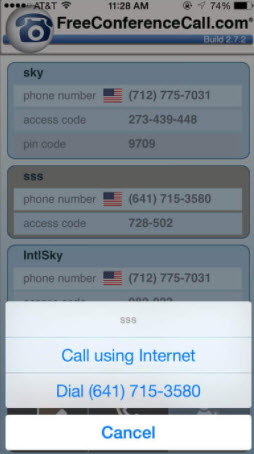 4. UberConference
This meeting app for iPhone is designed with a colorful interface and provides automatic social media connections. The latter allows you to learn more about the other participants by clicking on their image. You can initiate a call by simply sending a link. A post call summary list allows you to track member participation. The interface provides buttons for muting and removing participants. A free version allows you to host up to 17 people. Pro Plan hosts up to 100 people. Other features include call recording,personalized music,and a conference schedule.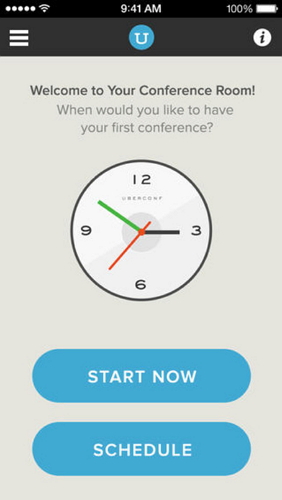 5. GoToMeeting
GoToMeeting is another easier way of hosting,scheduling and joining a meeting from an iPhone at your convenience. It accommodates up to six shared webcams in a video conference. You can view different versions of presentations,including spreadsheets,slides,design mock-ups,among others. Joining a meeting is free,whereas hosting requires to create a GoToMeeting account.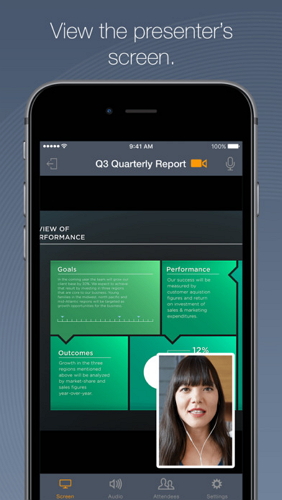 In conclusion,these are some of the best meeting apps for iPhone which come with free subscriptions. They provide some innovative features like cloud storage,meeting scheduling,calls,screen sharing,social media interactions and more. These apps allow you to connect internationally. Others also allow the user to manage multiple accounts,mute conversations and also remove participants. Mobile meetings offer flexibility and convince,and ensure business continuity even when employees are committed elsewhere.