How to Master A Video Conference Interview
Finding the perfect candidate for a certain position is always a hard task. In order to do that,you will have to conduct a series of interviews,which can be stressful and sometimes ineffective. That's why,more and more companies tend to extend their scouting areas,and to search candidates from other locations. However,because distance is a problem,many recruiting managers are opting for a video conference type of interview.
A video conference interview is the best method to have a remote interview with your potential candidate,being able to see and listen to him / her in real time. Considering the technological improvements,a video conference interview isn't very different from a face-to-face type of interview. Because of that,it's expected to become a standard in the following years,especially for the first round selections.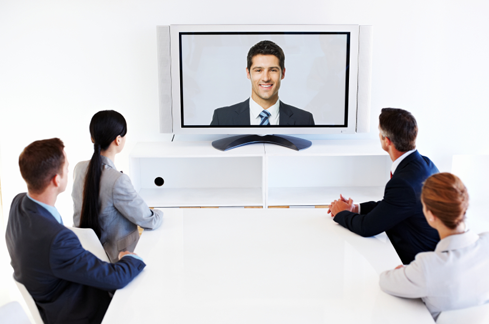 Part 1. Why Many Enterprises Prefer Video Conference Interviews
Every recruiter knows that time is one of its most valuable assets. After the CV screening,he/she has to move fast,and interview as many candidates as possible. Because nobody can select a candidate based entirely on the CV,a live discussion is mandatory. But scheduling an interview,waiting for the candidate to arrive and having the actual interview takes a lot of time and resources. Also,if the applicant is from another location,he/she will have to travel to your location and spend some money on transportation. This isn't very convenient for your candidates,and some of them will decide that it doesn't worth the trouble. In this way,your company will lose many good candidates. Considering these inconveniences,more and more enterprises would rather have avideo conferencing interview. The interviewer can meet with the candidates from the comfort of their own homes and see if they're suited for the position or not. Also,the process is way faster and the productivity of the recruitment can be significantly improved.
Part 2. How to Conduct the Perfect Video Conference Interview?
a) Things to Know Before Video Conference Interviews
- Communication Method. When it comes to video conference interviews,ezTalks Meetings is without any doubt,the best solution. Designed especially for video conferences,this tool summarizes all the necessary features,for a smooth and effective interview. It delivers high-definition video and crystal clear voice to let you hear everything that candidates express and know the candidates by observe their body languages. Besides,it enables to share screens,sketch out ideas with an interactive whiteboard tool,record the whole or part video conferencing interview process and more
ezTalks Meetings provides with a wide area of video conferencing products,from software-based meeting rooms to cloud-based solutions. Every enterprise that wants to create a good image and prove that they're true professionals,should work with avideo conferencing solution like ezTalks Meetings.
- Prepare the Camera and Microphone. Just because the video conferencing interviews will be held virtually,you still have to make some preparations beforehand. Any logistical flaw will look bad and unprofessional,so it's for the best to avoid that. Even though you know that your gear functions properly,you should double check it and make sure that the camera and microphone are enabled. Make some tests and observe the quality of the light or any sound distortions.
- Find a Quiet Place. This is another important aspect of any successful video conferencing interview. A loud environment will make you look unprofessional and the candidate might get bothered by the background noises. Also,you might get distracted and won't be able to hold the interview in a smooth and effective manner.
- Pay Attention to Your Clothing. Many new recruiters tend to forget that a video conferencing interview has to be as formal as a face-to-face interview. Even though the discussion will be held virtually,you still have to respect the company's policy and look professional. Therefore,it's extremely important to arrange your clothes and to make sure that everything is in order.
- Practice. As a recruiter,you probably know what are the key points of your following discussion,but it never hurts to practice a little. Some new recruiters are not very comfortable with talking through a screen,so if you didn't do it before,it's for the best to practice with a colleague. This way,you will also verify your internet connection and your equipment.
- Prepare the Materials. If you have some documents that will be needed for the interviews via video conferencing,you should prepare them before. Make sure that you have a list with the key topics of the interviews,the candidate's CV and any other material that might help you.
b) Things to Know During Video Conferencing Interviews
- Maintain Eye Contact. Eye contact is important in every official meeting,and this also applies for video conference interviews. Even though your instincts will tell you to look at the computer monitor,you should avoid doing that. Instead,you should focus on the camera.
- Don't Hesitate to Ask Many Questions. A video conferencing interview has the same point as a regular interview. To select the best candidates and screen them for employment. Besides the regular questions,you should have some specific inquiries,regarding their preparation and previous experience.
- Maintain a Formal Attitude. The candidates need to feel that they're dealing with a serious enterprise. In order to express professionalism,you need to maintain the interview etiquette. Introduce yourself,explain him / her how the interview is going to develop and kindly ask the candidates to keep their questions for the end.
- Avoid Doing Any Hand Gestures. This is not recommended even in a regular interview,but you should definitely avoid it,during a video conference interview. Hand gestures can be very bothering for the candidate and they also tend to create a lot of lag.
- Don't Make Unnecessarily Noises. A desk microphone tends to capture all the surrounding noises,so it's for the best to avoid any background noises. Any noise will be amplified and this can be bothering for the applicant. Keep the environment as quiet as possible.
Part 3. Conclusion
A video conference interview is the most reliable and effective method of holding an interview. Even thought there are some specificpreparations for video conferencing interview that have to be done beforehand,it will surely bring more results than a regular interview. It will give you significant advantages over the competition and you will interview a higher volume of applicants. Just use a specialized video conferencing solution and you will soon be able to recruit the best candidates in the industry.