How to Fix WebEx Screen Sharing Not Working Issues
With the advancement of technology,it possible to hold online meetings through video conferencing tools available on the market. Some of the most trusted video conferencing tools include ezTalks Cloud Meeting and WebEx. These are the best tools to consider if you want to share screen with the meeting participants. In fact,these online video conferencing tools will make your business operations much easier. In this case,we are going to have a closer look at WebEx Video conferencing tool.
What is WebEx Video Conferencing?
If you have no idea what WebEx is,then you have come to the right place. This tool allows you to have an online meeting with both PC and mobile users. In this case,you can share the content from your computer and the participants will see the same things at a time. So long as you are connected via Audio,you can easily share word document and PowerPoint files. Moreover,you can let other attendees control the meeting and share their content. Overall,WebEx can help small business host online meetings in a professional and efficient manner.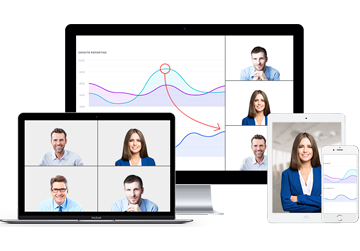 Easy Screen Sharing Software
Free for up to 100 Viewers
Clear and Fluent Screen Sharing
Whiteboard and Co-annotation
Group Video/Audio/IM Chat
Remote Control and Record
SIGN UP FREE NOW
How to Fix WebEx Screen Sharing Not Working Issues?
Unfortunately,there are some instances where WebEx do not work as expected. Here is a guide on how to fix the WebEx screen sharing issues.
Problem Joining the WebEx Session
This happens if you do not have a reliable internet connection. In this case,the browser will hang when you want to set up WebEx window. To fix this issue,you should ensure that your computer meets the system requirements of the WebEx software. You can do the Join Meeting Test to see if the system is ready.
Problem Joining Audio Conference
You have joined WebEx session and see a green Mic blinking on the participants'panel,but not hear anything. If there is Mic icon on every participant except yours,then you have not yet joined the audio conference. You might have mistakenly closed the pop-up window that prompts you to join the audio conference. However,you can fix the problem by clicking Audio then Integrated Voice Conference then Join Conference buttons. You can then speak to the participants by clicking "Ask for Mic" button on the participant's panel. The presenters will then pass the Mic to you.
Unable to Share Documents
You are the presenter but you cannot share text,Excel,or PowerPoint files. Ideally,the software converts the selected files into WebEx Document using a print loader. You cannot share the presentation if you have no administrator privileges to add Printer rights on your PC. In this case,you can use share Desktop or Share Application. Alternatively,you can email the file to the hosts who have Administration Rights.
Missing Details in the Shared Document
In some cases,you share the documents but the other participants will not see all the details. If you use Share File,then inserted objects and special fonts will go missing. In this case,you can use Share Application instead of Share File.
Annotation Tool Is Disabled
During WebEx session,it is only the presenter who has the authority to allow annotation for other participants. Therefore,the annotation is disabled by default for all attendees. Therefore,you can enable this feature by clicking Menu then Participants and then Assign Privilege. You can check the Annotate button under the attendees' panels and click Apply icon.
Recurring Echoes during the Conference
In this case,all the participants should use a headset with a mic. Moreover,the attendees should mute their Mic if it is not their turn to speak. However,the participants may use headphone or earphone together with laptop mic.
The Webcam Is Not Working
Your webcam is plugged into your computer but the other participants cannot see you. In the participant panel,you should click the webcam icon beside. Then click "Start My Video" icon beside your name. In this case,the other participants will see you.
Conclusion
The availability if video conferencing tools have made online meetings easy for businesses. There top-notch video conferencing software such as WebEx and ezTalks Cloud Meeting. With these tools,you can hold video calls and share screen with other participants. In some case,the WebEx do not work as expected. However,the guide on how to fix WebEx issues will help your achieve flawless online meeting. PNG Images via VipPNG & PikPNG