Top 4 Online Video Collaboration Tools
Teamwork is very important for the success of meetings,but the traditional gathering of team members from different parts of the country/world is now not preferred much,because it proves to be expensive,both in terms of money and time. Nonetheless,teamwork still remains important and online video collaboration tools is what makes it possible and that too seamlessly. If you select the right online collaboration tool then you will never have to deal with stream lags,choppy video and audio,annoying downloads,dropped calls,or any other technical issues. In fact,things will be as crisp and clear as if every member is present in the same room. Let us now get to learn about 4 such tools that will make online video collaboration a perfect experience for you once and always.
1. Zoom
Zoom is a very popular online video collaboration tool that has a great number of interesting features to offer,including,screen sharing from mobile or desktop,HD video conferencing,the ability to select gallery views or full screen for video streams (or select different views if you have multiple monitors) and so on. Zoom also allows you to send group texts,audio,and image files,and use its collaborative whiteboard during meetings. As it allows you to join the meetings through your mobile device using cellular network or Wi-Fi,it makes things even more convenient for those who are always on the go.
Using its free version you can enjoy up to 40 minutes meeting with 25 people,and one-on-one unlimited calls. There are other plans that start at $10/month and allow you to enjoy various advanced features.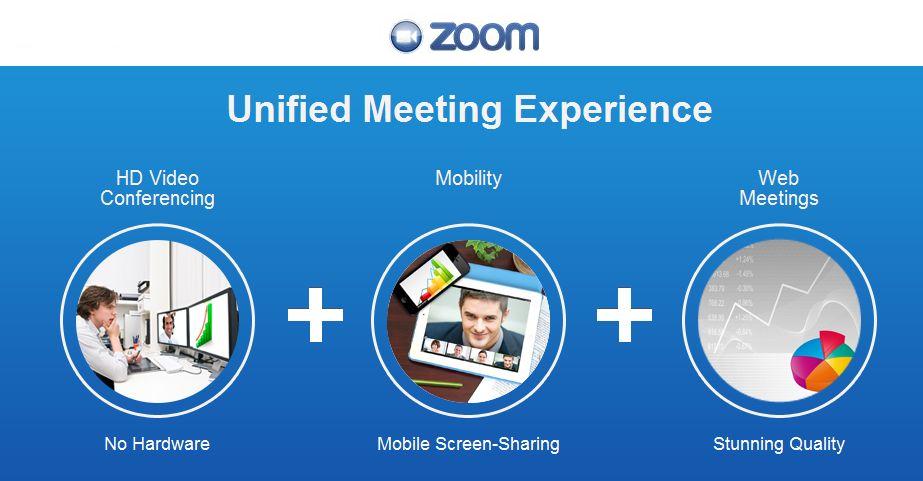 2. ezTalks
If you are interested only and only in the best video collaboration online,an experience that you will truly cherish,then your search ends with ezTalks. It is,in fact,the best video collaboration tool and you have three different packages to choose from depending on your requirements – Starter,Enterprise,and Pro. Though the starter package costs you nothing,it still offers you far more than other video collaboration tools do. You can include up to 100 participants in total,and you can hold as many meetings as you want to. There are so many features you can enjoy including live broadcasting through your browser,HD voice,HD video,and unlimited cyclical meetings,and so on. You can also enjoy gallery as well as full-screen view,instant content and screen sharing,innovative whiteboard,cross-platform chat,proper control and management,and lots more. Apart from the free starter plan,you can join the Pro plan for $12.99/host/month and also the Enterprise plan.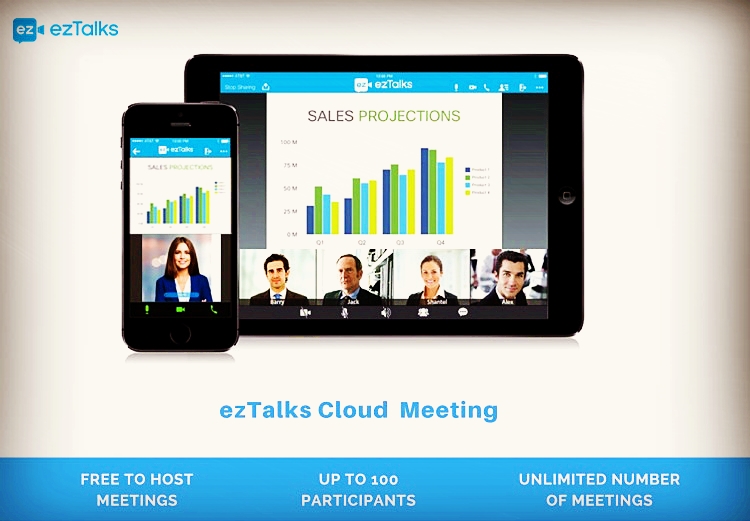 3. ReadyTalk
ReadyTalk allows you to enjoy video conferencing,mobile conferencing,web conferencing,and webinar tools and thus is a good solution for your requirements. Anytime during the meeting,you can hand over the control to any participant and they can then continue with the discussion and stream 4 video feeds at the same time,and hold group discussion right away using real-time interactive polling. ReadyTalk offers good customer service and if you face any technical problems in between meeting,their representative will join your meeting and solve your problem right away. This helps make sure you enjoy a problem-free meeting every time.
ReadyTalk meeting plans are as follows-to include 100 participants you need to pay $59,for 25 participants $25,and for 10 participants you have to pay $24.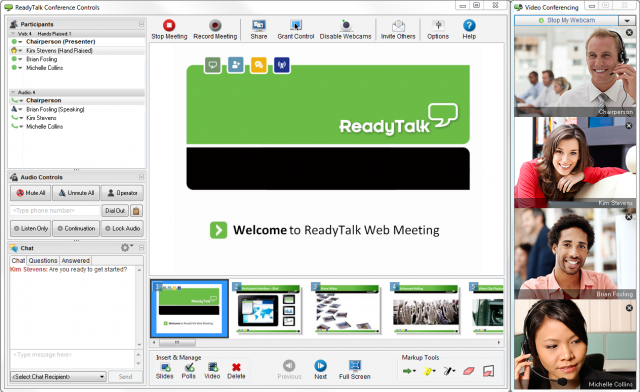 4. Join.me
Join.me offers almost everything you probably are looking for,in a no-fuss,lightweight package. It allows you to meet anyone face-to-face from anywhere. You can easily join from your iOS 9 device or from your desktop. It is so simple to join,and once you do,you will notice video bubbles appearing. These bubbles make your online video collaboration all the more fun you can bounce them against each other or just move them around. You can record meetings,transfer files,share your screen,and change your presenters whenever you desire. You may even personalize your meeting space using screen backgrounds and custom URLs. There are no cumbersome downloads or any technical confusion that you will have to face.
There is a free basic plan that you can opt for which allows you to add up to 10 participants and enjoy instant screen sharing. However,if you want to add up to 250 participants and enjoy more advanced features like reporting tools,recording,built-in cloud storage and so on,then you will have to opt for its paid Business and Pro plans.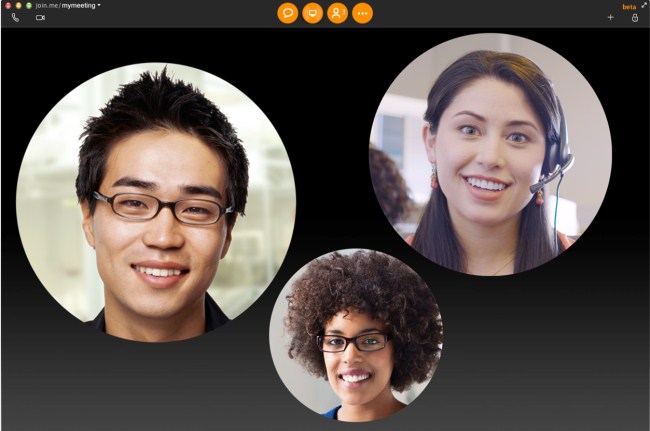 Video collaboration has been created to help make things easier,particularly for those who have team members in different parts of the world. However,this collaboration will turn out to be as easy or as complicated depending on the type of online video collaboration tool you opt for. Thus,make sure you dedicate enough time and select only the best collaboration tool and then enjoy a seamless experience.