5 Reasons Why Customer Service Will Be So Essential in 2023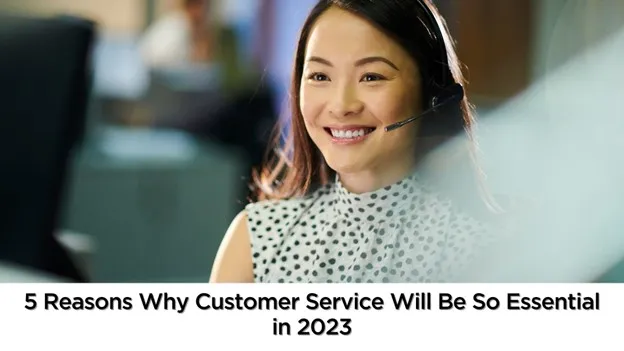 What comes into your mind when you hear customer service? You might imagine phone calls, tension, and working in a sterile contact center. It was not far from the truth twenty years ago. Even so, more than half of all customer contacts are now digital. It means that customer service is fast evolving.
If you keep up with business technology news, you'll notice plenty of material on artificial intelligence, chatbots, and self-service customer service. But how will these technologies affect customer service positions? How long until advances like email and instant messaging render phone calls obsolete?
There are many unknowns in customer service's immediate and long-term futures. Customer service is now at the core of everything. Providing a fantastic experience has never been more crucial. Furthermore, there is greater competition since customers have more options.
The idea is to identify methods to stay ahead of the technology curve. It increases your customer service offering. As a customer support representative, you must switch to cloud-based solutions immediately. Cloud-based systems will continue to expand in popularity, so seek a job that uses one right now.
in 2023 will demand smooth and simple interactions at all hours of the day and night. Customer service will be more automated. As a result, the human touch will be essential in dealing with the most complex service systems. Here are some reasons why customer service will be so crucial in 2023.
1. Technology Advancement
Do you believe your computer is now intelligent? Computers are increasingly innovative. They can answer your questions and solve your issues. They can even perform things you had no idea computers could do for you.
Because of technological advancement, customer service is more critical than ever before. Customers rely on it more than ever before. Customers would expect their calls to be picked up instantly. Their concern will be addressed by a genuine person who can help them with their fears by the end of 2023 so that the consumer does not have to wait too long.
Call center solutions can tackle these kinds of sophisticated hurdles without breaking a sweat. There will be no need for a costly staffer to sit at the end of every line waiting for a customer support query. Call center solutions can provide smooth customer service by connecting customers with channels like:
Chatbot
Web chat
Email
Social media
Voice
SMS
Call centers are growing increasingly popular as technology advances. Technology allows businesses to save money on personnel expenditures. It implies that people can recruit fewer staff. Yet, they can still deliver high-quality customer service using automated technologies.
Technological developments will result in more efficient and smooth client service. The new call center solutions will enable businesses to give their clients the same quality of service regardless of their location.
Many technologies will be released soon to assist customer service companies in providing better services to their consumers. Artificial intelligence is one such technology.
2. Automation and Artificial Intelligence Grow
Call centers have been in existence for a long time. Yet, automation and artificial intelligence have become more prevalent. Thus, the function of call centers has become more crucial than ever.
When you call your cable provider or buy anything online, you can speak to an AI or a chatbot. These automated systems' progress can handle increasingly complex demands.
Businesses are seeking methods to leverage automation and artificial intelligence. It is to simplify and improve the efficiency of their operations. When staffing the call center, this might lead to some problematic considerations.
The good news is that technologies are available to assist you in managing your call center. These technologies can assist you in streamlining your operations. These can ensure that your staff can handle all their obligations without being overwhelmed by their workloads.
The bad news is that these tools may be costly. They may only sometimes be an option for smaller firms that need them the most. Some may need more financial resources to get them outright. That is why the executives of these organizations must consider all choices before deciding.
Call centers will also be able to manage all calls simultaneously. But some may need a call center management solution to assist them in dealing with the new technology.
Inbound call center software will be a requirement for phone systems. The spectrum call center will also create sales lead generation. They'll also need a call center for their website, calling software for their mobile app, and a call service app for their clients' mobile applications.
3. Customers Interact Digitally
Consumers' interactions with businesses are rapidly evolving. It's no longer about going to a store or dialing a local number. It's about communicating via social media or chatbots.
Call centers are shifting their customer care strategy from phone handling to text messaging and email. Many consumers engage with customer care by text or email rather than phone. It can also receive a message from an online merchant informing you when your delivery will arrive. And it will grow more confusing as technology advances at such a breakneck pace.
Since businesses are digitalizing , Consumers are looking for ways to communicate digitally in various ways. It includes dialing a call center for help with a problem or service. Companies must be able to answer calls promptly and effectively. A call center system can assist with this work by allowing corporate reps to manage incoming client calls.
Consumers will increasingly rely on digital interactions with businesses. Call centers must be prepared for any conceivable contact method with their clients. Customer service staff must be well-equipped to give an exceptional experience. The idea is to provide excellent customer service wherever your consumers search for it.
4. Retain and Increase Company's Customer Base
Call centers are an excellent method to give customer care that is available 24/7. It is vital for client retention. If your business has a call center, you can provide real-time customer help. It will help keep clients pleased and satisfied with your products or services.
A call center is used for communicating with consumers directly to fix issues as they arise.
Inbound call center software is another tool that assists you in managing incoming client calls.
Customers may address their concerns swiftly on a specific platform.
You may still provide some of these services even if you do not have a call center. You can use an appropriate phone system or software. For instance, your company uses inbound call center software. Then you may use it to make intelligent software calls. Calls will never go unattended. There will be someone who can respond to inquiries or resolve issues.
If you're seeking new methods of retaining customers, consider providing them with personalized phone numbers. It will allow them to get in touch with you without leaving a message on a voicemail. They can wait to speak to someone else who might not be familiar with their purchase histories or preferences.
Customer service may be a demanding and challenging industry. Keeping up with all customer service responsibilities may take a lot of work, primarily if you work in a small firm. However, it is crucial to note that customer service may increase your organization's client base. It can ensure that all your consumers are happy with their experience with your firm.
The way you treat your customers can have a significant impact on the success of your business. Customers with a positive experience are likelier to buy from you again and suggest their friends do the same. Customer service is more than just answering inquiries and addressing issues. It is all about establishing relationships between customers and businesses.
5. Getting Bigger Industry
The call center field is expanding by the day. It's not simply because more individuals use their mobile phones for calls. It is also because most firms recognize that having a call center is crucial to doing business.
That's because 84% of firms attempting to enhance customer service report increased income. According to statistics, 69% would recommend the company to others following a pleasant customer experience. And it's not just word of mouth: 75% of customers would return to a firm that provided exceptional service.
Customer service for call centers is another critical component of this profession. It helps establish an environment where consumers feel comfortable calling in with any queries or issues. You could keep more clients who poor customer service experiences might have put off. But you must provide a friendly environment for these encounters.
Call centers are becoming more automated. New technology will allow clients to fulfill their needs with less human involvement. It implies customer care representatives will have more time to devote to each consumer. Thus, it will increase the likelihood of a positive encounter.
Call centers will also be able to deliver more efficient services. It can save money and allow businesses to charge lower pricing. It means that there may be fewer open employment in the industry. But those jobs will be in great demand and well compensated.
Call centers intend for tasks ranging from customer support to order-taking to sales. They have become the lifeblood of many firms. As a result, these businesses must have access to the best technologies available to get the most out of their call center investment.
Final Thoughts
The world has transformed into a digital and online environment. Consumers may connect directly with a brand or a business. They want the same exceptional customer service and rapid and seamless communication.
Excellent service to clients is essential to the sustainability of any organization. It starts with customers directly calling the companies and asking for help with their thoughts through social networking platforms. It will only grow more critical in the future years as technology advances.
Because this tendency will continue to gain pace, customer service teams must adapt. Departments should consider innovative methods. It can increase the abilities of their team members and give them better tools to help clients. And they should do it soon—customer service is an investment that will pay off in the long run.
Customer service is critical in every business. Consumers expect courteous and respectful care if they have product or service issues. Customer service is essential to every organization. A call center is vital in online stores, restaurants, hospitals, banks, etc. It is critical to keep your brand's reputation by ensuring consumer satisfaction.
Maintaining a high level of customer service will become even more valuable as customers demand it for comfort and ease.