Types of Virtual Meetings
Visual communications have for decades been viewed as of value,but not a must have in any organization. However,this is slowly changing as there are considerate advances in hardware and software relating to virtual reality,and more importantly the business in the workforce have increased their demand for visual communications.
While the bandwidth costs,both hardware and software are on the decrease,there are continued efforts to improving video quality with the help of better compression methods that do not consume a lot of bandwidth. The one importance of this is a reduction in the costs of video conferencing and the related activities and devices,thereby leading to several workplaces to adoption this technology.
There is a general growth of virtual reality that today's virtual meetings are taking place in big video conferencing rooms aimed at reaching remote team collaboration,as well as can be held via mobile devices,including smartphones. That is through the use of VoIP and related technologies from a central place.
Overall,the increased competition has seen many enterprises trying to embrace virtual reality in the effort to differentiate themselves from competitors,to connect with a larger clientele base,and is showing off their products in a better way aimed at wooing more customers. Therefore,the improvement in this technology has led to growth in the demands for it and vice versa.
Types of Virtual Meetings
The need for participants or employees to meet face-to-face has been curtailed by the different virtual meeting types. These new types of meetings,namely Teleconferencing,Video Conferencing,and Web Conferencing,provide the same outcome as one-on-one and group virtual meetings,they are much more comfortable given that participants can be set in virtual platforms using appropriate browsers and a fast internet connection at the convenient place by the user.1. TeleconferencingTo begin with,teleconferencing or conference calls makes it easier for the attendees of any meeting to participate virtually via telephone. One is just required to call into the meeting and proceeds to give his or her input.The benefits of this type of meeting include:
• Multiple parties are not necessarily required to attend meeting physically,thus saving time for other business endeavors.
• All parties or workers in an entity have the chance of participating in a meeting conveniently,as time and travel expenses involved are eliminated
• They are ideal for small group meetings,say between the executives,thereby giving each one an opportunity to be heard on the call.For an effective communication using this method,the teleconference participants must be known to each other beforehand,as well as each one has to identify oneself before commenting.2. Web ConferencingAnother type of virtual meeting,Web Conferencing,occurs on the Internet whereby those attending the meeting must be interlinked on their respective computers. Usually,the participants connect through a website from where they can view different business documents like presentations,slideshows,and reports.The participant's contribution to the group discussion is through their respective computers' microphone systems,after listing to what others are saying via the computer speakers. There is even allowance to see each other via live video or streaming video screens by using various multimedia software and technology like webcams and digital video cameras,that support video function.However,because of the possible security issues involved with web conferences,there must be a consideration for proper safety measures when setting up the web conference. That is critical in reducing the chances of the meetings being hacked into,as well as reducing chances of stealing proprietary information.3. Video ConferencingThe final virtual meeting type is Video Conferencing,which involves at least two parties connected in a more than two-way video transmission. These parties can see and hear one another through video input and video output as is the case of a video conferenicing solution,like ezTalks Cloud Meeting.The video input and video output feature allow for a face-to-face collaboration feature which comes via ultra-HD video and audio screens,hence a sound,interactive and productive collaboration.Video conferencing also allows for real-time private and group chat or instant messaging as is commonly called among participants,thus preventing the possibility of disruption of others presentation.Another critical feature is the easy screen sharing and discussing through interactive whiteboard and file sharing. This is essential in the free exchange of ideas among participants,as well as enhancing the transmission of various file formats.There is seamless meeting through video conferencing using desktops and mobiles. Thus,employees can meet virtually anytime from anywhere. The virtual meeting type of this nature is helpful,especially when the participants are far away from one another.Video conferencing is also a better meeting platform for telecommuting employees and those working at home. An organization can as well use it in connecting to business consultants or board members in distant locations. Additionally,video conferencing enhances the conduction of executive training,especially during brainstorming sessions.Also,there is the allowance for the recording and playback of the entire video conference content recorded,and that is especially beneficial for online staff training and online learning. That helps the users in picking up the missed information or even reinforcing the most important.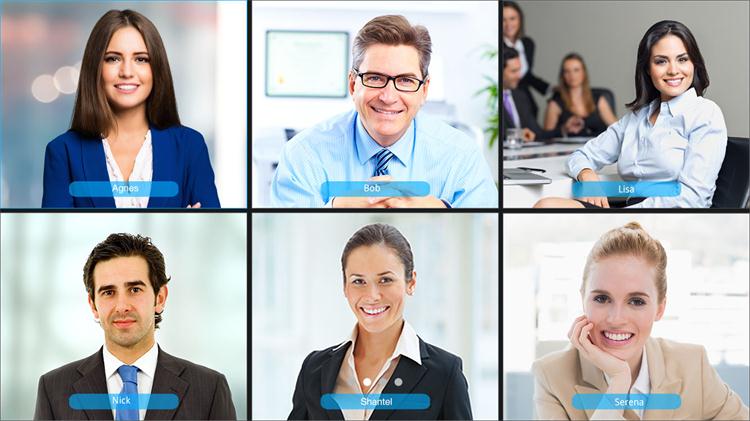 Conclusion
What a virtual world means for the enterprises is that they will be better placed to show off new products to potential customers,as well as attaining realtime collaboration among employees. However,the decision to adopt the technology is dependent on the investment approach that a given business has,thus acting as a learning curve,but possibly a substantial investment to be made. Virtual meetings aim at addressing a larger market within the shortest time possible using less effort and less money. It is undoubtedly the best and easiest way of convincing people in a conversation,as it allows for a collaboration with plenty of data from any place. That automatically boosts the business greatly.