6 Major Types of Visual Presentation
Visual presentation refers to the expression of ideas about some matters while using visual aids such as visual multimedia. From electronic media such as television screens and web pages to environmental contexts such as retail displays and road signs, visual communication is virtually everywhere. Visual presentations such as graphs, tables, charts, and diagrams bring together the verbal and visual to add another dimension to the information and create a totally new path towards understanding its meaning.
A presenter can, therefore, use visual interpretation of information to maximize the effectiveness by making sure that the elements are presented as clearly as possible. The more complex and detailed the information is, the more important the information will be. If used well, visual presentation will support the presentation by strengthening audience involvement and impact. However, if badly managed, they can interfere with the presentation. Most visual presentations require prior preparation and should be operated with a lot of efficiencies. If you wish to use such presentations in an unfamiliar room, you need to check the facilities that are there in advance so as to plan your presentation well. Overall, the visual presentation must focus on the relevant information.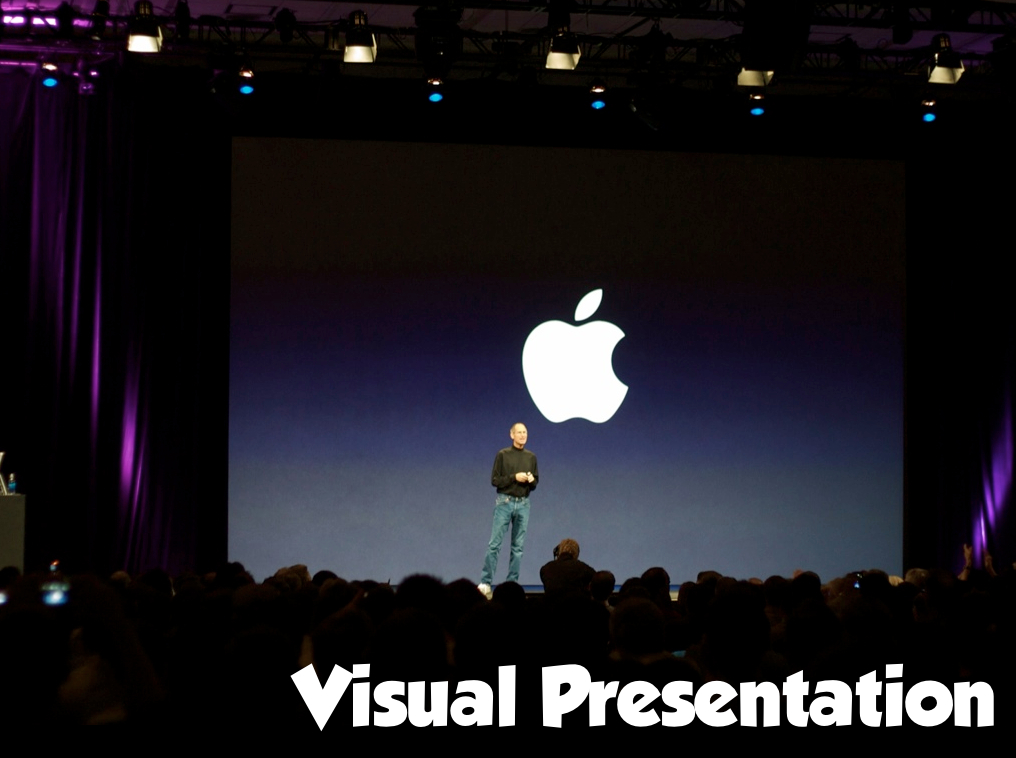 6 Major Types of Visual Presentation
There are many different types of visual presentations. Here are main ones.
1. ezTalks Meetings
ezTalks is one of the best cloud video conferencing providers that will allow you to host a number of videos in HD quality with over 100 participants. It also provides free audio conferencing, instant messaging, file sharing, whiteboard collaboration, and remote control apps for presentations. Once you have ezTalks you can choose a plan that's suitable for you. It also gives you 24/7 customer support where you can contact their managers and get solutions to your queries or problems. As compared to other video conferencing providers, they have the best features and an excellent customer support.
2. Whiteboards and Interactive Whiteboard
When it comes to explaining the sequence of routines and ideas, whiteboards can be very useful. Whiteboards are good for developing diagrams and simple headings and for recording the interaction with the audience during the sessions. Writing on whiteboards not only take time but you will also have to turn your back to the audience in order to do so. While using a whiteboard, ensure that your handwriting is aligned horizontally and is legible and large enough for the audience to see. You should also ensure that you use nonpermanent instead of permanent markers. You also need to know that the background of whiteboard can lead to contrast issues for people with vision problems.
3. Flip Charts
A flip chart refers to a low cost, popular and low tech solution to record online meetings. A flip chart is a very flexible and useful way to recording information during a presentation. To help recap your main points, you can flip back through the pad. To show the progression from one point to another, use the turning of the page. A flip chart is not only portable but can also be prepared in advance. It requires no technical expertise or power source. They are suitable for collecting responses and ideas from the audience. However, if you have a large audience, a flip chart may be too small for everyone to see.
4. Paper Handouts
Handouts summarizing the main points are not only useful but also a good addition hence must be relevant. If you are presenting packages such as power slides you can easily generate handouts from your slides. Since giving out handouts at the start of the talk might consume time you need to know the best time to give handouts. However, if your handouts have complex figures and graphs, it's advisable to give the audience handouts before the presentation starts. The audience may also be able to make their own notes during the presentation. Overall, you need to consider the best method and time to distribute handouts including either giving them at the end of the presentation or placing them on the seats prior the start. If your presentation includes discussions and questions, this will give them enough time to summarize them well.
5. Video
Video is a type of presentation that gives you an opportunity to show visual information. You can use videos to bring pictures, movement, and sound into your presentation. When using videos, it's important to ensure that the clip is relevant to your content. Avoid showing more film than you need and ensure that your audience knows what to look for. If there is a computer connected to the projector then videos can be shown as files through you tube or from a DVD and other online sources. Videos can also be used to build presentations in various video presentation software.
6. Slides
Slides of excellent quality can also have a huge impact on any size or group. However, for the images to be seen clearly and to create an eye contact with the audience, a good blackout is needed. As compared to other methods of presentations, you will not add records or any spontaneous notes to the slides. In case you are using slides, make sure that they are prepared in the best way. The best way is to number them so that if one is dropped the slides can easily be reordered. However, nowadays the use of slides has greatly been replaced by digital photography.
Well, these are the different types of visual presentation. While choosing one, you need to consider your preferences and the needs and your audience.