Top 5 Cloud Collaboration Solutions
Modern advancements such as cloud computing have made it easy for developers to create various collaborative suites that allows team members to work different projects through co-authoring and sharing files. There has been a rise in cloud collaboration solutions in the market and each suite comes with its unique pros and cons. While finding cloud based collaborative solutions should not be a daunting task, it is important to keenly review existing offers and determining if they meet your specific business needs.
What Is Cloud Collaboration Solutions?
Cloud Collaboration solutions are basically packaged computer applications that allow team members to work on different projects. Typical cloud collaboration solutions feature various tools that are integrated to optimize online communication, file exchange, real time assistance and conferencing. The solutions leverage the benefits of cloud computing, thus eliminating the collaboration obstacles that thwart remote decentralized groups. Most cloud based collaborative solutions are aimed at helping businesses keep their employees on the same page. Essentially, files and documents can be uploaded to a central cloud where every employee can access them, make changes and receive real time assistance.
Top 5 Cloud Collaboration Solutions
As aforesaid, there are many cloud collaboration solutions in the market and finding one is as effortless as looking up businesses on your favorite browser. However, not all perform exceptionally well. Although no single solution can be identified as the best for every business, since each industry has its unique set of requirements, some offers have hallmarking attributes that distinguish them from the rest. Here is a brief look at the 5 reliable cloud based collaborative solutions highly reputed by clients.
1. ezTalks Meetings
Formerly known as ezTalks Cloud Meeting, this cloud based collaboration solution has extraordinary features that make screen sharing, collaborations and real time conferencing quite easy and convenient to achieve. ezTalks Meetings is simply the world's leading provider of online conferencing and has features optimized for file exchange and content sharing, screen and desktop sharing, instant text messaging, audio and HD video conferencing and remote control among others. Its screen sharing feature is perhaps the most intuitive feature that streamlines real time conferencing and real time assistance.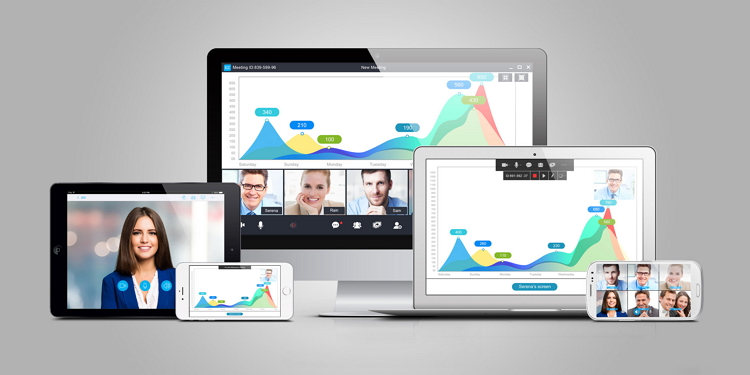 2. Wrike 
Having won the 2016 best project management software award, Wrike has become one of the top cloud collaboration solutions for most fortune 500 companies. It allows the sharing of project data in real time by providing with a single hub to contain all your work. Like ezTalks Meetings, Wrike offers mobile apps that can be used to monitor project progress and features a simple user-friendly navigation. It also includes activity stream and excellent reporting and analytics tools.
3. daPulse 
This is yet another top cloud based collaboration solution that is actually an app designed for smart business communication. It allows team members to work on projects and share information in a central place through streamlined discussions and contributions. daPulse uses very efficient user navigation reminiscent of modern social media platforms where each team member creates a profile and shares project files and information with one another.
4. Zoho Projects 
Like Wrike, Zoho is a project management solution that has several collaboration features integrated to allow communication efficiency, planning and content sharing. With features such as task lists, tasks and milestones, it is quite easy to complete projects within the set timetables. It also provides with a central hub for all team members to put their brains together and access existing project resources sharing among the group. Zoho also splits your complex projects into smaller manageable units and offers insightful deductions in form of graphs and charts further making collaborations and project tracking more efficient.
5. Azendoo
This cloud collaboration solution was designed to help companies reduce the bulk of maintaining "to-do" lists and monitoring active projects. It is a characteristic corporate solution that highlights the importance of efficient team work synchronization, file sharing and project planning as well as communication. With Azendoo, you can share files from desktop, Gmail drive, DropBox and Evernote and also allows real time discussions. Without doubt, this cloud based collaboration solution organizes your work environment and makes optimizes team work activities. 
Conclusion 
When looking for collaboration suites for your business, it is advisable to first table down your needs and areas where you need more efficiency. Each package has its benefits even though some are all-round, having a solution that addresses your specific business environment should be your top priority. For instance, ezTalks Meetings is designed more for real time video and audio conferencing including desktop sharing and remote control. Zoho and Wrike are efficient for project management and have various tracking/monitoring, update and analytics features while Azendoo and daPulse are more suited to organize a work environment. ezTalks Meetings and Azendoo are free solutions that only require you to download, install and sign up to create your free account. The former even has an Android and iOS app that emulates the same environment you get from a PC version, making it the sole best in cloud based collaboration solutions.