Key Benefits of Different Webinar Types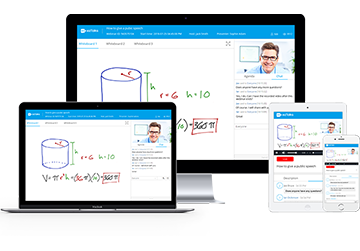 ezTalks- Best Webinar Software
All-in-One Webinar Solutions
Fluent HD Video/Audio & IM Chat
Screen Sharing and Whiteboard
Rebranding and Reporting
Recording and Online Playback
Sign Up Free Now
As we went through the definition of a webinar, several benefits may have stood out to you. Are you among those who are not fully taking advantage of webinars to grow any kind of your business, what are you waiting for? To describe webinars as 'effective' is an understatement. It's easy to overlook many of the benefits that can come from running webinars. What benefits on earth can webinars offer you? The purpose of this post is to showcase some of what many people think are the most important reasons why webinars are valuable for every sector.
TL;DR
1. Similar Benefits of Different Webinar Types
a) Wide Application Range
b) Save Time and Money
c) Convenient
d) Generate Qualified Leads
e) Convert Your Target Groups
2. Different Benefits of Different Webinar Types
a) Live Webinars
Better Boost Interaction
b) Automated Webinars
Create Polished Content
Deliver High-Quality Video
No Need to Keep Around
c) On-Demand Webinars
Long-Term Availability
Expand Influence Easily
d) Paid Webinars
3. Conclusion
As we have mentioned in the last article, there are four main kinds of webinars including Live Webinar, Automated Webinar, On-demand Webinar and Paid Webinar. Different webinar types have respective benefits. Of course, they still have common sides.
1. Similar Benefits of Different Webinar Types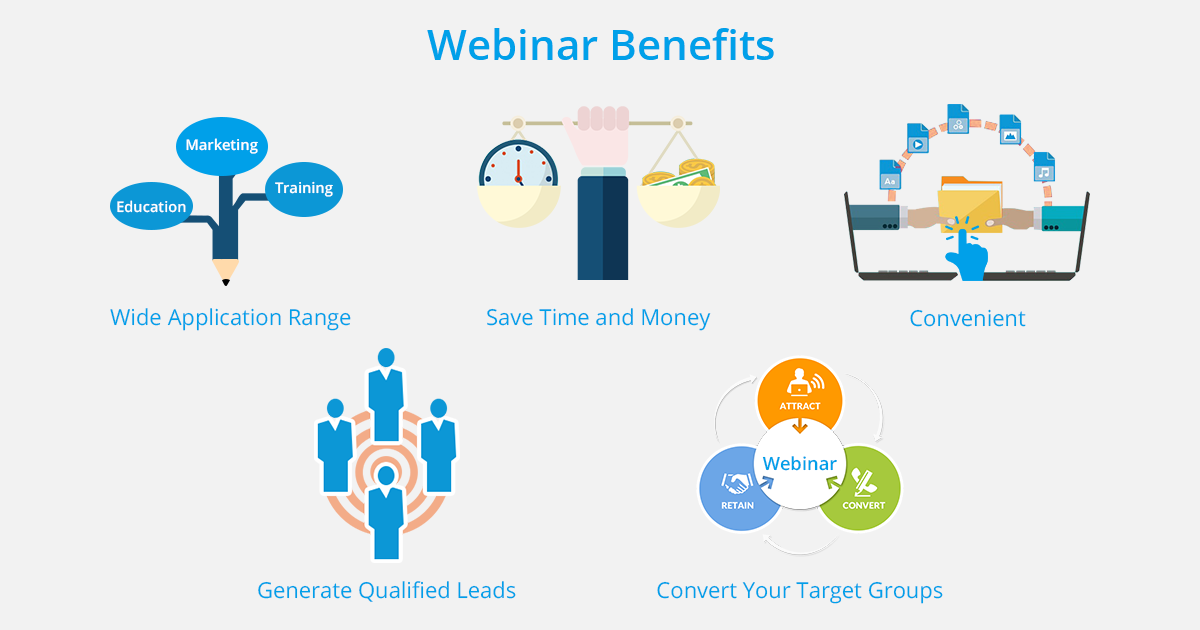 a) Wide Application Range
Webinars are a remarkable resource. Professionals from a wide range of industries rely on webinars for marketing, customer training, education, corporate communications and more. According to the status quo of webinar hosting, training, marketing, online education come as three giants that more and more people in such fields adopt this way to achieve your goal strategically. So, here are the three main use cases.
Webinar for Marketing
Webinars can be transformed as a great strategy to generate endless streams of leads for your event, promote your product or services and engage with potential customers. according to the 2016 Benchmarks, Budgets, and Trends-North America report from the Content Marketing Institute and MarketingProfs. Webinars rank second to in-person events, which were cited as useful by 75% of marketers. This is why 66% of b2b marketers are using webinars as a content marketing tactic (Data Source: 2016 Benchmarks, Budgets, and Trends-North America Report from the Content Marketing Institute and MarketingProfs).
Webinar for Training
Webinars can be used for reaching various training no matter within your organization or outside your organization. Training webinars are increasingly popular these days, which have been applied from Fortune 500 companies to SMBs and non-profits. You can batch-train employees or commercial customers all around the world from one single location. No need for flights, hotels or even commutes to a venue.
Webinar for Online Education
When done right, a webinar can be an extremely effective tool in ensuring the online educational environment for closer inter-connections between students, educators, researchers and other participants. Webinars create opportunities for both educators and learners to experience different levels of interaction online for enhancing their outstanding academic ability as well as skills, and these opportunities are essentially different from other communication approaches such as discussion-board postings and e-mails.
b) Save Time & Money
 Time is your most valuable asset especially living in the 21st century that people keep running after the efficiency. Just as the saying goes, "Time is money." Then, webinars therefore come to cater to this trend and satisfy peoples' needs.
Webinar for Training
If you agree that training days can be a costly expense, webinars can be a prized tool with actionable benefits. According to ATD 2016 State of the Industry Report, on average, companies spend $1,252 per employee on training and development. If you're batch training employees, you may need someone to organize the whole training event, find a venue, pay for food and refreshments, as well as pay for handouts and materials. Not to mention, if you have employees from all over the country, both flights and hotels are also needed. Obviously, travel, time-off, instructors- it all adds up. While, a webinar cuts out these costs. And, while the responsible one can focus more on the topic, instead of a venue or whatever.
Webinar for Marketing
If you're selling a high-ticket product by one-on-one selling method over the phone or in person. This trivial and long process will definitely take a lot away from your business (and even the freedom you have in your life). Sure, this eventually leads to wasting your time that can be equally used for more important issues. However, webinars are a powerful one-to-many approach, where you sell your product or service to many people at the same time. You can overcome objections, tell your story, and convince people to buy your product all in the span of an hour or two (or even less) in a webinar. In doing so, you have a chance to make many more sales in a tiny fraction of the time.
Webinar for Online Education
As for the traditional learning method, it inevitably requires colleges or institutions to spend a lot of money on commuting, hostel, infrastructure and so forth, which increases the input costs. So students also need to invest a lot sum of money to enroll in regular classroom studies. Luckily, with webinars, you can avoid such trifles and expenses as they can not only provide a wide range of subjects and courses to choose from flexibly, but also save much cost & energy devoted in creating the educational space.
c) Convenient
Since webinars take place over the Internet directly on your device, it allows for people to attend and conduct a webinar from anywhere be it their home, a cafe, library or just about any other place they feel comfortable in at any time. There are many situations when someone is unable to join a product launch, skill training, after-school tutoring and etc. of his choice may be because it's not offered in a place near him or he is not ready to relocate. Owing to the convenience of webinar hosting, many professionals are using this technology as a time-efficient method of delivering the information and knowledge needed to their target groups. Most of the webinar software enables you to schedule the webinar with your expected time zone, record the webinar sessions, hold webinars of different webinar types and so on, which aim to make each webinar easily accessible to both the hosts and the audiences. All these help to knock down the space-time barriers.
d) Generate Qualified Leads
Several authoritative types of research and analysis reported that B2B marketing and sales leaders say webinars are the best way to generate high-quality leads- and for good reason. Actually, webinars are always expected to provide better leads than other gated offers, not just for the webinar marketing sector. Webinars give you the opportunity to collect more data during the registration process. Those people join the event tend to be more willing to share their information because of the higher perceived value of a webinar. According to the research conducted by CFE Media and Trew Marketing, 72% of respondents said they would be willing to give contact information for a webinar. These leads also tend to be more responsive and of higher quality as only when they show great interest in the topic as well as the way you present your content or have demands, will they share their personal information for accessibility.
e) Convert Your Target Groups
Webinars offer a lot of value to the viewer, more so than many other popular forms of digital content. Unlike merely sharing a video or publishing an ebook, webinars allow you to interact with the audience, build rapport, and establish trust & credibility on the fast track. The completion of an online webinar presentation doesn't mean the accomplishment of the whole event. A successful webinar should be divided into three stages- before, during and after the webinar. This systematic process enables a closer connection with the registrants. All that you do in those three stages helps to build trust and niche authority, improve engagement and lead generation, and most importantly and finally, convert your target groups into ultimate customers.
2. Different Benefits of Different Webinar Types
The reason why different webinar types are available is that each of them has its own highlights. This also affects people's choice when considering which one/ones to convey your webinar content and can better come into play.
a) Live Webinars
Better Boost Interaction
Don't wait until the end of your webinar for audience interaction. Specific points for interaction adopted in the webinar presentation will certainly prompt and engage your audience, which enriches the webinar content and leaves a deeper impression on the audience. This is totally realizable by virtue of live webinar as it provides real-time interaction between two or more parties. Instead of being a passive listener or viewer of your online course, Live Webinars create a prospect where users can actively share, survey, talk, debate and inquire the presenter or others about the content being introduced. Besides, the presenter can also broadcast other relevant presentations in sync with the discussion. These sessions are live and quicker and easier to understand. When your audiences know you're there with them live, they'll be more likely to stick around and keep engaged with you throughout the presentation.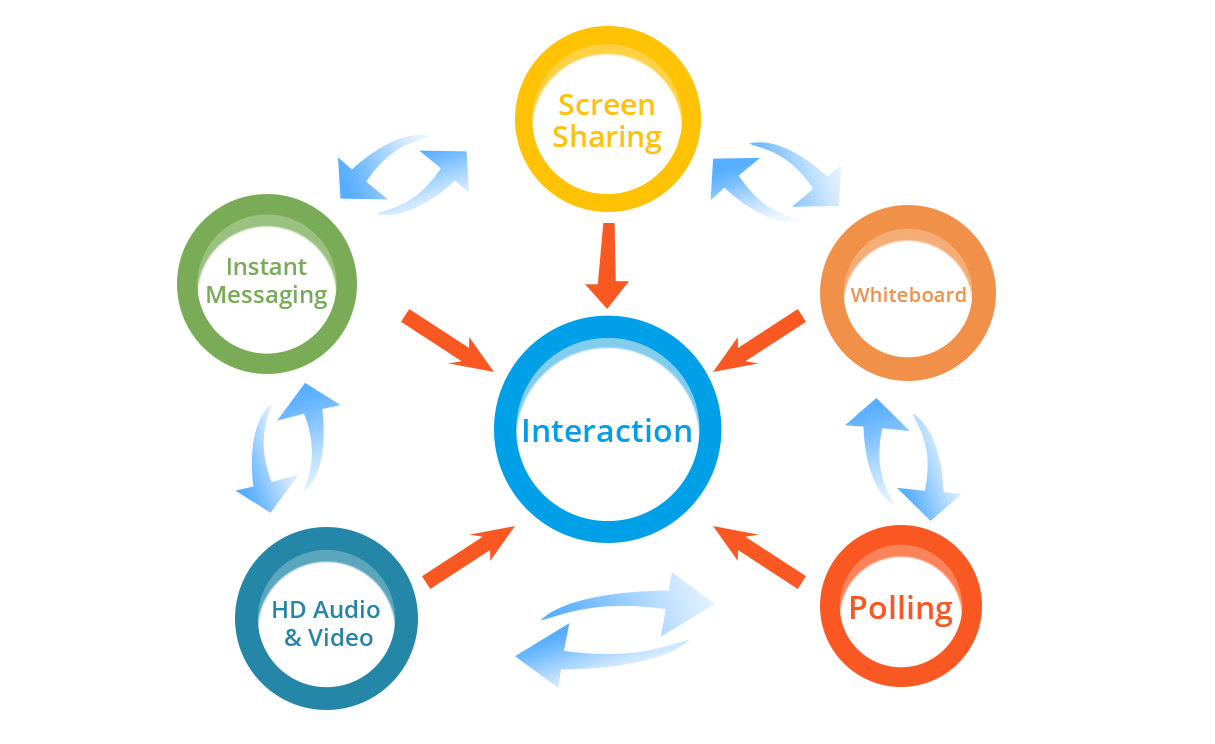 In addition, more and more webinar platforms like ezTalks Webinar enable you to stream webinars on YouTube & Facebook Live, which makes it easy to reach thousands more people by extending your in-real-life event into an online webinar. What you interact with the audience will also be shown on such popular social media.
b) Automated Webinars
Create Polished Content
According to the Chapman University Survey on American Fears, "public speaking" is their biggest phobia - 25.3% of the Americans say they fear to speak in front of a crowd. The people who host the live event in front of the large audience will still possible to screw up owing to the nervousness. Though they're not directly in front of an audience, it doesn't necessarily make things any easier as ever. Of course, you don't want others to feel "you're amateur". With the automated option, you can keep working out the perfect webinar without any fear of making a mistake and even edit the shots to get the best version to make your professionalism stand out from the crowds.
Deliver High-Quality Video
If something goes wrong (your computer crashes, your speaker gets amnesia or the doorbell rings), everyone will see or/and hear it when it is live. Technical difficulties are always a possibility. But enabled with automated webinars, when confronted with such issues, you can scrap the recording and do it again or cut out the bad part. There isn't the chance of technical difficulties or other snafus, which makes it a less dicey endeavor for those who are particularly unwilling to take any risk. Consequently, the video you uploaded must be high-quality without any interruption, conducive to a flawless webinar experience.
No Need to Keep Around
The main benefit is that your automated webinar will save you the amount of time and energy. Even if it is not convenient to you then, or just you're busy, your auto-webinar will go to work for you and drive consistent results, with no need to be around. All you need to do is upload the webinar session after all was said and done and it will be streamed live automatically as planned. Thus the host is not required to be present in the automated event, which could save lots of time and energy. You could use it for any number of productive activities as you want and use the time that the webinar automatically runs to set about something else.
c) On-Demand Webinars
Long-Term Availability
Not available when the virtual event is scheduled? No problem. On-demand webinars can be viewed around the clock and around the year as long as the host makes the video available, allowing you to view an archive of the event when it's convenient for you. By recording an on-demand webinar, people can watch yours whenever it makes the most sense for them. Never again lose viewers because of timing issues! Nowadays, audiences are more mobile, busier, and more informed than ever before. To that end, they increasingly prefer to consume content on their terms, when and how they want it. Therefore, on-demand webinars emerge as the times require.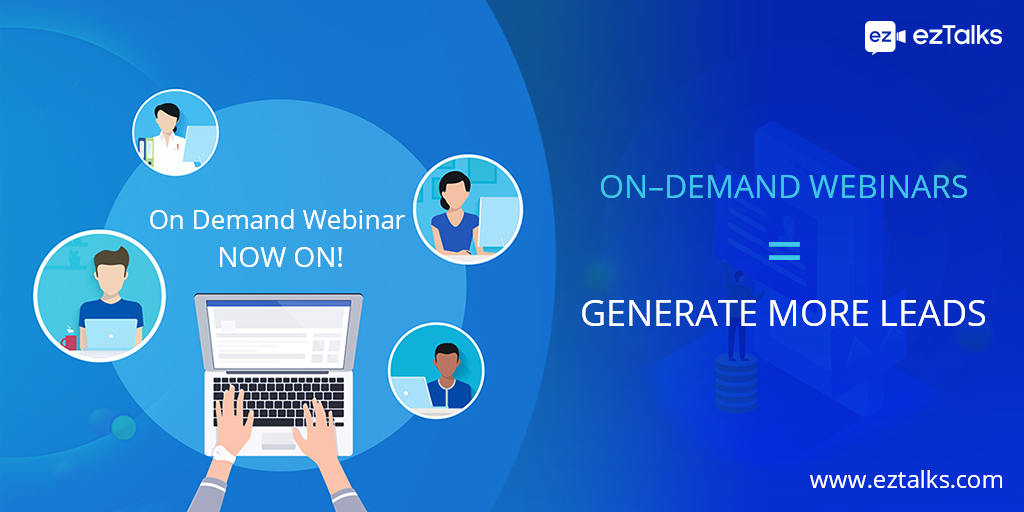 Expand Influence Easily
If the webinar is delivered at a specific time, some people may fail to join the event owing to some kind of inconvenience. This means losing one potential opportunity. While an on-demand webinar attracts people who know they never have time during the day to attend but will watch it when they have some free time, which makes each webinar accessible to more people. Besides, the longer time it is alive, the more leads will be captured. In other words, greater influence will be realized. Like automated webinars, the video you uploaded to show on screen with on-demand option can also be perfect enough. This likewise contributes to a good reputation and expand its influence.
d) Free/Paid Webinars
Till now, webinar is not only a free channel to reach, educate and engage your audience, but also an excellent way to earn profit directly for both organizations and personals.
Free Webinars. Free webinars lower the threshold to join your online event. If your free webinar is well promoted and offers compelling content for a targeted audience, you stand a good chance of reaching more audience, getting more qualified leads, better building the brand awareness and so on. Also, you can set up some free webinar to attract and convert more audience for your paid webinars. Free webinars may help your audience know better about the value they may get from your paid webinars. Usually, the audience may expect more from paid webinars than free ones, thus it is wise to start hosting one to two free webinars at first to get a read on your market, listen to feedback from your prospects and figure out what you can do better.
Paid Webinars. If you have a group of audience interested in paid training or consultation, it's a good time to monetize your expertise. Each person who signs up to participate in the webinar adds to your revenue. Combined with other webinar types like automated webinar, you can gain automated income. This gives you, in some ways, the best of both worlds- you can charge for the live or simulated-live webinar, and then later on, use the recording as a free lead magnet on your site. In a word, paid webinars are great for marketing purposes and generating profits over the Internet.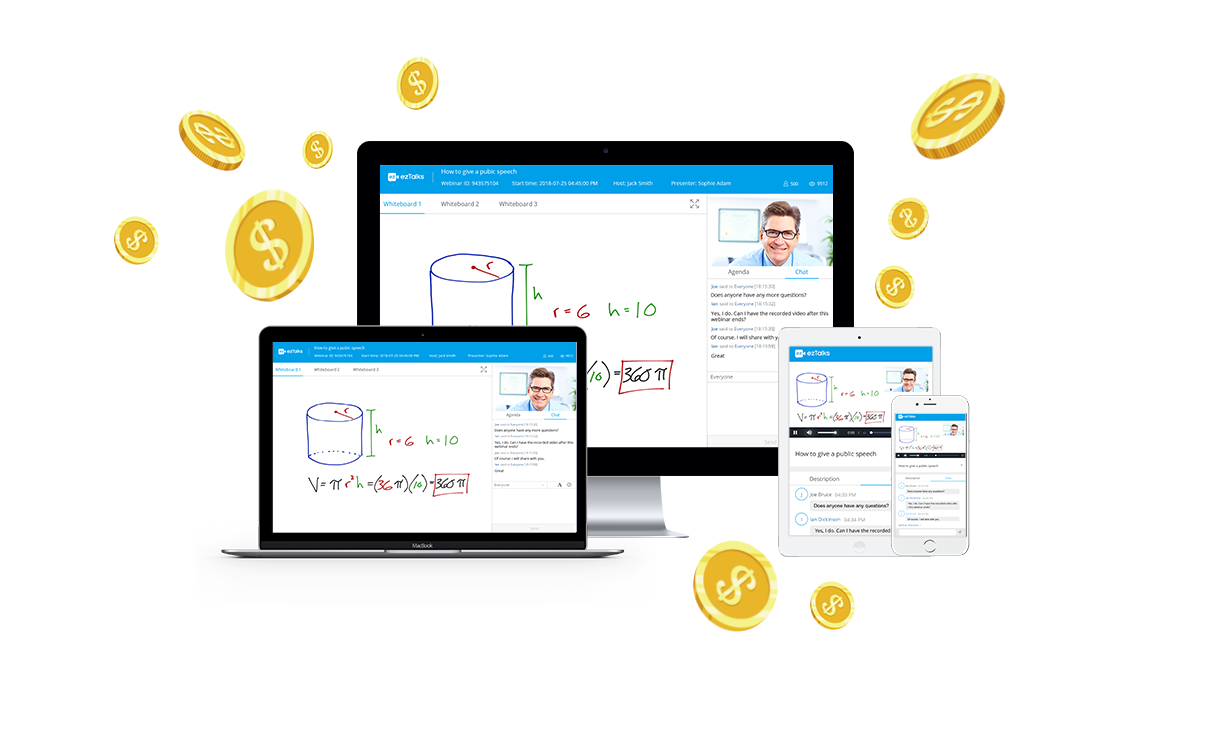 3. Conclusion
These webinar benefits reflect the power of hosting your own online webinar – finally allowing you to minimize your costs, boost your revenue, expand your market, share your expertise and develop lucrative relationships with teammates, clients, customers, industry-leaders and so on. Webinars are powerful, and certainly, there are a lot more than those reasons to run them. Do not hesitate anymore, if you do not act, or there is no chance.