How to Host a Live Webinar?
Live webinars can create a solid connection between you and your customers. There are several reasons why everyone is embracing this technology. One of the most common reasons is that you can market your products directly to your audience through a live webinar. Live webinars are also used to generate qualified leads to the business. People who will spend time listening to you will definitely end up as your customers.
Live webinars can create a solid connection between you and your customers. This is usually the case if you allow the audience to participate actively. The most outstanding thing about webinars is that you don't need complex tools and gadgets. You simply need the webinar software and an unfailing Internet connection.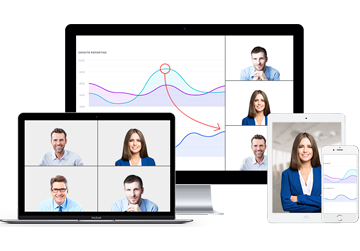 ezTalks - Best Webinar Software
Free for up to 100 Participants
Fluent Group Video/Audio/IM Chat
Screen Sharing and Whiteboard
Webinar Cloud Recording
Webinar Custom Branding
Sign Up Free Now
Here are 5 platforms that you can use to host a live webinar today:
1. ezTalks Webinar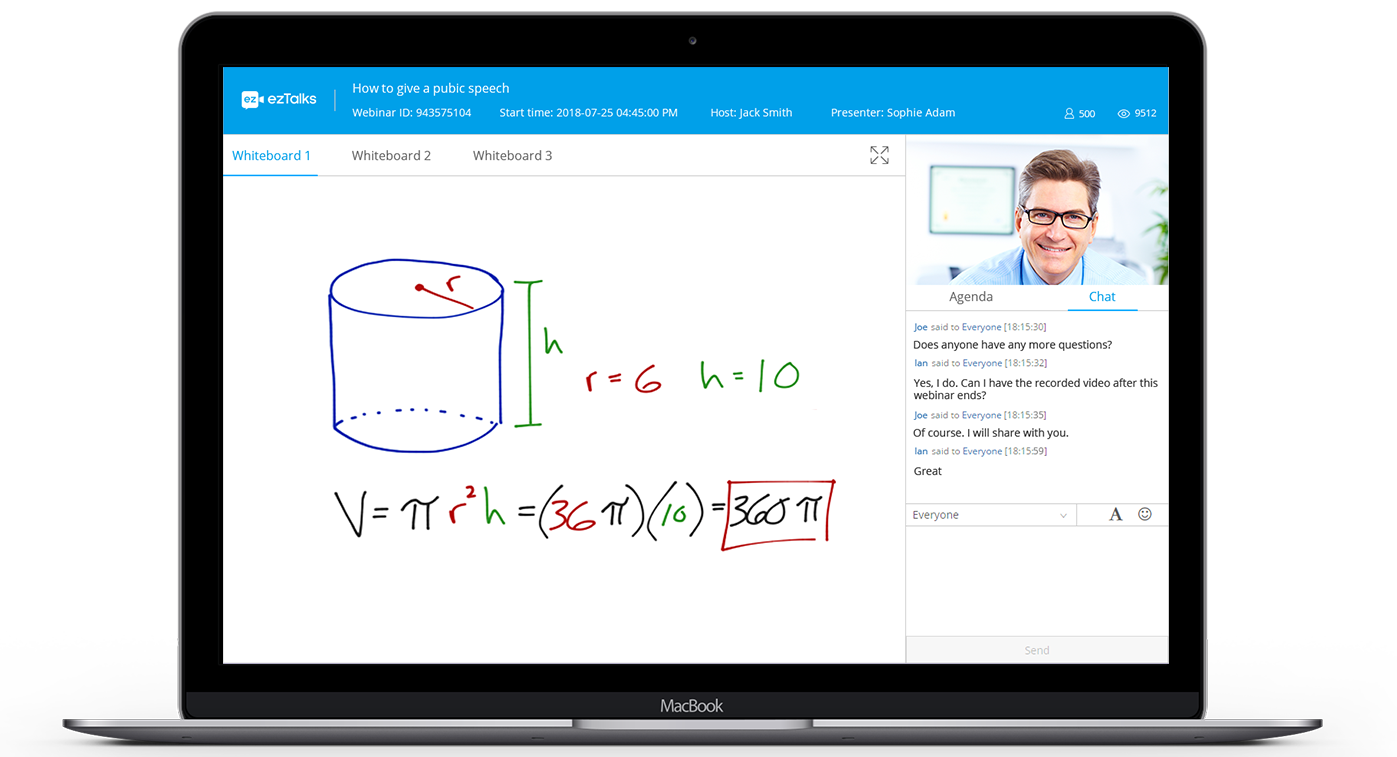 ezTalks Webinar is a kind of premium live webinar software from ezTalks limited. To date, it is one of the best software for hosting live webinars with clear audio and HD video. It can deliver its purpose effectively regardless of the size of your business. This software comes with a plethora of features which make it unique from other webinar platforms in the market. Here are some of its key features:
-Rebranding: You can customize the visual aspects of the webinar to match with the outward appearance of your brand. In other words, you can rebrand your webinar to achieve better publicity effect.
-Participants: You can host a live webinar with up to 100 interactive video conferencing participants and unlimited audience. Both free trial version and paid plan are accessible.
-Easy connection: The software is compatible with Windows, Mac, Android, and iOS. This means that you can use it on any device. Besides, it's also easy to connect with social media accounts. This feature can be of great use when you want to publicize an upcoming live webinar.
-Collaborative whiteboard tools: ezTalks Webinar has a virtual whiteboard which you can use to elaborate your ideas during a live webinar session. 
-Instant messaging: The interactions with the audience are further enhanced by the instant messaging feature. The software allows a seamless group or private chat through text with settings.
-Online screen sharing: This feature allows hosts to share your latest presentations, documents or video clips on your screens with other participants or attendees in the webinar.
-Webinar recording: In terms of the memory space, the software supports local storage and 1GB cloud storage webinar recording.
-Reporting: You can get accurate data on Webinar Report, Register Report and Participants Report, showing how the webinar performed.
You can also enjoy other features such as invitation mail, Q/A with live or text answers, polling, registration, reporting and so on.
2. Facebook Live Webinar
Do you know that you can host a live webinar on this popular social media network? People who don't want to go through the hassles of buying webinar software and other tools prefer using hosting their webinars on Facebook.
Here are features of the Facebook live webinar:
- There is a minimal barrier of entry as users don't need to register using their emails.
- No cost of buying software
- Wide outreach
3. YouTube Live Webinar
Apart from uploading videos, you can also host a live webinar on YouTube. YouTube is 100% free and you don't need to pay a subscription fee or download any additional software to use it. Here are some key features of YouTube Live Webinar:
- Unlimited audience: You can host any size of the audience without any limitation.
- Comment feature: Your audience can actively participate in the webinar by giving their comments.
- Replay: Your audience can replay the video even after the live session has ended.
4. Adobe Live Webinar
You can host a live webinar using Adobe Connect. This is a fully-functional software that has all the features for hosting webinars. However, you must pay some amount of money to use this software. Here are some of its key features of Adobe Live Webinar:
- Scheduling feature for upcoming live webinars
- Has different levels of administration
- Owns powerful security features
- Can be integrated with other applications thanks to its open architecture
5. Microsoft Live Webinar
The Windows Webinar Software is a product from Microsoft. You can still use it to host a live webinar. It is suitable for both small and large enterprises. Here are some features of Windows live webinar:
- Offered in different payment packages depending on the size of your audience
- Compatible with Windows, Android, and iOS. There is also a web-based version of this software.
- Can be customized to match with your brand colors.
How to host a live webinar with ezTalks?
In this section, we are going to look at the steps on hosting a live webinar with ezTalks:
Step 1 Go to the ezTalks official website and register for an account. Once the software verifies your identity, you will be ready to proceed. Creating an account on ezTalks Webinar is an easy process that you will be able to complete within a short time. You will only need to give your email address and other basic information.
Step 2 Find and click a button labeled 'Schedule a Webinar' on your ezTalks video collaboration app or on the website at https://eztalks.com/uc/webinar/. This will set the exact time which the webinar will commence.
Step 3 Invite participants to the live webinar that you have scheduled. You can use different ways of invitation that support in ezTalks software. Alternatively, you can use social media by sharing links to invite more people.
Step 4 Click on the "Record" button and start streaming a live webinar. Keep in mind that with ezTalks Webinar, you can pause and resume with the live webinar. Remember to use the "Record" feature on the software to record the live webinar for future reference. You can even make the recorded webinar available to the public for promotion.
Step 5 Follow up: Try to check up on the participants moments after the webinar. Ask if they have any questions regarding the topic that you addressed. By virtue of its polls & survey and feedback function, you can track the engagement and interest of the audience to adjust your webinar.
Conclusion
As you can see, you don't have to be a geek to host a live webinar. The basic knowledge that you have is enough to host a fruitful live webinar session.