Portable Video Conferencing Equipment Brings Flexibility to Meetings
It is not surprising at allthat portable video conferencing systemplays an important role in today's society,as meetings should be conducted frequently to keep pace with the development. As we talked in the last article about the equipment required for video conferencing,today we will introduce you a good portable video conferencing equipment from ezTalks,a global leading video conference solutions provider.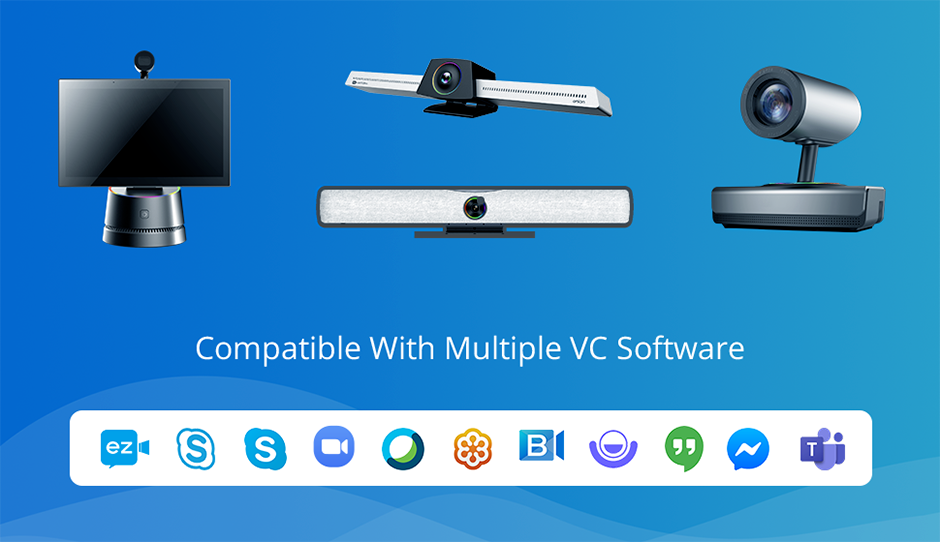 ezTalks Hardware
Supports Multiple VC AppsezTalks all-in-one video conferencing devices work with most popular VC apps like ezTalks,Skype for Business,Skype,Zoom,WebEx,GoToMeeting,BlueJeans,Lifesize,Google Hangouts,Facebook Messenger,Microsoft Teams and more as you require.Request A DemoMeet S is one ofthe flagship productsfrom ezTalks,who has engaged in the development and marketing of video conferencing solutions for several years. ezTalks Meet S is an all-in-one video conferencing equipment that brings portability and flexibility that compatible withmost popular VC apps like ezTalks,Microsoft Teams and more as required. It only costs $899 (ONE-TIME fee without any further fee for permanent use). Now we are going to elaborate on the product in detail,especially its features.
All-in-one Design and Supports Multiple VC Software
As a professional video conferencing equipment,ezTalks Meet Sis an all-in-one unit especiallydesigned forhuddle rooms that allows users to take it with them no matter where they go. Integrated with powerful dedicated software and high-quality hardware,ezTalks Meet Senables you to easily conduct or attend a virtual video meeting with your colleagues,customers,co-workers and suppliers. It is the portable video conferencing equipment customizedsolution perfectly for your huddle rooms.

Powerful Dedicated Software
The software integrated in this video conferencing equipment is ezTalks Meetings or VCS,both of which provide powerful features. Apart from HD video and crystal clear voice,you can also have a live one-to-one chat or group chat with others in dispersed locations. Besides,the great screen/whiteboard sharing function allows you to make good presentations or product demos easily. In addition,you can record the stunning ideas and brainstorms during the meeting and replay it again after the meeting to get more inspirations. Furthermore,you can also control the meeting as a host,such as mute/unmute all participants or one of the participants,make one participants presenter or remove participants out of the meeting.
High-quality Hardware
Besides the software,ezTalks Meet S also unites a video camera,microphone and speaker into one. The 1080p ultra HD camera has a 120-degree field of view without any distortion,so it allows you to clearly see almost the whole team members around the table. It has dual high-quality microphones on the front for audio input up to 6 meter diameter of the device. With the advanced echo cancellation and noise reduction technologies,it delivers an improved voice performance by cutting out background noise and maximizing clarity. In particular,if you want to enhance the sound performance,you can also connect one or more omnidirectional microphones via the USB ports. The customized speaker amplifies the voices in order to ensure you to hear others and be heard by others.
Portability & Flexibility
One unique aspect of ezTalks Meet Sis that it is portable and flexible. As a mobile video conferencing equipment,ezTalks Meet Sis a small-sized rectangular object with the volume of 366mm*69.7mm*52.5mm (L*W*H). It is also awesome that this device is that we can unplug all of the cables and still be able to hold a meeting up to 4 hours before recharging it.Hence,you can pick it up and take it to wherever you need to start or join an online meeting.
Whether wired network or wireless network,ezTalksMeet Scan deliver a smooth and fast environment to perform the video meeting successfully. What's more,the wireless video conferencing equipment is easy to install and use. Just by putting it on the top of a computer or TV monitor and connected it well,you can start the video conference with only a single click. It is worth noting that the embedded software can compatible with Windows,Mac,iOS and Android,which will give users more flexibility.Also,T-Voice,also created by ezTalks,can be used as a controller or speakerphone when you use this portable video conference system Meet S for better huddle conference room experience.
To learn more about the video conferencing equipment ezTalks Meet S and how to use it,please see the video below:
In conclusion,the video and phone conferencing equipment ezTalks Meet Sbrings much portability and flexibility to video meetings as mentioned above. It is an affordable video conferencing equipment with rich features. It allows users to meet,connect and collaborate with others anytime,from anywhere,helping them reduce cost and increase productivity.For other sizes of conference rooms,you can click hereto get more information>>