What Is Multipoint Video Conferencing and Its Advantages
Throughout the years,the process of conducting a meeting or a conference has kept on changing. Earlier,people used to assemble in a room and then discuss the proceedings of the meeting. However,today's scenario is completely different. Even if the different parties of the meeting are in different locations of the world,it is still possible to host online meetings thanks to multipoint video conferencing software.
Multipoint video conferencing can be used for plenty of purposes. They are not just for the corporate houses. For example,several Universities use Multipoint Video Conferencing facilities. The lecture delivered in one university can be simultaneously displayed in plenty of other Universities at once.
However,video conferencing can be of various types. The equipment used for each type is different from the other. Here are the main types of multipoint video conferencing which businesses use: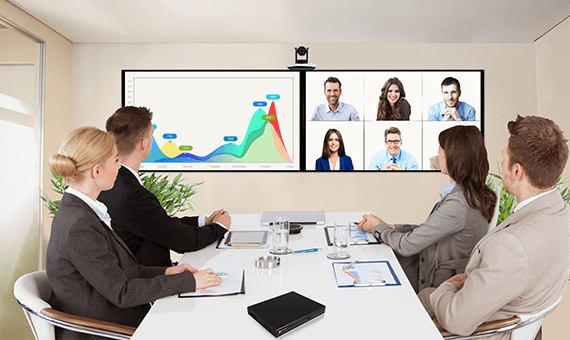 1. Point to Point:
In this type of system,your video conferencing system will connect to just another system. This is the most basic type of video conferencing and is very popular. The equipment used is fairly simple and you will find plenty of software which supports Point to Point ( P2P) video conferencing.
2. Multipoint Video Conference:
In a P2P video conference,there is a simultaneous communication between two different sites. But here there is communication between more than 2 sites at the same place. Advanced equipment is necessary for this type of communication to take place. The maximum number of participants in a multipoint video conferencing depends on the software which you are using. Most software generally allows more than 25 users at once.
The operation of multipoint video conferencing is very complex. The main equipment is the multipoint control unit ( MCU) which acts as the middle point between the various components.
Advantages of Multipoint Video Conferencing
1. Reduction in Travel Cost:
The main benefit of multipoint video conferencing software is that it significantly reduces your traveling expenses. Since you will be able to communicate with your clients right from your business location,you don't have to worry about travel expenses. And since you will be able to communicate with all your clients at once,you will also get to save a lot of time. Otherwise,you would have to call up each of your clients at one time. Although the effectiveness of direct face to face communication can never be replaced,if you look at the cost savings,you will realize that multipoint video conferencing is worth it. And most of the software all support HD quality video and crisp audio.
2. Increased Productivity:
If you operate globally,then you will have various teams spread throughout the globe. If you just communicate with phone calls or emails,there may be misunderstandings which will be bad for the business. However,in the case of video communication,they will stay more alert and will listen to everything that is being discussed. Their productivity will increase and your projects will get completed faster. Another main benefit of multipoint video conferencing is that it promotes communication between the various groups of employees as well. In a point to point communication,you will be communicating with just one employee group at one time. However,in this case,since there is simultaneous communication,it will help to build better relationships between the various employee groups.
3. No time Constraints:
In the case of video conferencing,there are no time constraints as such. All you have to do is just open the software and connect with the other party. The setup process is also very easy. You don't have to be a tech savvy person to use video conferencing facilities.
4. Added Features:
In a multipoint video conferencing software,there are also several extra features which makes the communication even more effective. For example,screen sharing option is generally there which makes it much easier for you to explain a thing. Group Chat option is also there which you can use to send a URL to all of your clients or employee at once.
In order for multipoint video conferencing to work,you have to very carefully select the software which you want to use. You will find plenty of such software available in the market. But you should go with one which has a wide range of features and has a good reputation. You can consider ezTalks Cloud Meeting. ezTalks Cloud Meeting is a very reliable software and has a wide user base. One of the best things about them is that they offer HD quality resolution. Their audio is also very crisp and clear. Thus,you will be able to communicate in a very effective way. There are several other features as well. For example,screen sharing feature is available. You can also record your meetings for future use. The software is also very easy to use. You will also be in full control over the meeting proceedings. You can remove or mute anyone you feel like.