Top 6 Online Business Meeting Software
Whether you have employees and clients within the same building, across town, or in a different country internationally, you can collaborate and meet with ease thanks to a number of online meeting software. The meeting software brings the meeting room online in a reliable fashion that enhances the efficiency of collaboration and interaction. Here are 6 of the best and most reliable business meeting software in the current market.
1. ezTalks Meetings
Any online meeting will be measured by its clarity in both audio and video communication and the various additional features that it offers. ezTalks Meetings is designed for continuous use with unlimited access to HD video and audio interfaces.
The software is available for free. It allows the use of innovative whiteboard to improve the extent of collaboration. In addition, you get to enjoy instant screen and content sharing to go with the issues discussed in the meeting. You can record and playback any meeting and use its arranged scheduling features to schedule and manage meetings. It is available for every device including mobile phone interphase.
ezTalks Meetings offers its users control management features that include muting, permit speak, and lock meeting among other functions. Its online meeting room is designed for internal collaboration, learning and training, external presentation, and webinars.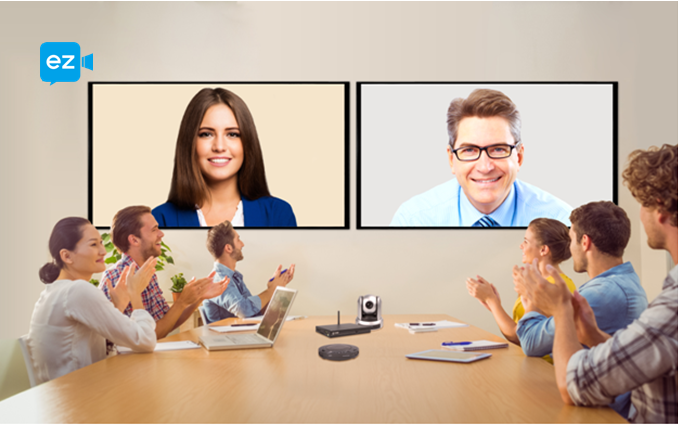 2. Livestorm
Livestorm ranks high in this list due to its ease of use and the reliable customer service. However, this is not sufficient for an online business meeting software to rank highly in this list. Livestorm meets its purpose as a web-conferencing solution by its ability to integrate with more than 750 apps through Zapier.
Livestorm is designed for product demo and training with browser based solutions that meet every type of device. It has features that allow the user to generate actionable insights on the selected audience and retarget the audience automatically. Other features available include sharing of application, the usual chat, presentation streaming, on demand webcasting, record and playback, and two way audio and video including video streaming.
However, Livestorm has some limitations that challenge its suitability as a business meeting online software. The software does not have a close button for its chatbox, video, and webinar such that they remain open even when the user leaves the room.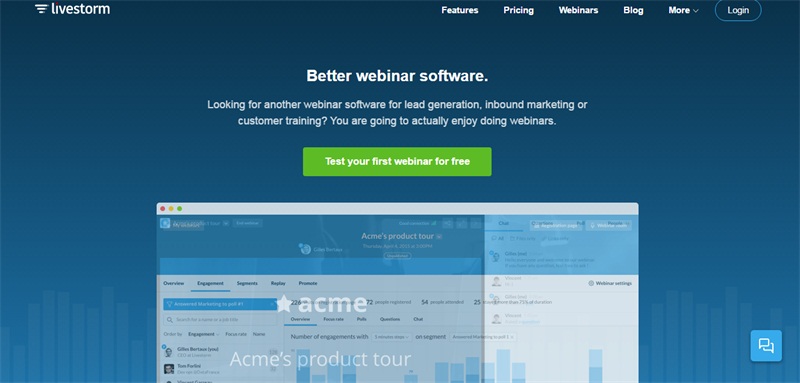 3. Zoho Meeting
Various software products come under the Zoho brand. However, for online business meeting, the meeting online software is Zoho Meeting. Zoho Meeting, offers its users an online meeting room that has various functional features that are designed for group meetings online and business meeting online. The online business meeting software is ideal for showcasing products to prospective customers, support or troubleshooting for the clients, and other meetings. It can be embedded on a blog, notebook, webpage, and wiki.
Some of the notable features in the online business software that make it stand out are its application sharing ability that allows it to reach its target niche which is technical assistance. The meeting software comes with an interactive whiteboard and electronic hand raising that are not common in most meeting software. It also has the typical features which are video streaming, record and playback, chatting including private chatting, and on demand webcasting.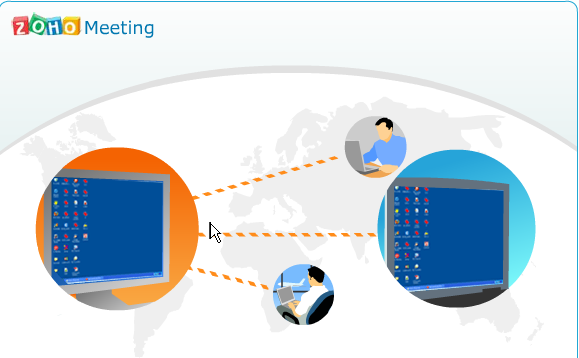 4. WebEx Meeting Center
Cisco is known for reliable connectivity within the information communication technology services. WebEx Meeting Center is a product of Cisco system. The product is designed to support conferencing and online meetings. It is simple to set up and operate making it one of the most preferred online meeting business software. Its advanced technical specification makes it stand out among other online business meeting room solution providers.
WebEx Meeting comes with various features such as a variety of standard based video including Cisco Jabber and Spark. It comes with integrated voice conferencing to support VoIP and call in number. The meeting can be held on various mobile platforms including Apple Watch and Windows Phone 8 through its cross platform integration. Security is a feature that stands out for this online business meeting software.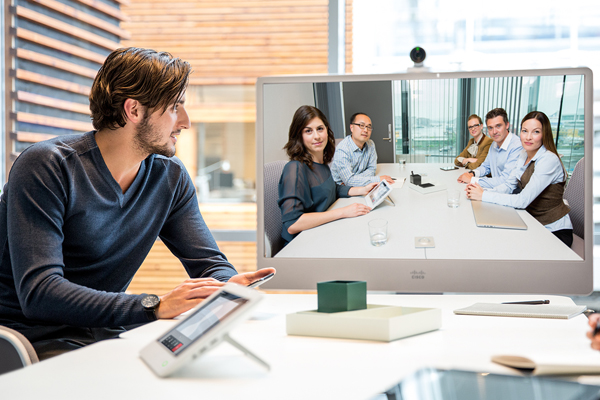 5. Adobe Connect
Adobe is known for its publishing software. Nevertheless, the software that has a strong brand in this area has expanded its services to online business meeting software products through Adobe Connect. The platform allows its users to share securely multimedia platforms. It is good for getting feedback from multiple viewers in a business meeting through the Adobe Flash Player Runtime that is installed in around 98% of internet connected computers.
The platform is easy to use and comes with a reliable technology in online meeting software provisions. It is a simple software that offers a lot more than most of the complicated online meeting software. However, it has the disadvantage of requiring continuous updates. While this may be an advantage with regards to continuous improvement of the technical aspects, the software prompts may bother its users during meetings.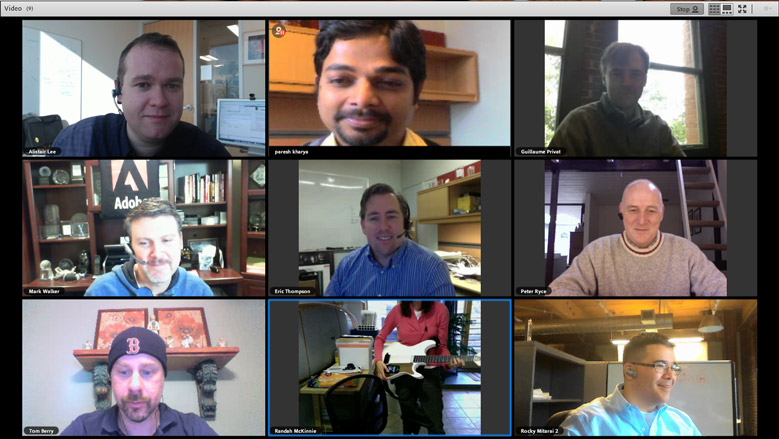 6. Team Viewer
Team Viewer is one of the unique online business meeting software in the market. Other than allowing online meeting rooms to be established from anywhere in the globe, the software enables devices including Servers to connect on any platform within a short period. Moreover, one can control devices from a remote location by connecting the two devices. It is the world most popular provider of remote control software.
With a complex portfolio of services including IT brain, remote monitoring, anti-malware, and cloud backup solution, the single software comes with an advanced technology the securely allows online collaboration. Some of its collaborative functions include both audio and video conferencing, cooperative writing, and document management. Other than facilitating business meetings, the software allows online business operations management.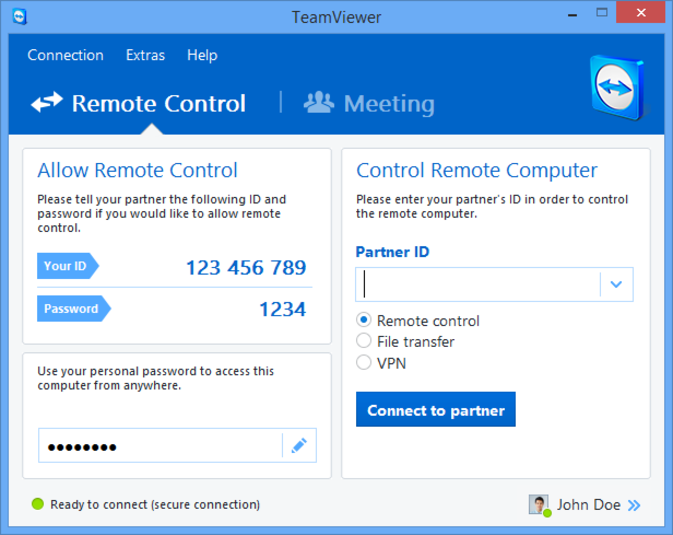 The choice of online business meeting software that is selected varies with various factors such as suitability of use, compatibility with the platform of implementation, and the price. There are many other online meeting room software in the market. But these are the most reliable so far.