The Top 6 Free Webinar Apps for Your Online Events
Webinar applications can be used in various ways to convey messages and share content by way of using video or audio calls to communicate with people. It is an easy way transmit information using free webinar apps. There are six free webinar applications that can be used to pass on information and these are very easy to use and these webinar applications will make your life simple.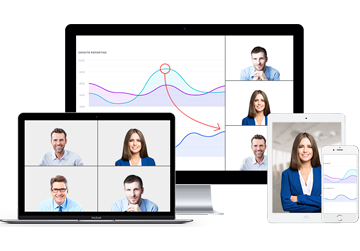 ezTalks Webinar Tool
Free for up to 100 Participants
Fluent Group Video/Audio/IM Chat
Screen Sharing and Whiteboard
Webinar Cloud Recording
Webinar Custom Branding
Sign Up Free Now
1) ezTalks Webinar
This is a webinar application that allows you to host meetings with up to one hundred people. One can use this application without necessarily downloading it. What's more is that it is free for up to 100 minutes with the same functions as the paid session.
Benefits of this application are that you will be able to impress your clients with its email invitation, as you will be able to do a proper one. You can rebrand with it, register a page, and have your address book on it too. This Webinar has multiple roles that can be done on it and you will be quite impressed by what it can do.
It makes the Webinars more productive because it enables you to easily share content to social media platforms like Facebook and Twitter. You will be able to also get reports on how the content is doing and being received by the audience.
Since it is totally free, it is beneficial for large organizations and individuals among others people who want to enhance their business. Why not try it today.
The cloud recording is also the outstanding feature you won't miss. The webinar will be recorded to the cloud once you enable it. You can download to your local computer or share to anybody via the link.
This is among one of the best free apps due to the easy, reliable and affordable feature that makes efficient online events for all presenters.
2) WebinarJam
This free webinar application allows you to engage with everybody. It is a safe application that will allow you to have privacy as you do your work. Seeing that you can engage with people, you can also do live streaming on Facebook and other applications. This means that your work will be seen by many people on board.
You are allowed to actively chat with people and have access to send private messages. This is good because one on one chats are enabled, and will grow your spectrum.
3) GotoWebinar
This is not only a webinar desktop app, it can be downloaded on your phone. This is awesome because even when you are away from your computer, your phone can easily represent you and make work easy for you. It is a platform that can be used by business, individuals too to conduct their work. Holding conferences and chats can enable you to grow your business. Best part about this application is that you can record your sessions and conversations and this is convenient for you as you will be able to refer to events you talked about in the past and even present, as long as you have an account with GotoWebinar.
4) ClickWebinar
Do you want to host international companies? You can do this. Why? Because you are allowed to have translation with this particular webinar app. This means that you can translate many individual languages. Apart from being able to translate you can have this app work for you at your convenience, in that you can make it suit you and your company. You can make your company logo, with your colors and even make your meeting room according to how you like it. It will give you a lovely feeling that your company gets representation.
You can also record your chats and keep them for as long as you have an account with Click webinar app free.
5) Facebook Webinar App
We all love Facebook and it has done wonders for a lot of businesses and individuals. Facebook live is a way of communicating with people and it is free. This application can be used on both a smartphone and a desktop. So it makes it very easy for you to access to either device. The advantages of it are that you are able to get social with people by means of them commenting and you engaging the as well. As you are socializing with the people, they are able to see and respond to messages in live time, and it will make it easy for you to engage them right there and then. The Facebook webinar app is the future of tomorrow.
6) Join.me
This is a free webinar app that allows you to invite people by using just an email after the webinar app download. You can easily chat and share via use of video or audio with as many users as possible. And you do not even have to download webinar app. People are able to see your feed after accessing the link you send them on their email. You can easily schedule your meeting directly from your Google.
If you want to "hold your call", you are enabled to do that so as to wait for other callers to join in on the call. When you are ready, you can start your call.
Having these webinar applications can allow you to do so much more. Why limit yourself when you can get so much done with these free webinar apps. Whether you download them or not, you can easily get work done and you can prosper.
At just a click of a button, all work can be done. And you, my friend will be in the rankings for good business.