Top 4 Video Conferencing Software
Finally,you make up your mind to embrace video conferencing technology to enhance collaboration,improve productivity in order to boost business,but get stuck in selecting a right one from numerous video conferencing software? You don't have to. This article shares you top 4 video conferencing software to let you collaborate with partners,colleagues and customers anytime and anywhere.
The following part is a video conferencing software list. Go on reading it and find a suitable one for yourself!
1. ezTalks Meetings
2. Skype for Business
3. GoToMeeting
4. join.me
1. ezTalks Meetings - Free Video Conferencing Software
ezTalks Meetings is the only free video conferencing software which offers 100-participant video conferencing plan around the world. It's easy-to-use,professional and powerful,and enables you to start and join online meetings instantly or at a scheduled time from your PC,Mac and smart devices anytime and anywhere.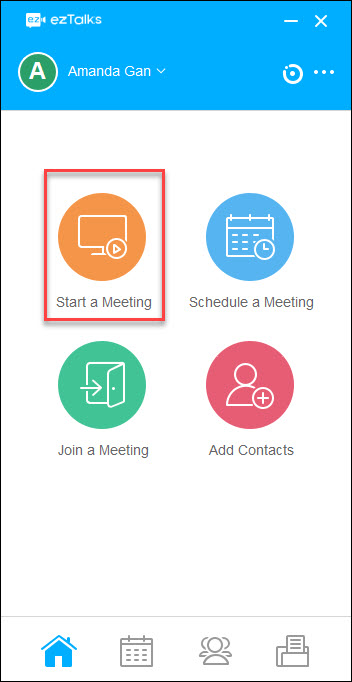 Pros:
•Host up to 100-participant meeting for free;
•Host up to 10000-participant (on-premise plan);
•No limit of meeting times;
•Two ways to join meetings: enter the meeting ID or click an invitation link in your email;
•Fully support screen sharing & whiteboard sharing;
•Start meetings in no time,or schedule meetings at a certain time;
•Record any sessions for playback;
•Full screen and gallery view;
•Built-in HD video and HD voice;
•Support chatting in a group or chat with anyone during the meeting;
•Work perfectly with ezTalks Onion,an all-in-one video conferencing equipment;
•The interface is simple,brief and user friendly.Cons:
•The free version has 40-min limit on group meetings.Go to ezTalks.com to get more information>>
2. Skype for Business
With increasing demand for remote business meeting,Skype,a globally-renowned social software,also launches its video conferencing software - Skype for Business. Just share a personalized meeting URL,anyone receiving it can join the online meeting from any device.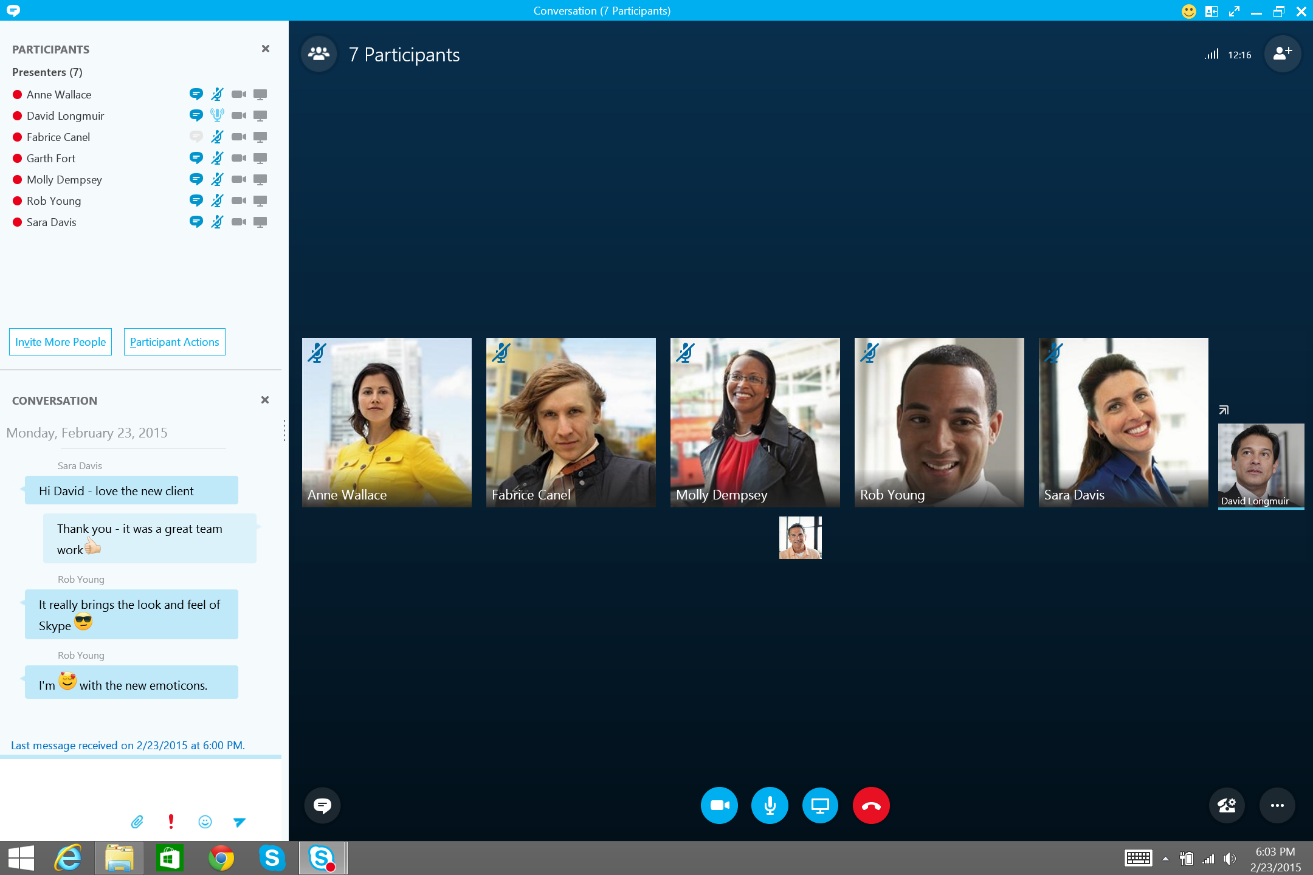 Pros:
•Meet with up to 250 participants(Pro version);
•Offer interactive whiteboard for text editing,drawing and drafting;
•Easily share your screen and files to anyone;
•Provide built-in IM for chat;
•Share your presentation and transfer presenter control to other meeting participants;
•Enable to annotate PowerPoint for real-time;
•Allow to record audio and video call;
•Support poll and Q & A.
Cons:
•The free version supports meetings for up to 10 participants in 60 days,and up to 3 participants after 60 days;
•The free version fails to connect frequently;
•The voice you hear is not smooth enough and has a long latency.
Get more info about Skype for Business>>
3. GoToMeeting
GoToMeeting is another simple and reliable video conferencing software,which gives you the power to connect with anyone wherever he is. By sharing a customized link or filling in a meeting ID,you can invite anyone to attend a dedicated or on-the-fly meeting at once.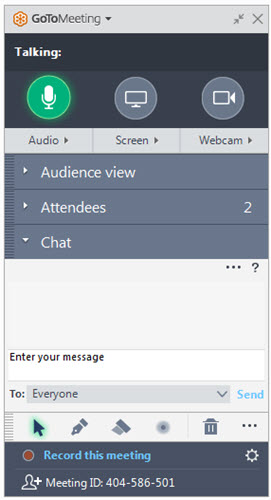 Pros:
•Enable to transfer presenter control to other participants in the whole meeting;
•Allow to host and attend meetings from PC,Mac,Linux,Android and iOS devices as well as Chromebook;
•Share your whiteboard,browser,or documents from other Windows apps,like Sharefile,•OneDrive,Dropbox;
•Support sending instant messages to one participant or all;
•Give the power for you to pass your keyboard and mouse control to anyone at any time;
•Let you record the audio of the meeting.
Cons:
•Only 14-day free trial;
•Its windows version only can be installed on a computer running Windows 8.1 and later;
•Video can't be recorded;
•The recordings can't be used until you convert it.
4. join.me
Like ezTalks Meetings,join.me is another video conferencing software open source that lets you connect and collaborate with multiple people from different locations at the same time,making all of you feel like working in the same room. It provides you with three ways for invitation: send your personal link or an email for an invitation,or just share the one-time code of a meeting.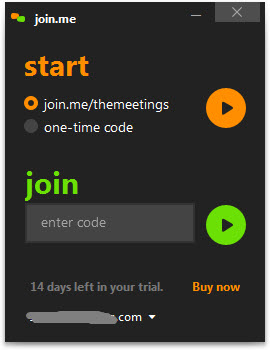 Pros:
•Meet with up to 250 participants with your business account;
•Allow to hand over the presenter role to anyone,so he can broadcast his screen with full control;
•Enable to record the meeting for absent participants and you to go over later;
•Lock and unlock the meeting as you like;
•Share your screen with all participants;
•Mark up the shared screen and take a screenshot to keep the annotations;
•Allow to chat with any participant or all participants instantly.
Cons:
•The trial will expire in 14 days;
•The presenter role can only be passed to the participant using a Mac,PC or iPad;
•Emoji failed to be sent by participants using a Windows or Mac.