Online Meeting Scheduler:Everything You Should Know
Online technology keeps improving day by day. It is making life easier in all sectors,including governments,healthcare,businesses,education and more. Meetings are important in any enterprise because crucial deliberations are arrived at through them. Today,lots of meetings are held online. Online meeting scheduler is making this possible. Enterprises are able to schedule meetings online just by a click. By doing this,enterprise transactions are becoming more efficient and less erroneous.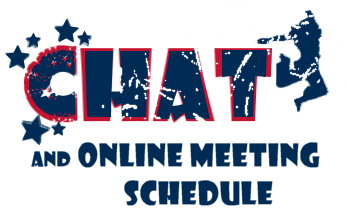 What Is Online Meeting Scheduler?
Online meeting scheduler is software or apps designed to handle anything about meetings online. It enables you to create contact lists,plan meetings,send meeting alerts and eventually hold meetings online.
Why Enterprises Like Scheduling Meeting Online?
With the help of online meeting room scheduler,enterprises find it more effective to schedule meetings online than any other method.First of all,these software or apps are easy to use. All that needs is good internet connection which is a piece of cake. As you see,almost all workplaces have Wi-Fi,LAN,and other internet connection.Besides,scheduling meetings online helps save time. Therefore,employers and employees're able to spare the extra hours to work. Additionally,meeting scheduler online is specifically designed for meeting scheduling. It has a particular purpose to perform better in meeting scheduling. Scheduling meetings online also bridges space. Team members in an enterprise do not have to meet physically to arrange meetings and even have online meetings.
How to Schedule Online Meeting with ezTalks Online Meeting Scheduler?
Are you thinking about online meeting scheduling? Look no further. ezTalks online meeting scheduler is the best online meeting scheduler software. It has been in the online meeting business for a while. It offers you high-end online meeting scheduling service. It is easy to navigate thus user-friendly. ezTalks comes with four key functions: creating or adding contacts,schedule meeting,start meeting and join the meeting. Here we emphasise on scheduling online meeting.
You can create a contact list or import contacts from your phone,which makes this online meeting room scheduler more flexible. When scheduling meeting time,there is a time specification for instance GMT. This fosters accuracy to ensure no confusion about time among members.
Step 1. Download And Run This Online Meeting Scheduler
The first thing you should do is to download the online meeting scheduler on your PC or smartphone. After that,you need to install it.

Next,you run it.Create an account,which you will always use for logging in before you can use it. Or,you can choose to log into with your Facebook or Google account.
Step2: Start to Schedule Meeting Online
Click Schedule a Meeting. This brings a small schedule-meeing window. In this window,input the participants' email addresses,meeting topic,type the time when the meeting will take place,including the day,and fill in meeting details. Then,click Schedule.
Once you click on schedule,ezTalks Meetings sends emails to participants,informing them of the meeting. The recipients get information about the duration of the meeting and the number of participants. The invite looks like an SMS. You can invite people who are not on your contact list to attend the meeting.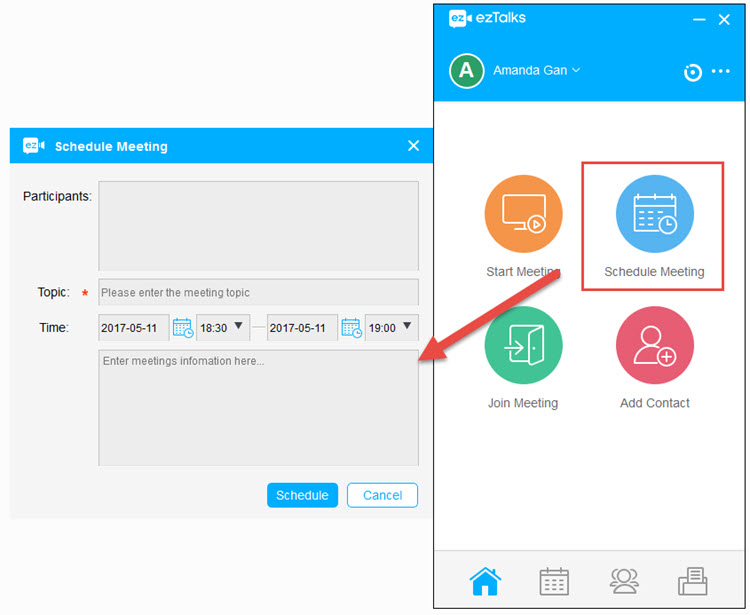 ezTalks online meeting scheduler makes it a catch for many enterprises to schedule meetings online easily. It does more than meeting scheduling. It empowers you to start online meetings,like a real face-to-face meeting. Your colleagues or clients join your meetings,observe each others' body languages,chat with one or all,share screens,draw ideas with an inbuilt whiteboard tool,record online meeting for playback,and more. Simply put,there is no much difference between online meeting via ezTalks online meeting scheduler and face-to-face meeting except the medium of interaction.