The Best 5 Wireless Conference Camera
A wireless video conference camera is a handy tool in the global market today to facilitate meetings and conferences between people who are geographically apart.
When it comes to purchasing these wireless conference cameras,you need to consider those that employ the latest technology and advanced features. If you are contemplating buying a wifi video conference camera,below are some of the best cameras you should consider. (*Note ezTalks hardware for their compatibility with other VC apps)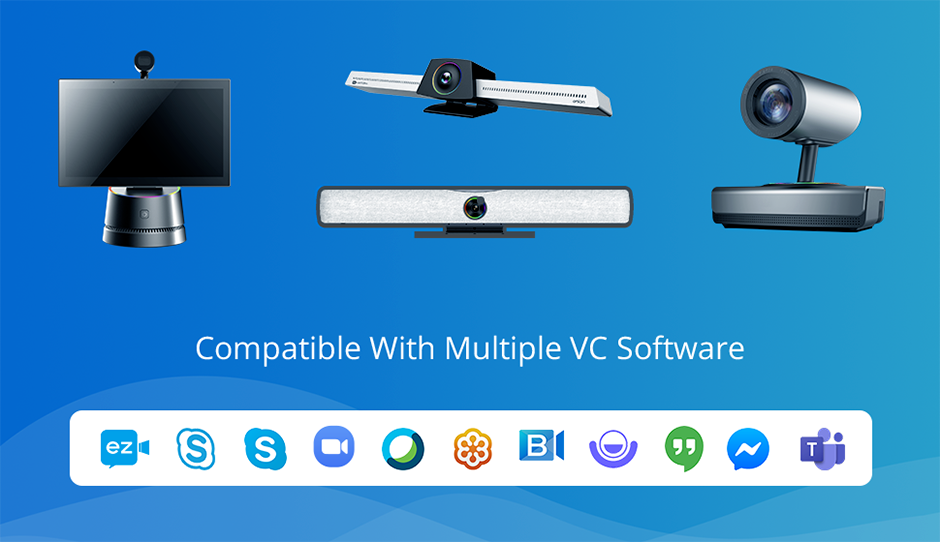 ezTalks Hardware
Supports Multiple VC AppsezTalks all-in-one video conferencing devices work with most popular VC apps like ezTalks,Skype for Business,Skype,Zoom,WebEx,GoToMeeting,BlueJeans,Lifesize,Google Hangouts,Facebook Messenger,Microsoft Teams and more as you require.Request A Demo1)ezTalks Meet XMeet Xis proudly innovated by ezTalks,one of the most trusted brands in the field of video conferencing for offering reliable and affordable video conferencing solutions.This premium video conference camera comes equipped with a 1080p PTZCamera to delivers best-in-class image quality for middle to large rooms. The best feature of this wireless conference camera is its compatibity with multiple video conferencing software including ezTalks,Microsoft Teams and more as you require.Meet X camera is specially designed to provide razor-sharp images and high-quality video. ★It works with popular video conferencing software.★ It features state-of-the-art CMOS sensor technology together with over 2.07 million pixels to offer the best quality images.★This wireless conference room camera incorporates a large lens which supports 10-times digital and 12-times optical zoom.★It supports the flexible rotation at +/- 170° pan range and +/- 30° tilt range for bringing everyone in picture easily and clearly even in a large space.It aims to provideoptimal performance during video conferencing by utilizing a built-in codec.The built-incodec enables powerful processing ability for 1x1080P hardware encoding,3x1080P hardware decoding,and up to 25 video feeds by software decoding.Frictionless video streamingcan be realized.It takes pride in its brilliant dual screen feature.Thanks to the dual display feature incorporated in Meet X,you can have one display for in-room presentation sharing and the other for interacting with the participants. This adds to its flexibility and dedication in fulfilling different conference requirements.Both what the camera captures and the host shares can be shown.Pros:a) Features a dual display
b) Has a powerful processing capability
c) Specially designed to produce razor sharp and quality HD images
d) Has a 170-degree pan range to capture more details in a single framesMeet X offers nothing less.Give a chance to upgrade your conference room with the best wireless conference room camera NOW!2)ezTalks Meet MiniezTalks Meet Mini is an all-in-one video conferencing unitand not just a HDMI video conference camera,but the solution for the personal rooms. This device comes with 2 built-in microphones,2 built-in high-fidelity speakers and stereo sound to guarantee you warm vocals during a presentation. It also supports to work with multiple video conferencing apps including ezTalks,Microsoft Teams and more as required.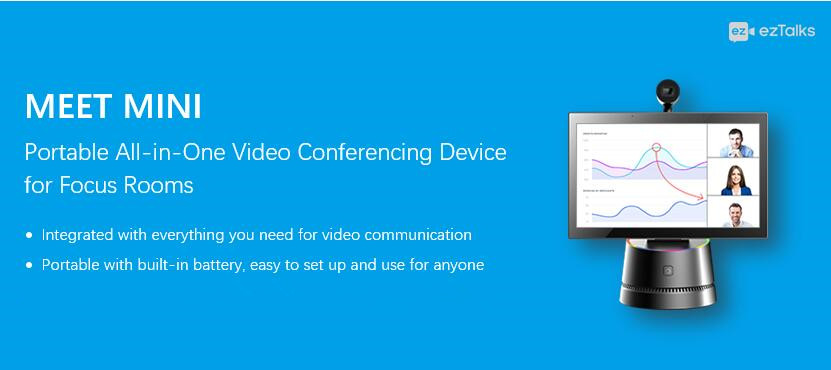 Equipped with full HDtouch screen at +150° to -5° tilt range,Meet Mini enables 30% larger visual space,supporting more clear images and more flexible touch control. With the rotatable base at +/- 90° pan range,Meet Mini always keeps you in a perfect visual angel.Also,with the far-end control feature,remote participants in the other room can still pan the camera's picture left and right,as well as tilt it up and down for ideal video image.Moreover,it utilizes a high-performance 64-bit processor for high-speed processing to maintain stable and seamless high-definition video and audio streaming.Pros:a) High-speed processor to maintain stable streaming of both audio and HD video
b) Comes as a complete package for all your conferencing needs at an affordable price
c) Large HD touchscreen for more accessible controls and enhanced visuals
d) Provides crisp and clear sounds
e) Highly portable with the all-in-one designOther options:If you are looking for the conference room solutions with all-in-one design which also include a powerful wireless camera,we are also here to recommend Meet S and Meet Pro. The followings are the brief introduction on their own wireless camera.Meet SMeet S has a built-in camera,which is an ideal device for huddle rooms. It is 1080p with 120° wide-angle lens,which strives to offer the ultra HD video for your meetings. Plus,the 1080p camera enables you to see everyone or everything clearly without causing image blurring,reduced contrast or misalignment of colors and the 120° wide angle lens captures the entire meeting room easily. Like the above,it also supports to work with multiple video conferencing apps including ezTalks,Microsoft Teams and more as required.

Meet ProMeet Pro's camera makes it possible to capture brilliantly sharp video and outstanding color at resolutions up to 4K. With high dynamic range (HDR) video mapping,it ensures that you can make out every facial expression even with poor lighting. Also,the ePTZ with remote control empowers you to get dynamic images without any delay.Thus high-quality videos are guaranteed for your clear and smooth video experience in small conference rooms.Like the above,Microsoft Teams and more as required.

3) Genius WideCam F100This is the best wifi conference camera for the people who desire an extensive angle view. It boasts a stable construct with stands to mount it onto a monitor or on a desk. What makes it stand out from most wireless video conference cameras is the 120-degree field of view that it provides. This makes it suitable for large conferences or if you wish to capture more details in your frame.Genius WideCam F100 has the best resolution-frame rate combination. It has the ability to shoot 1080p video while still delivering 30 frames per second. With this,you will achieve a smooth,more natural and appealing video output. When it comes to audio quality,Genius WideCam F100 features highly sensitive-microphones which help you to deliver high-quality stereo sound just like T-Voice 100.Pros:a) Offers a broad field of view
b) Provides the best resolution-frame rate combination for stable and seamless video outputCons:a)Low quality in dimly-lit rooms4) Logitech ConferenceCam ConnectThis particular wifi video conference camera is ideal for most businesses since it offers on-demand video conferencing solutions. It comes equipped with everything that you require for a fuss-free video conferencing. When fully charged,this device will last 3 hours when on video-mode and 15 hours when on audio-mode.This conference camera might have a simple design,but it delivers HD 1080p video to allow for sharp images. It additionally features a 4x digital zoom and auto-focus to achieve high levels of clarity. Moreover,the camera provides a 90-degree field of view while the speakerphone covers 360-degree to accommodate everyone participating in the conversation. For enhanced flexibility,it supports multi-device connectivity and is compatible with features like Skype and Cisco.Pros:a) Highly portable
b) Provides quality video output
c) Compatible with several VC platforms
d) It's an all-in-one unitCons:a)Does not support iOS screencasting5. Microsoft LifeCam Studio for BusinessMicrosoft LifeCam Studio features a tony design in silver and black aluminum. It is outfitted with a petal lens hood which is useful in regulating excess light below and above the glass lens. This unit features a 1080p full definition camera which is ideal for any professional pursuit. The integrated advanced precision optics helps in achieving sharp images. What's more,it offers a 75-degree view thus minimizing the need to move the camera frequently.You will also fancy the Microsoft LifeCam Studio's high-fidelity microphones. They provide crisp and clear sounds by minimizing white noise. However,you might notice a significant amount of ambient noise.Pros:a) Offers a natural color balance
b) Allows 360-degree rotation
c) Has true color and automatic light correction built-in featuresCons:a) The camera has a 1080p sensor but only supports 720p video calling without the use of third-party webcam software b) Mono mic has no adequate noise suppression.ConclusionYou need to pay close attention to your wireless video conference camera needs before deciding on the ideal wireless conference camera. For instance,do you want desktop conferencing,small group conferencing or large group conferencing cameras?More importantly,consider their specs regarding video duality,audio quality and other advanced features that will facilitate a frictionless conferencing experience.Picture source from Clipartkey,PNGitem,KindPNG.