How to Choose Wireless Conference Room Solutions?
Collaboration and communication are essential to success in every business and video conferencing is rapidly becoming an important part of the present day virtual workplace. To make sure a video conference goes really well you need the best wireless conference room solutions. Though you have a lot of options to choose from the below-given tips will help make sure you only end up selecting the best.So,without wait lets us discover these tips on how to find or things to consider when looking for conference room presentation solutions.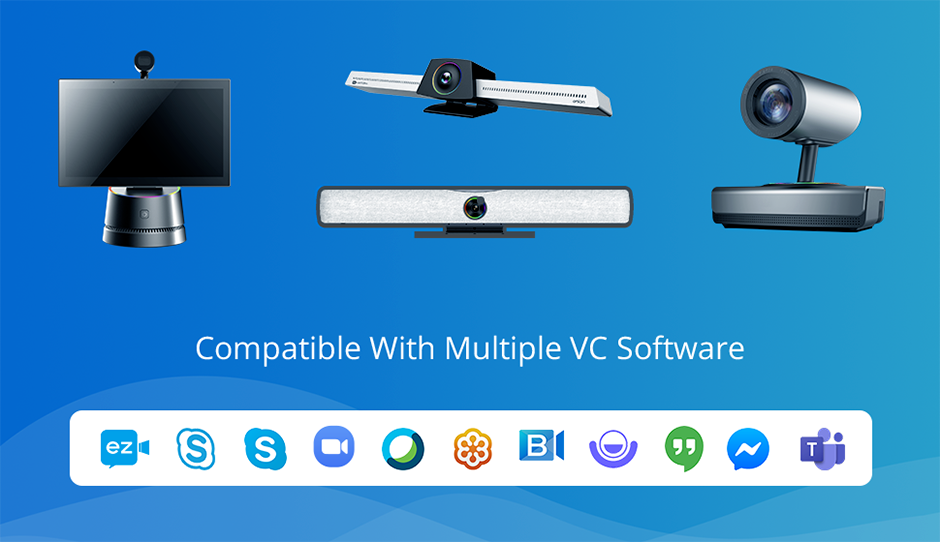 ezTalks Hardware
Supports Multiple VC AppsezTalks all-in-one video conferencing devices work with most popular VC apps like ezTalks,Skype for Business,Skype,Zoom,WebEx,GoToMeeting,BlueJeans,Lifesize,Google Hangouts,Facebook Messenger,Microsoft Teams and more as you require.Request A Demo
The investment
Video conferencing earlier was more of a luxury that only big enterprises could afford and thus it gave them a clear edge over others. However,with more and more options coming up not only are the choices vast,but the price is also competitive. There are many affordable solutions that even small companies can opt for. However,you cannot only opt for a solution because the price is low. You need something that offers you the best deal at the best price,like ezTalks wireless conference room solutions. It has been created in a way that offers you everything you will ever require and that too within your budget. Only $40 per month is enough to equip your conference room the most advanced wireless conference room solutions.

Compatibility
The next important thing that you need to look for in a wireless conference system is compatibility with other enterprise communication systems and also applications like calendar,email,phone,PC clients,mobile,etc. For example,ezTalks Rooms Software is compatible with Mac and Windows clients,and you can control wirelessly using any devices. You can even join the meeting without the need of downloading any apps. For another example,as for its hardware solutions,ezTalks Meet Series allow you to choose your preferred video conferencing software includingezTalks,Microsoft Teams and more flexibly.
Crystal clear audio and video
Both audio and video is very important in video conferencing as you would want the participants to be able to see you and any other things that you share properly and also hear you well or else they will lose interest,will not be able to understand anything,and thus the meeting will be a waste of time for you the others who have joined. You will feel as if you are actually present in the conference room itself,and thus everyone involved will surely show great interest in the meeting.
Recording the conference
A good video conference room solution should be able to record the meeting properly. This helps back up important information for later use. It is not really easy to take down notes of everything that is being said in a meeting but everything that is discussed is nonetheless important and needs to be remembered. The best solution in this case,of course,is recording.
Multiple screens
When in a video conference the participants would want to see the host,the other participants,and also the things (notes/slides/images) that are being shared. This is only possible if your wireless conference room solution allows multiple displays.
In this case,we recommend ezTalks Rooms Software,because it can display the same video stream,or display a particular video stream,or data stream on many screens. You can even see the host on one screen,the slides/notes on the other,and the other participants on yet another.
Annotation and whiteboard
Just sharing slides and keeping on speaking may not be the best way to keep the participants engaged. To help them understand things easily you need the support of whiteboard and drawing tools. The best wireless conference room solutions should offer you different drawing tools using which you can highlight important parts,draw and edit unshaped thoughts,write important quick notes,and thus keep your team members engaged.
Schedule meeting
Good conference room presentation solutions should be created to make everything easier for you,including scheduling meetings. You can send invitations using your existing mail contacts and you do not need to worry about sending reminders as ezTalks will do that for you as well. You even will be able to see a list of all future meetings.
Easy meeting management
Once you start the meeting with ease you also would want to manage it with ease. You need to look for a solution that is easy to understand and manage as you would not want the participants to wait while you are trying to figure out what to do next. For example,ezTalks wireless conference room solution is one such solution that can be controlled on any device including iPad/iPhone/Windows/Android/Mac systems. You can mute/unmute any participants when you want to or even lock a meeting when you feel necessary.
Once you choose the right wireless conference room solution,hosting the best quality meeting will become super easy. You will enjoy hosting the meetings with ease and the participants will understand things with clarity,pay full attention,and thus the purpose of the meetings will always be served.