Who Uses Video Conferencing? Here's the Answer
As globalization continues to rise,video conferencing is gaining more and more popularity for companies all over the world. Video conferencing is so a powerful collaborative tool that can be used by people in almost all the industries. Specifically,who would like to use video conferencing? Now we will fully elaborate on the question in three parts.
Part 1: What Is Video Conferencing?
Part 2: Why Use Video Conferencing?
Part 3: Who Uses Video Conferencing?
Part 1. What Is Video Conferencing?
Video conferencing,also known as video-conferencing or videoconferencing,refers to a system that enables two or more people in various places around the globe to have a meeting by means of electronic sound and video communication through the Internet,according to the definition from Collins. To put it simply,by utilizing a video conferencing system like ezTalks,you can easily host or join a virtual online conference with people you want,just like you were talking to each other face to face.
Part 2. Why Use Video Conferencing?
According to a recent survey from Redshift Research,among over 1,200 business decision makers in 12 countries,76% said they use video conferencing solutions to work today,and 56% said they join at least one video conferencing call a week. It indicates that video conferencing has now becoming an essential communication tool for business. But why they'd like to use video conferencing?
Apart from the reduced travel cost and time,a study shows that 96% business decision makers believe video conferencing eliminates geographic restrictions and increases productivity between teammates in different places. Besides,during a video conference,you can clearly see the body language and facial expressions of participants across distances,leading to a much more effective and faster collaboration. Furthermore,you can also use video conferencing to do other collaborative work except for business meetings,such as online interview,telecommuting; e-learning and distance education if you are engaged in education industry.
Part 3. Who Uses Video Conferencing?
After understanding video conferencing meaning,video conferencing benefits and uses,you must be very curious about who would like to use video conferencing. Generally speaking,video conferencing can be applied to almost all the industries as long as one has needs for video conferencing. The survey shows that the top five different industries that benefit from video conferencing is as follows:
Business meetings. Obviously,it is the common use of video conferencing. Video conferencing is adopted in the business world by companies of any size to conduct internal or external business meetings,staff training and HR job interview,etc. To learn more,you can refer to 10 benefits of video conferencing in business.
Educational field. Educational institutions (including schools,colleges and universities,as well as training institutions) can employ video conferencing to conduct online education,continuing education,virtual field trip,and so on. To get more information,read 8 Benefits of Video Conferencing in Education.
Telemedicine. Video conferencing can also be used by hospitals and pharmaceutical companies in the medical field to have a remote medicine,specialist treatment,and etc. In order to better understand the importance of video conferencing in healthcare,you can check 6 Benefits of Video Conferencing for Healthcare.
Legal industry. Many legal firms or courts utilize video conferencing to connect with witnesses who are unable or unwilling to be questioned or testify in person. Want to know more about how video conferencing is used in legal field,go to 5 benefits of video conferencing in court.
Telecommuting. Studies show that 80% of staff are willing to choose a more flexible working scheme like telecommuting. Video conferencing makes employees working from home possible by providing them a means of keeping connected with their colleagues and customers in a real way. Get more on advantages of telecommuting for employees.
You can get a brief understanding of who uses video conferencing from the following infographic: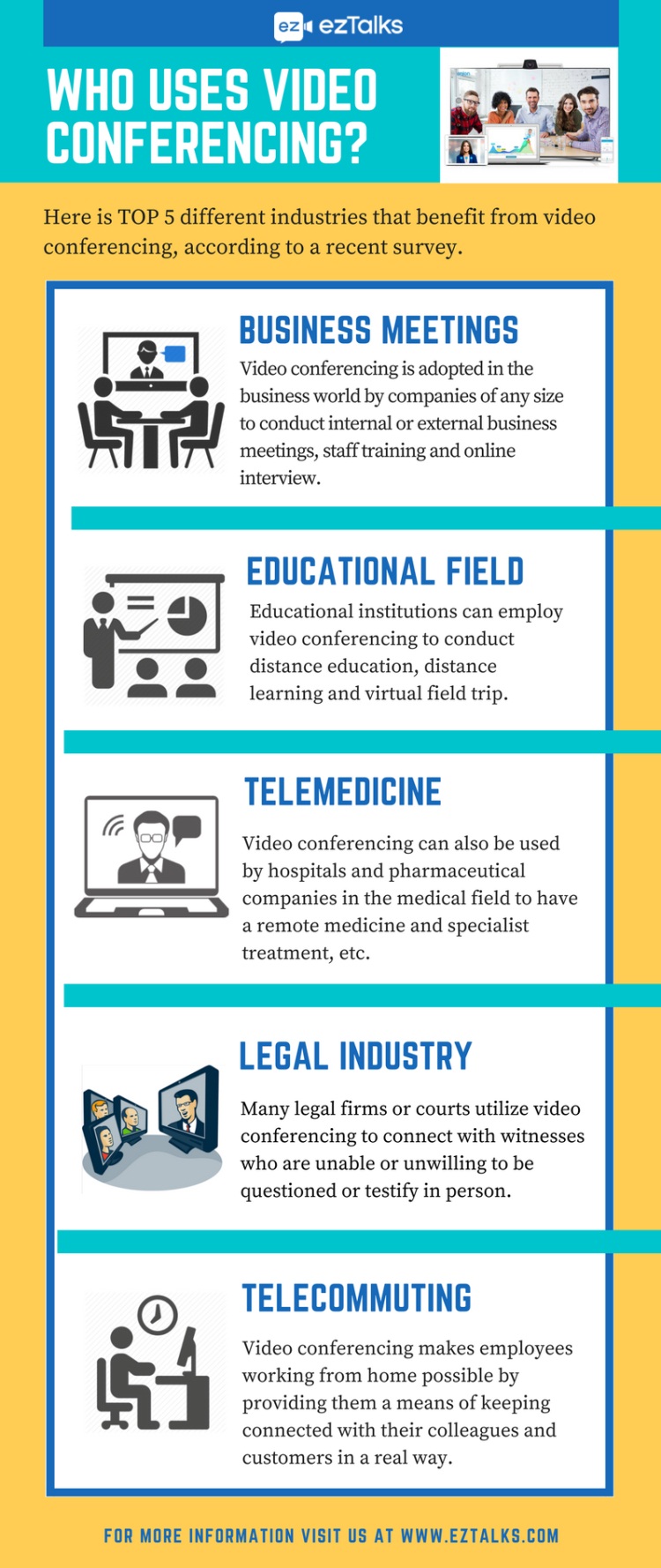 After going through the article,you must get an idea about video conferencing and can answer the question aforementioned. Yet,here is just some of uses for video conferencing and of course there are far more beyond these. You can get more information about video conferencing at ezTalks resource.