Cloud Collaboration: How to Collaborate in the Cloud
The term cloud collaboration is creating waves in the world of web recently. Bringing a revolution in the way of doing business over the Internet,this unique and innovative collaboration method has created a whole new platform for the businesses and organizations. If you're still unaware of the revolutionary way of cloud collaboration,keep on reading the article to explore vital facts related to it.
What Is Cloud Collaboration?
Cloud based collaboration refers to the way of co-authoring and sharing computer files,using the technology called cloud computing. Here,the documents that you want to share with other members of the team are uploaded to a central virtual storage,i.e. cloud,where all of you can easily accesse them anytime. Virtualizing resources like applications,data storage,networks and servers,it simply lets two or more employees work together on a project,regardless of the distance of state or country between them.
Benefits of Cloud Collaboration
Let's hear about some of the major benefits of this particular kind of collaboration has to offer.
# Updates Appearing in Real Time. No matter whether the members of a business team operate from within a country or outside it,the moment anyone makes any edits or updates,it will be visible to everyone in the team,that also in real time.
# Better Access to Huge Files. No matter how huge is the file size,it stays stored in the cloud,letting everyone access it,without having to face any delay in receiving or distribution,unlike email service that fails to handle the file load if it gets larger than a few MB only.
# Increased Level of Participation. Access to different projects at once automatically gives rise to the participation level among the employees,where each one of them gets an equal opportunity for providing various inputs.
# A Breeding Ground for Creativity. No matter which corner of the world one locates,as long as he has the Internet connection and is a part of the cloud teams,he gets to participate and share his views and inputs in a project,making this platform a brainstorming forum.
# Ensure Organizational Progress. When all the business documents are kept in such a location from where the employees can access them anytime and keep on working on them without having to send the updated versions to others in the team,it naturally boosts the performance and progression level of the organization.
How to Make Cloud Collaboration with ezTalks Cloud Meeting?
For those who want to make the most of this amazing collaboration in the cloud,making such collaboration with tools like ezTalks Cloud Meeting becomes of seminal importance. This cloud collaboration tool makes sure you get to the best cloud collaboration,with HD quality audio as well as video. With video communication becoming an integral part of ensuring the productivity and success of a business today,it is ezTalks Cloud Meeting that can help utilize the cloud collaboration to the maximum.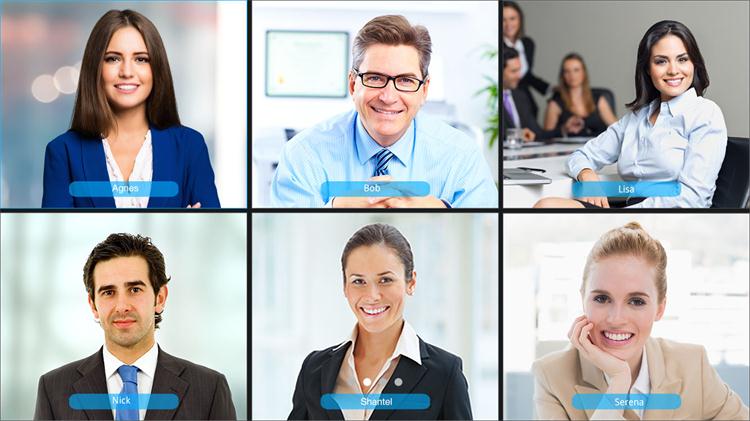 Let's have a look at some of the key features of ezTalks Cloud Meeting:
• It lets you host online meeting with a maximum of 100 participants for free,and a maximum of 500 participants with paid version.
• Having both group and private chat options,it lets you control the accessibility of business talks.
• It comes with both recording as well as playback feature,you can get to explore the benefits of collaboration in cloud like never before.
• There is no limitation in how many meetings you can hold in the cloud with it.
• Content and screen sharing,annotation,interactive whiteboard as well as the live broadcasting make it more impressive than any other.
2 steps on how to collaborate in the cloud
Step 1. To start using the amazing ezTalks Cloud Meeting for collaborating in the cloud,you have two options to choose from. Either you can sign up or register for free to avail its free service; or else you can opt for purchasing a premium account that comes for only $12.99/month.

Step 2. Once you download the ezTalks Cloud Meeting app on your device,whether it's desktop or mobile,there's no stopping you from joining the online meetings for collaboration in the cloud,while you're on the go.
Just run this tool and click Start Meeting in its main window to enter a cloud collaboration room. Then,invite your team members in via the room ID or email invitation. When they're in,you can start collaborating in the cloud for the business things. How easy it is!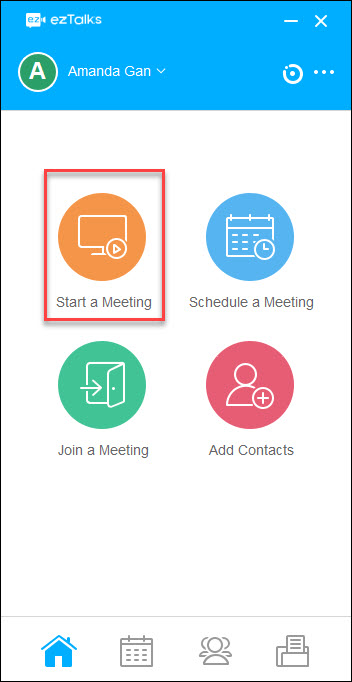 In today's modern lifestyle,the collaboration strategy needs to be an open one and a not a restrictive one,that can help in increasing the productivity as well as mobilizing all the corporate data and information while maintaining maximum security. And it is here that comes the innovative way of sharing and collaborating,called cloud collaboration,which not only lets one enjoy the improved sales results,increased business efficiency and boosted decision-making but also optimizes the workflow,in the best yet most affordable way.