6 Benefits of Video Conferencing in Training to Improve Staff Productivity
It's well-known that the core competitiveness of enterprise is no longer the technical management but counts more on staff,especially those talented ones. That explains clearly why more and more enterprises keep a watchful eye on staff professional quality and learning ability,and provide a variety of training courses at times to keep staff stay competitive.
Why Traditional Staff Training Is Difficult for Enterprises to Carry Out?
Staff Training is not quite an easy thing. For enterprises that have branches spread across the country with different working hours,it's difficult to bring staff together from different workplaces,let alone host a training course. You may say,separate training is a right way out,but it brings much additional expenses which enterprises should not have spent. Apart from that,this kind of training is one-off thing,which means staff have no chance of training for the second time even if they don't fully understand.
Use Video Conferencing in Training to Improve Staff Productivity
Taking these factors into consideration,an ideal way for enterprises to achieve a high-quality and cost-effective training is to turn to a smart video conferencing solution for help,like ezTalks Meetings which brings staff scattered over different workplaces in a virtual classroom. Staff attend the virtual training course from Mac,Windows computers,Android and iOS devices. In the whole training course,staff can communicate with trainers while observing their expressions and body languages via video conferencing,which helps them better understand the training course.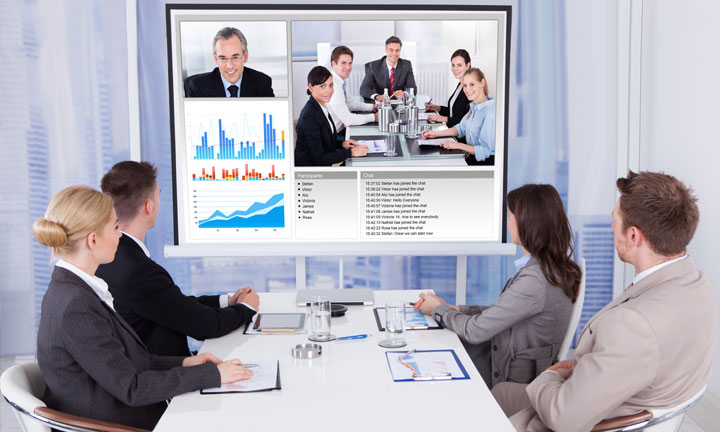 Six Benefits of Video Conferencing for Training
The part below lists out six benefits of video conferencing for training of remote staff.
1. Video Conferencing for Training Reduces Travel Cost and Time
Enterprises bear increasing pressure of staff training due to limited training time and travel cost. Staff training conducted by using video conferencing solution can minimize the cost and time of trainers or staff spending on travel.
2. Video Conferencing for Training Allows to Train Staff Simultaneously Wherever They Are
Traditional training course is geographically restricted. Only employees in the same workforce can attend the training course. Enterprises may have to hold different training courses for employees in different workplaces. Thanks to video conferencing solution,enterprises don't have to do that. As you know,the biggest benefit of video conferencing in training is that it empowers enterprises to gather staff in different locations to attend the same virtual training course simultaneously.
3. Video Conferencing for Training Meet Various Types and Sizes of Training Activities
Traditional training offers to train limited employees in a space-limited room. Compare to that,a virtual training hosted by video conferencing solution supports a variety of training models and authority operation,which absolutely meets enterprises' demands of different sizes and levels of training.
4. Video Conferencing for Training Makes Training under Full Control
Virtual training has authority control,which satisfy enterprises' trainers by authorizing some employees to speak and mute others at the same time to ensure order and discipline in training class. In this way trainers can take the virtual training under full control.
5. Video Conferencing for Training Enables Collaborative Operation
Virtual training hosted by video conferencing enables enterprise to carry collaborative operations with ease. In the virtual training course,trainers can show interactive electronic whiteboards,start votes,share computer screen and important files,play video and audio as well as chat with staff to make the training course lively and interesting.
6. Video Conferencing for Training Supports Recording for Playback
One of benefits of video conferencing for remote staff to attend training course is that it makes training course no more one-off. During the training course,you can record any important episodes of training,so that after training your staff can play the episodes for review. This makes staff training more efficient.
You Might Be Interested in
• Top 10 Benefits of Video Conferencing in Business
• Top 6 Benefits of Video Conferencing in Healthcare
• Top 8 Benefits of Video Conferencing in Education
• Advantages and Disadvantage of Skype for Business Video Conferencing