7 Best Cloud Collaboration Tools
Collaboration tools were considered essential to work collectively and to achieve a common goal. With the advent of new technologies and developed devices,it has become easier to use the collaboration tools more effectively to improve the productivity and the efficiency of the companies. Now you can find many improved features like the spreadsheets,slides,instant messaging,group chat,and video conferencing in the collaboration tools. Moreover,you can arrange a video conference or web meeting within a few hours depending on the availability of the participants.
In the current conditions,many collaboration tools are coming up with some distinct features to enhance the experience of the users. Cloud also offers different collaboration tools. With the cloud collaboration tools,you can arrange collaboration in real time. Cloud collaboration tools are highly appreciated by the businesses for some of the developed and easy to use features. If you are looking for a collaboration tool for your business,then you can consider these cloud tools below.
1. ezTalks Cloud Meeting
ezTalks Cloud Meeting is considered as one of the best cloud collaboration tools. Now it provides free cloud collaboration that can extend up to 100 participants. That means you can start cloud collaboration with 99 participants free of charge.ezTalks Cloud Meeting offers cloud-based solutions to the businesses and helps them communicate and connect with the employees remotely,share the files,and to get the work done effectively. Both free and paid services are available. Some key features of ezTalks Cloud Meeting are unlimited online meetings for cloud collaborations,private & group chat,content and screen sharing,interactive whiteboard,high-definition audio and video,make annotations and record and playback,and more. If you want to do cloud collaboration with colleagues located in various places,there is no doubt that ezTalks Cloud Meeting is a good choice.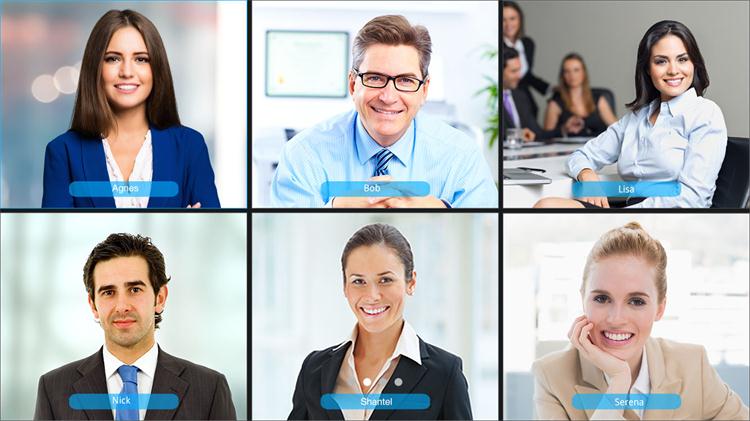 2. Yammer
Yammer is another cloud-based collaboration tool. It allows you to collaborate and communicate privately by creating multiple groups. Moreover,it enables you to add the external collaborators. You can simply sign the office email and can use this platform for the official purposes through desktop or mobile. Some of the key features are private or public chat,like somebody's status,inbox notification,external collaboration,and document sharing. It is one of the widely used tools utilized by both the small and medium sized businesses. It offers a central place for the file sharing,conversation,updates,and much more.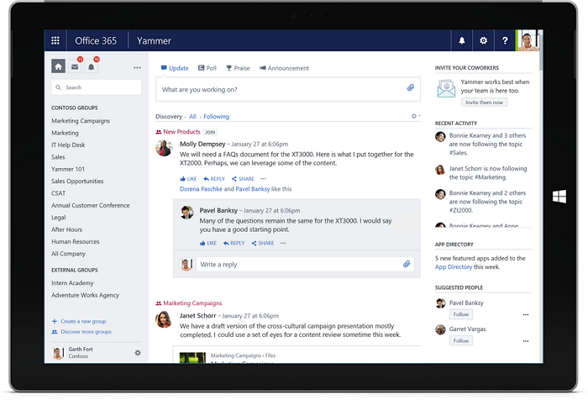 3. Evernote
If you are looking for a versatile tool for cloud collaboration,Evernote is designed for you only. It enables you to sync your notes across different platforms. It comes with an easy-to-use design that makes it a preferred option for the business even knowing that it is not highly appreciated by the IT sectors. You will get both the free and paid options with this tool. The free version can also be used both by the mobile and the desktop. With the paid option,you will get some improved features that include central user administration,screenshot images,and single workspace collaboration.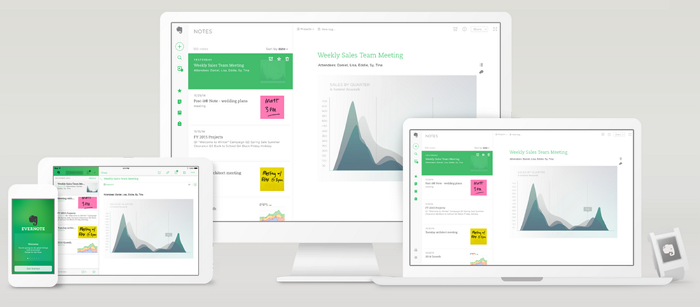 4. Prezi
Prezi is a cloud collaboration tool. This is more popular as an online presentation tool. It is extensively used as an alternative to the PowerPoint. It is more appreciated as it uses a single canvas instead of using slides. Moreover,it enables you to create unstructured and free-form presentations. It is user-friendly and offers offline editing as well. Some of the key features are the better collaboration with multiple users,remote presentation,handover presentation,importing PowerPoint slides,adding sound and narration,and embedding videos. It is mobile friendly.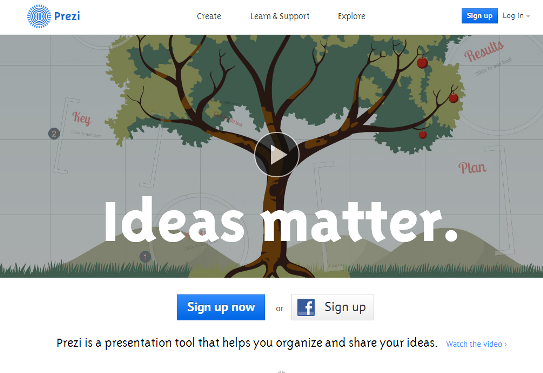 5. Skype
Skye is one of the best cloud-based collaboration tools. It is widely praised by the users for some of its features that include free Skype meeting,PowerPoint collaboration,and screen sharing. It offers both the paid and free option. With the free service,you can host an online meeting with nine participants. With the paid option,you will get some developed features such as the instant messaging,online meeting recording,and group meeting up to 250 participants. It is popular as the teleconferencing and video conferencing solution. It is internationally available and people all over the world use this tool for the web conferencing or even for the personal purposes.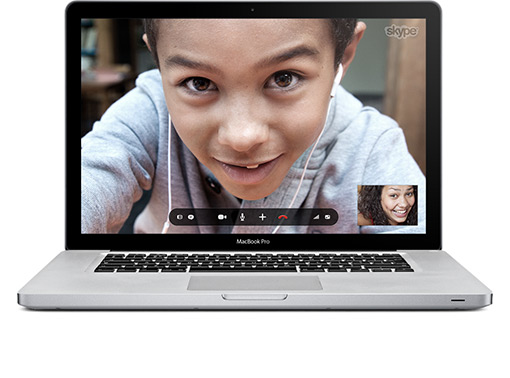 6. Cisco WebEx
Cisco WebEx is a top cloud collaboration tool. It is a widely used web conferencing and online meeting tool that businesses need for the productivity and efficiency. Some of the key features of the Cisco WebEx are file sharing,screen sharing,private and public chat,and annotation. It offers both the free and paid service. With the free service,you can start a web meeting with two participants. It works both on the desktops and mobile. If you want some developed features,you will have to go with the paid service. When it comes to the security,you will find end-to-end data encryption.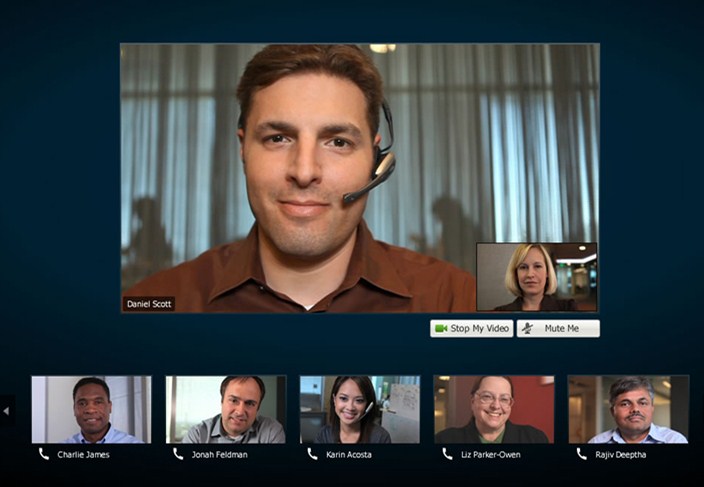 7. Office 365
This cloud tool for collaboration offers everything that includes Excel,plus file storage,Word,PowerPoint,SharePoint Online,and Exchange Online. It is considered best in terms of the functionality and features. It can be used for all sizes of the businesses,including large and small while integrating with many platforms. It offers some developed security features as well.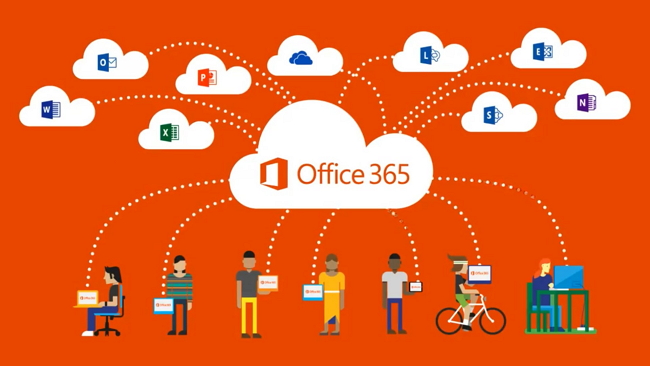 All the above seven cloud collaboration tools come with some specific features. Many of them offer both the paid and free versions. You just need to understand your requirements before choosing any collaboration tool for your business.