How to Select Video Conference Room Devices for Huddle Rooms
To improve productivity,most companies are turning to apply conference room devicesfor video conferencing. And creating multiple small huddle rooms has really brought more convenience in scheduling and holding meetings in businesses. The all-in-one device is the most popular start among the huddle room decorations because its easy setup and use,as well as flexibility like ezTalks hardware that supports multiple video conferencing software.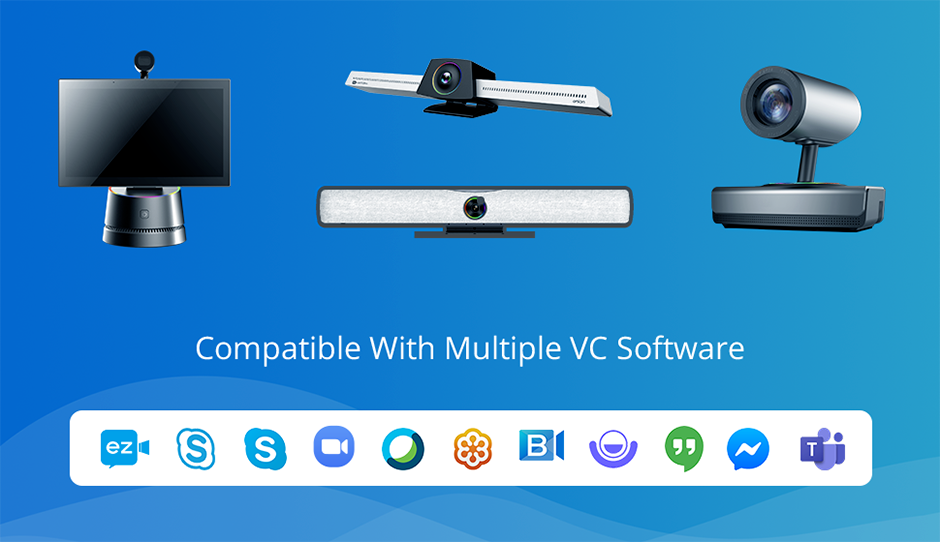 ezTalks Hardware
Supports Multiple VC AppsezTalks all-in-one video conferencing devices work with most popular VC apps like ezTalks,Skype for Business,Skype,Zoom,WebEx,GoToMeeting,BlueJeans,Lifesize,Google Hangouts,Facebook Messenger,Microsoft Teams and more as you require.Request A DemoConference Room Devices Requirements for Huddle RoomA huddle room basically requires a set of video conferencing devices and comfortable seating space to be completely functional. Such a room can accommodate up to 6 people and may have the following equipment: LCD or LED monitor,Camera and microphone,Video conferencing software,Interactive or regular whiteboard,Central table and Comfortable chairs.To achieve a successful huddle room for video conferencing,there are certain requirements you need to look at when procuring the video conference room devices as follows:1) Excellent video and audio experience for small space2) Easy to set up and use for none professionals3) Affordable price4) Cross-platform connection5) Multiple collaborative featuresBest Conference Room Devices to ConsiderCurrently,there are many conferencing solution providers available in the market. But only a few manage to stand out from the rest in terms of user experience,versatility and ease of connection.Some of the conference room devices that offer excellent solutions in the market include:
1. ezTalks Rooms

ezTalks Onion(Meet S) is a perfect conference room device for huddle room,which can meet the demands of video communication and collaboration for the group up to 6 people as well as open platform that works with multiple VC apps. ezTalks Onion has integrated HD camera,microphone,speaker,codec and Wi-Fi as well as embed software in one device,which empowers a meeting room without equipping with any other meeting room accessories.
Advantages of ezTalks Standard Room Plan
-An all-inclusive design which makes set-up quick and easy
-Fluent HD Video quality with wide-angle camera
-Produces unmatched Hi-Fi sound clarity
-Offers seamless meeting control from a mobile device
-Offers unlimited meeting duration
-One-time fee for permanent use
Price of ezTalks Standard Room Plan
It only costs $699 per room to subscribe,which is a one-time fee and you can permanently hold meetings with unlimited duration with up to 100 participants forever. What's more,you can also enjoy all the powerful features that come with the device,such as screen sharing,interactive whiteboard,instant messaging,recording and projection screen.
If your budget is enough and your room can hold up to 12 people,ezTalks professional room planwill be the perfect choice for you. Compared to the standard room plan,the professional plan addsT-Voice 100 smart speakerphone,which can empower the audio ability for a larger space with 360-degree voice capture and 5-meter pick-up range,and simplify the meeting control with HD touch screen.
2. Cisco WebEx Room Kit
Cisco WebEx Room Kit is a video collaboration solution for the small to medium-sized meeting rooms. As ezTalks Onion,it also includes camera,codec,speakers,and microphones integrated in a single device. However,it costs much more than ezTalks and it needs to pay for software monthly or year by year. So,compared to ezTalks Onion,it is too expensive to set up a huddle meeting room.
3. Polycom Meeting Room
Polycom meeting room devices and software offer clear audio,HD video,electronic whiteboard embedment and seamless integration of mobile and other personal devices. Polycom meeting room is mainly optimized for small to medium open work spaces. Howerver,compared to ezTalks Rooms,it needs more meeting room accessories,which means it costs more money while its installation and operation process is more complicated.
4. Lifesize Conference Room Device
Lifesize focuses on providing both hardware and software solutions to all business sizes. It supplies everything from speakers,to display monitors all through to cloud-based conferencing software.Lifesize camera will be a suitable choice for the huddle room,but its disadvantage is that you need to buy extra speakerphones for audio input and output.
Importance to Select the Right Video Conference Room Devices for Huddle Rooms
Huddle rooms provide a convenient option of holding instant or scheduled meetings to collaborate on a given project. And for the meetings to be successful,the audio,video and display systems in the room must be top notch. With high-quality,well-functioning and fluid huddle room meeting equipment,people can:
-Enjoy seamless collaboration regardless of the long distance among participants
-Discuss pressing matters and arrive at solutions faster and easier
-Save more time on collaborations
-Spend less cash on holding small urgent meetings
Conclusion
Since you now know how important to select the right conference room devices and some high-quality room device solutions for your huddle room,you can go ahead and set it up hassle-free. The ezTalks standard room planis a great choice to consider when choosing the video conferencing devices to include in your huddle room. It is not only quick to set up but are also more affordable and super functional in terms of audio and video streaming,clarity and collaboration. Holding a huddle meeting with other employees or partners can just be convenient and productive if you start by getting the right devices.