5 Great Web Collaboration Tools for Your Team
Teams that work on a project together are not always located in the same office. Individuals that are part of the same design team may be working from home or positioned in geographically distributed groups. Their clients can also be located anywhere across the world. For this kind of situations,the web collaboration tools come to make team work possible.
There are various such apps that come in all sort of form,including Chrome and Android extensions. Web collaboration tools free apps are a great help in project management. These collaboration tools of business make it faster and easier to get client's approval. We have covered here the 5 web collaboration tools comparison in order to help you decide which one is more suitable for your project.
1. ezTalks Meetings
ezTalksMeetings is a web collaboration service that provides professional,easy and feature-rich online conferencing services. This web collaboration tool is based on the cloud and designed as a competitive solution dedicated for business. The video collaboration tool offers a full range of software and hardware features including HD video and audio. Users are able to interact through clear audio and ultra-high definition video.The service also offers a whiteboard that features innovative functions,allowing for screen capture,text,highlighting,drawing,erasing,and other useful tools. Users can share their content and screens in real-time with meeting participants. Besides,the software also gives users the possibility of cross-platform chat. They can send instant messages publicly or privately.The chat app supports advanced functions of recording and playback. Via permit speak,lock meeting,kick out,mute all,make presenter and other useful settings,users can keep their meetings orderly. ezTalksMeetings can be hosted from any device Windows,Mac,Android,and iOS device,anytime and from any place.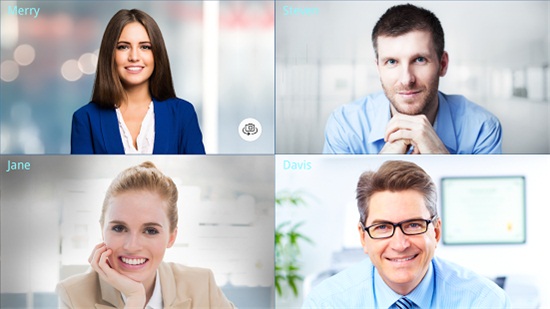 2. Slack
Slack is another web collaboration tool designed to help users keep in touch with their team,no matter where they are. Slack provides improved team communication and gives you the possibility to still stay in touch while working remotely. This web collaboration tool is a great solution for real-time,clear communication.
Slack is enabling smooth project development,being the perfect choice for anyone managing a remote team. By reducing the meeting and email times,Slack also helps you grow your business and keep all team communication in one place.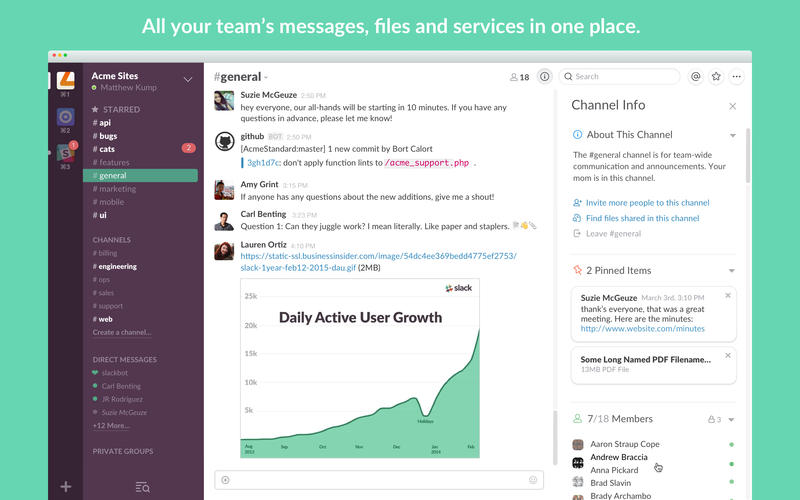 3. Trello
Remote teams can use the Trello web collaboration tool in order to share in real time their to-do lists with others. This project management tool is provides a single interface for a customizable to-do list based on a system of Post-it notes or "cards".
Users can categorize and order mockups,drawings,photos and text. The application also provides the ability to set appointment reminders and a progress gauge so users can easily monitor their project's pipeline. Another big advantage of Trello is that this is one of the web collaboration tools free apps.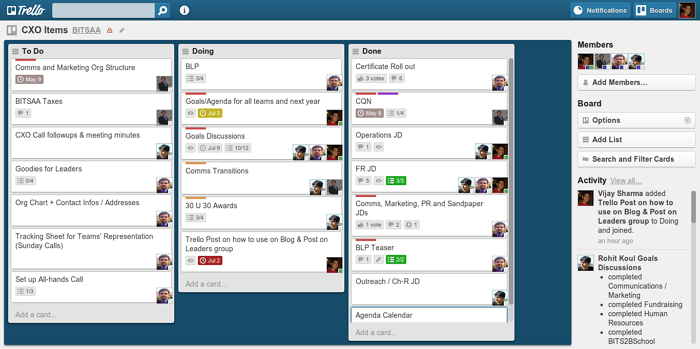 4. Mural
Mural is a web collaborative tool that allows its users to gather and sort resources and ideas in various formats. The creative tool makes it possible to drag-and-drop links,documents,and rich media files onto a big HTML5 drawing board. The web collaboration tool supports the possibility to remotely brainstorm ideas. The application is made gesture friendly and comes optimized for iPad.
Mural is designed as a pinboard (same as Pinterest). Any invited user can join you to collaborate on a project and edit. Changes are reflected in real time on the board. All you have to do is to just set up a password for the board or send an email invitation and you are ready to start. Mural is a lighter tool than some of its competitor brainstorming tools that are more traditional. This could be a good tool to get started if you are new to collaborative brainstorming.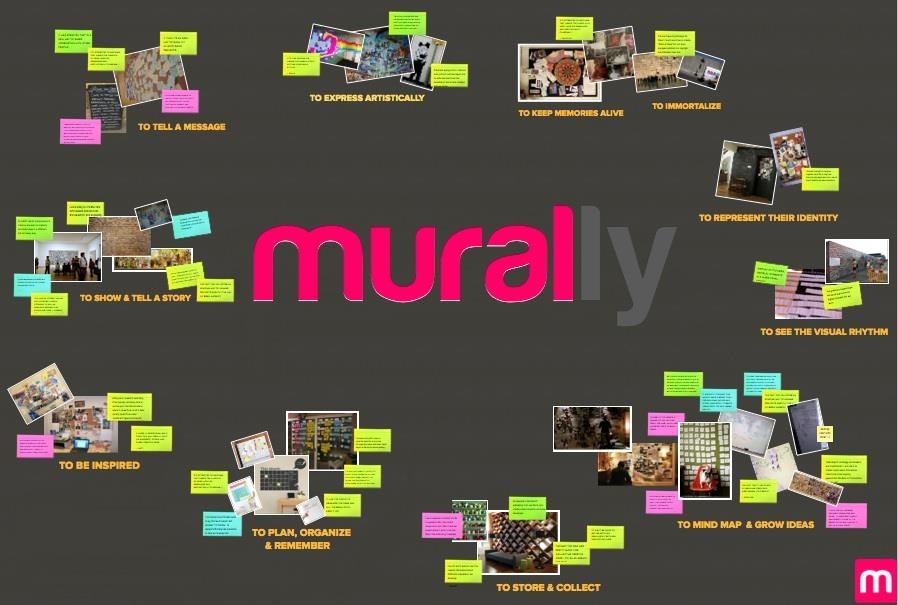 5. GoVisually
GoVisually allows users to annotate,comment,and discuss a common project. One of the advantages of GoVisually is that it is a free tool. The web collaboration application allows users to place comments and mark annotations on any part of their project. Clients and designers can use GoVisually in order to collaborate to revise projects online without the need to send emails. This application can increase project's productivity. For annotation,users can chose a lasso,rectangular,or elliptical selection. Weight and color can also be customized.
These functions are simple to apply and they can be very useful. GoVisually applies layers like Photoshop for each user when more team members are on the same page. Relevant content can be displayed or hidden by clicking on each user. This feature can be particularly useful in case of collaborating with more departments. It is simple to switch between different versions of the same project of document and revisions can be easily uploaded.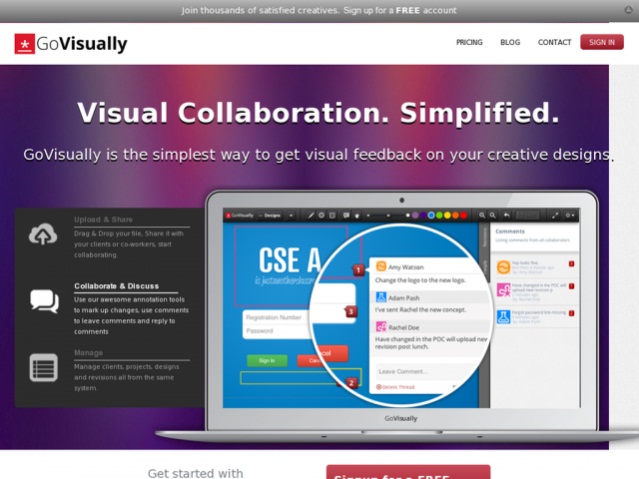 Conclusion
These web collaboration tools are designed for real-time work and they can make remote team work easier. By using one of this collaboration tools for business,members of a team can work together on a project no matter where they are in the world.