Top 4 Mobile Conferencing Apps
Companies with foreign branches need to connect with its branch managers as well as employees by conducting meetings from time to time. However,traveling for a meeting regularly can expensive and inconveniencing. Mobile conferencing apps are great tools that allow companies with many branches to conduct their online meeting and conference call effectively and affordably.
With the modern technology,live meetings can be held from on PCs or smartphone using intuitive applications. The most modern mobile conferencing apps feature HD audio and video,which help to enhance effective communications. With mobile conferencing apps,business owners and managers can easily schedule meetings online by using their mobile phones and invite employees to attend and share ideas virtually. Here are some of the most popular mobile conferencing apps.
1. ezTalks Meetings
ezTalks Meetings is among the best mobile video conferencing apps designed to bring simplicity to online meeting. It includes a free version that supports high definition online meeting and screen sharing. Its premium version supports a meeting session of up to 40 minutes of 100 members at a time.It comes with a number of unique features,such as hosting an online meeting,screen sharing,online meeting scheduling functionalities and remote control features. The mobile conferencing app also packed with other features,such as online meeting recording functionality,private chat,group chat,and interactive whiteboard among others. ezTalks Meetings is very secure as it is designed to encrypt participants information while traveling through the network as well as protect against fraud.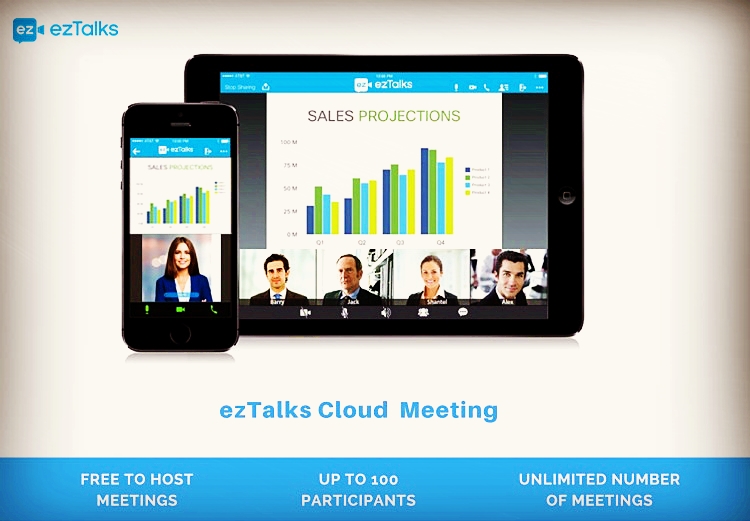 2. UberConference
UberConference is a great mobile conferencing application designed to have a colorful interface and offer automatic social media connections. The social media connection allows you to know more about meeting participants as you can just click the image to get more information about the participants. This mobile conferencing app allows any meeting's participant to initiate a call by just sending a link. You can easily track member participation through a post call summary list provided by the mobile conferencing app.
It includes a button for muting and removing participants from the meeting. Other function included in this mobile conferencing app includes call recording,meeting scheduling functionalities and personalized music. A free version of Uberconference can accommodate up to 17 people while a pro plan can accommodate as many as 100 people.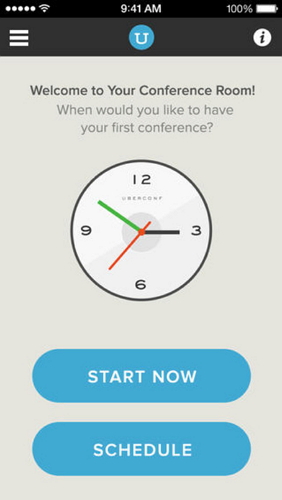 3. iMeet
iMeet offers a great experience. You can easily start or join a conference through video or share presentation from your iPhone. It features a very intuitive user interface and features personal meeting controls that allow you to navigate and view meeting much easier. iMeet allows you to plan the meeting and send the schedule as well as other details via email.
The mobile conferencing app for iPhone features enhanced audio and video that allow meeting participants to communicate more vividly. It also offers cloud chat and storage functionalities,which make it possible to have private chats during the meeting and store meeting's handouts during for later access.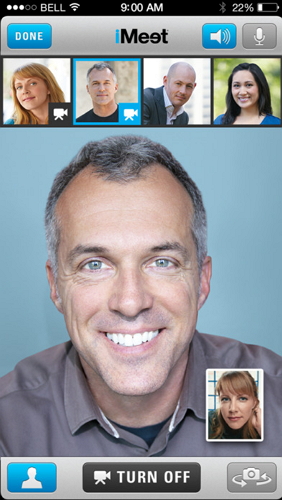 4. FCC-Dialer
FCC-Dialer is a great mobile conferencing app for iPhone designed to allow the participant to join or host conference calls easier and faster. The simplicity and availability of FCC-Dialer are what has made it one of the most popular apps for keeping teams,friends and families connected. It allows the user to create multiple conferencing accounts and save numbers as well as conference access codes in the cloud. You can send an invitation via emails and allow participants to dial into conference calls instantly.
The conference app is available for free downloading and can host up to 1000 callers in a single session. The app includes a number of management functionalities that allow you to manage the callers. With this mobile conferencing app,you don't need to dial up code as it supports international conferencing. It also provides cloud storage for existing accounts.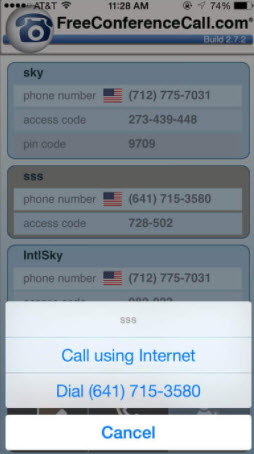 Conclusion
With modern technologies,dozens of mobile conference apps that offer free subscription are available in the market. The best conferencing apps come with different innovative features such as cloud storage,calls,meeting scheduling,social media interaction and more. Most of the premium versions offer high-end management features such as functionalities for muting conversations and even removing participants.