5 Best Video Collaboration Software for Business
The uses of video conferencing for business has helped many businesses to improve on international communication,team collaboration and overall productivity. Using such features as screen sharing,instant messaging,remote control and recording,a business can easily achieve effective cross-team collaboration among employees. However,it's often challenging to find a video conferencing system that will meet a company's specific communication needs. That means a business must compare among the top brands of online meeting software before adopting one. In this article,we are going to take an in-depth look at 5 best video collaboration software,their unique features and how they can enhance collaboration in business.
1. Skype for Business
Skype for Business,from Microsoft Corporation,is among the top performing video collaboration software in the market today. Available within the Office 365 plan,the software comes with a number of impressive features that can be great for team collaboration. Skype for Business free plan allows up to 10 persons to participate in a meeting while the paid plan can host up to 250 participants per meeting at once. Before scheduling a video call,users might need to first install the Outlook add-in.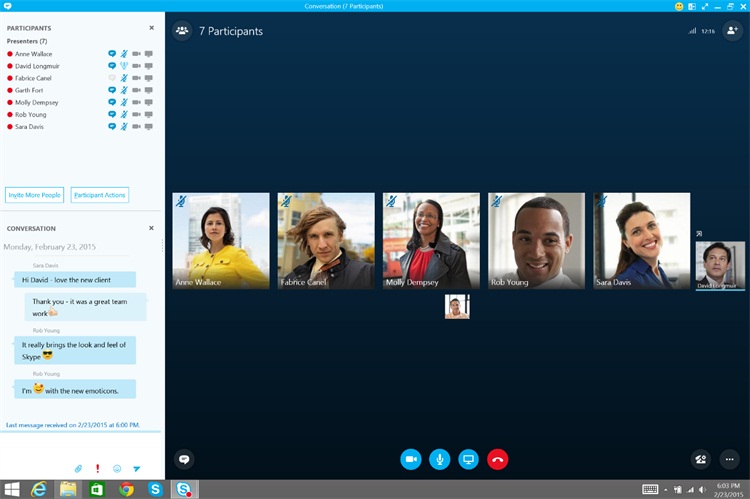 Key Features:
-Screen sharing and app sharing
-Digital whiteboards
-Meeting recording capabilities
-Integration with MS Office
-Compatibility with Windows,MacOS,Android and iOS
-Up to 1TB of cloud storage
2. ezTalks Cloud Meeting
ezTalks Cloud Meeting offers one of the best video collaboration solutions that be great for employee collaboration. The software's free version offers users the ability to host up to 100 participants simultaneously. On the other hand,ezTalks paid plan can allow up to 500 people to join in a meeting at once. These meetings can either be held instantly or scheduled for specific times. With such a huge meeting capacity,cross-team collaboration can be more efficient,convenient and productive.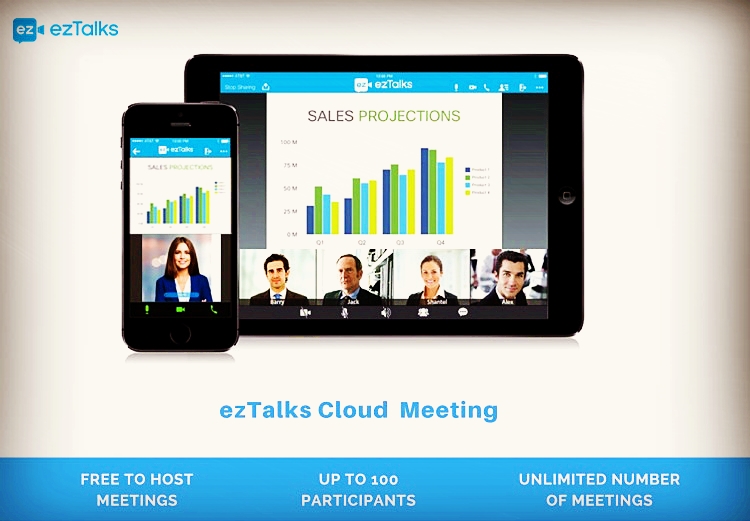 Key Features:
-Full HD audio and video streaming
- Instant screen sharing for easy collaboration
-Interactive whiteboard tools
-Meeting recording and playback ability
-Cross-platform private and group chat
3. Join.me
Join.me video collaboration software makes business presentations and team collaboration convenient and easy. It only takes a press of a button to initiate or join a meeting. Designed with an intuitive interface,Join.me can allow employees to collaborate effectively when pursuing business projects,regardless of their geographical distance. The software's free version can host up to 10 participants per meeting and comes with powerful VoIP (Voice over Internet Protocol) capabilities. For enterprise-level businesses that require higher meeting capacity,the Join.me paid plan that allows up to 250 persons per meeting can be ideal.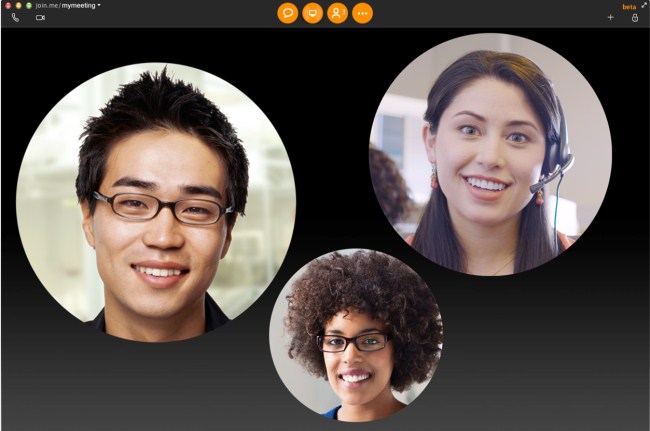 Key Features:
-Screen sharing capabilities
-Unlimited phone dial-in of up to 40 countries
-Tag-team presentation option
-Interactive meeting tools like annotation and presenter swap
-Advanced reporting
-Meeting recording and playback ability
-Internet calling
-Meeting scheduling using Outlook,Google Calendar or Office 365
4. ClickMeeting
ClickMeeting is one of the most robust online video collaboration software for both small and enterprise level-businesses. The platform can allow employees to engage in meaningful discussions from multiple locations at once. ClickMeeting comes with 5 paid plans with the lowest allowing for 25 attendees per meeting while the highest can host up to 1,000 attendees in a single meeting. Users can also enjoy free testing of the software for a period of 30 days. ClickMeeting can simply be an ideal choice for any business wishing to enjoy effective team collaborationsoftware.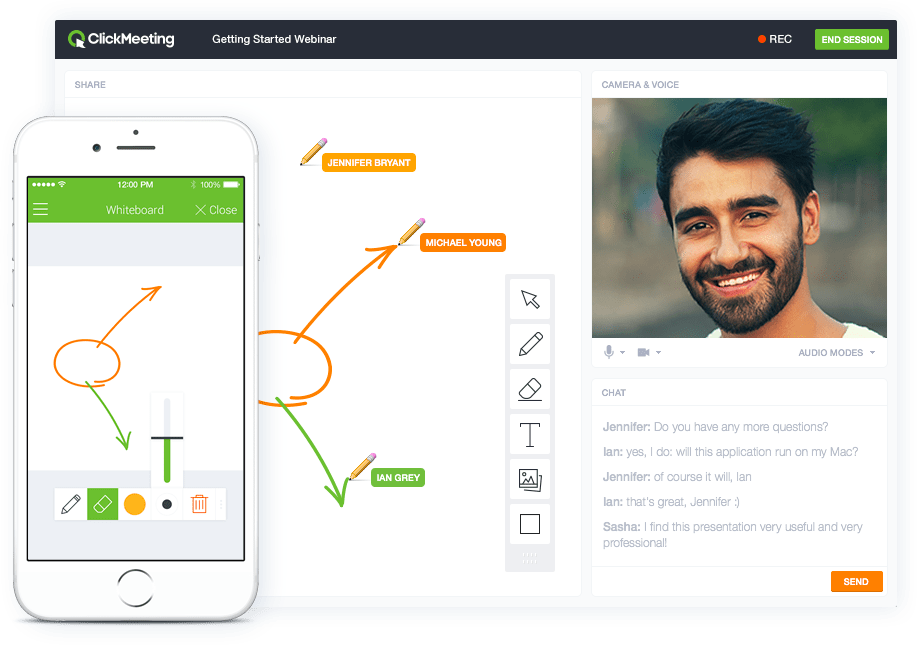 Key Features:
-Audio and video conferencing
-Screen or desktop sharing
-One-click recording of meetings
-Moderated and private chats
-Tests and survey tools
-Simultaneous chat translations
-Meeting room rebranding
5. BlueJeans
BlueJeans video conference solutions are tailored to allow businesses of all sizes to host online meetings with greater efficiency and minimal cost. The platform can allow for content sharing,text chats,meeting recording and hosting of multiple participants. Meeting participants can join in from any device including desktop computers,laptops and mobile devices of all operating systems. BlueJeans standard package can host up to 25 people in a meeting while the largest meeting add-on can accommodate up to 100 participants.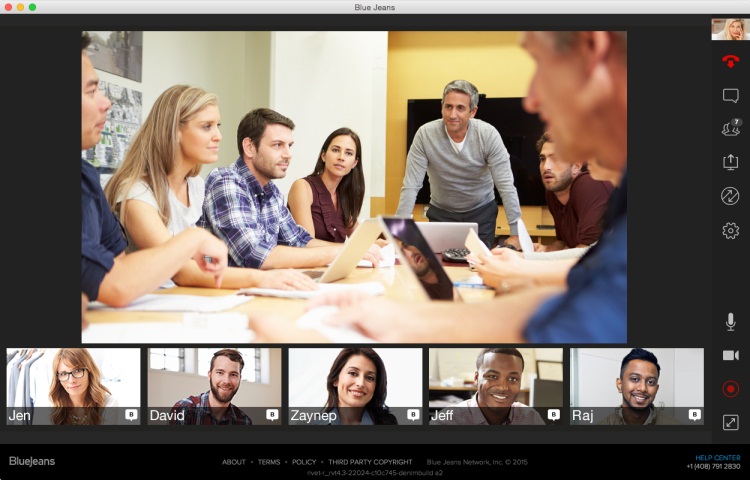 Key Features:
-Full HD video streaming and sharing
-Multi-device interoperability
-Interactive dashboards
-Integration with Google Calendar and Outlook
-Meeting recording capabilities
-Dual stream support
-Mobile and browser integration
Conclusion
All these 5 best video collaboration software are designed to remove hurdles associated with cross-team collaboration in a company. With the capabilities to host multiple employees from different locations in the world,it's easier to bring the collaborative functions of the business together to steer performance. However,for a business to be guaranteed of success,it must choose video collaboration software that matches its specific communication needs. That can be evaluated in terms of meeting capacity,interactive features,data sharing options and cloud storage capacity.