5 Alternatives to Cisco Video Conferencing Equipment
In the current business setting,connectivity is a crucial factor. Video conferencing equipment and systems assist you in getting full blown sense of your interactions. These tools aim to facilitate real-time visual communication between multiple users (2 or more)-who reside in different locations.Actually,nowadays,telepresence technology has been applied to many fields including video conferencing.
About Cisco Telepresence:
Actively engage with remote clients,partners,suppliers or even comrades courtesy of Cisco Telepresence. What is it? It is a flexible and powerful technological platform that allows you to remotely communicate with multiple parties in a visual display. The system is a complex tool that is even further enhanced through cloud service integration to provide a flexible platform that accommodates numerous varies participation such as the use of smartphones.With Cisco Telepresence systems,firms are able to enhance the efficacy of their communication and ultimately inspire positive outcomes; firms can make better and informed decisions,minimize the time used in decision making,curb travel costs and even have quicker access to resources. They can even simultaneously accomplish tasks and objectives since Cisco Telepresence allows building and scaling of separate collaboration rooms which can be used to cater for varied organizational needs.Even with a reasonably priced monthly subscription accompanying it,this tool is a wonderful way of minimizing all company operation costs geared towards finding solutions. The company provides you with a labeled portal to aid in management and planning of the conference,numerous flexible offers on tariffs and constant and unfailing service support.Cisco is not the sole juggernaut in the industry. Below are some of the formidable video conferencing equipment alternatives:
5 Alternatives to Cisco Video Conferencing Equipment
1.ezTalks
ezTalks Meet Mini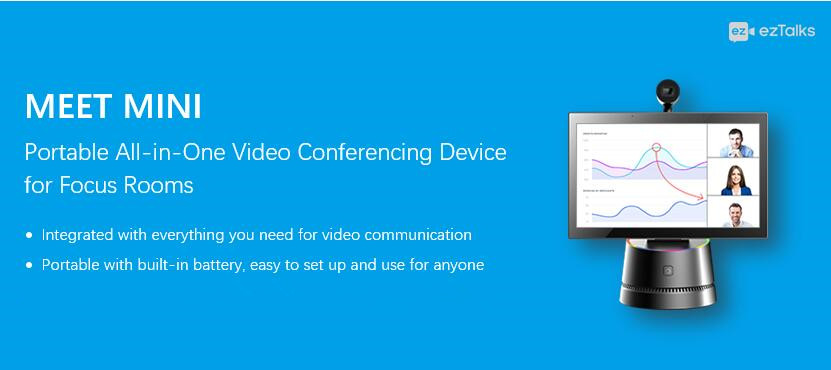 Meet Mini is the best one of the Cisco telepresence competitors. When it comes to telepresence technology,it takes pride in its far-end control feature. Far-end camera control feature gives participants of remote conferences the possibility to take control of the camera at their own site. 1080P HD camera with flexible rotation captures a more clear image from a broad view and built-in high-fidelity speakers renders 2-channel and stereo surround sound. Besides,it has an outstanding touch screen of 11.6 inches to give you a 30% larger visual space and it supports dual screen for fruitful presentation.As for its built-in software,you can enjoy screen sharing,whiteboarding,instant messaging,polls,recording and so on.
One-Time Fee: $699
Meet S

Meet Sis also among the telepresence alternatives,which is designed to offereffective communication in huddle conference rooms. It allows you to visually dialogue and collaborates with your comrades and clients at anytime and anywhere. The image quality is considerably superb allowing a 1080p camera resolution coupled with a broad angle 120p lens that refines your vision to give you a faultless collaboration time. Businesses can now hold boardroom meetings with ease especially considering that aside from video quality,this device also lays emphasis on sound quality to provide a well-balanced faster,secure and smoother video sessions devoid of nonworking image errors. Finally,for businesses that require high-quality audio and video output in order to conduct video presentations,online lessons,and even business discussions,ezTalksMeet S also will do!
One-Time Fee: $899
Both of these two powerful Cisco telepresence competitors mentioned above have all-in-one design and they come with the purpose of bringing unparalleled video conferencing experience.
2.Fuze
Fuze is among the top-tier choices for businesses that require an affordable yet considerably powerful video conferencing solution. They have the most generous free plans the industry has to offer enabling a maximum of 25 participants to conduct unlimited meetings. This is particularly advantageous for small businesses since it is absolutely free for a group meeting comprising of 25 participants and below.
Nonetheless,for big corporations and companies,Fuze offers a small payment plan that costs a meager monthly fee of $10 and which allows you to conduct meetings boasting a maximum of 125 attendees. Their plans come with an exclusive cloud storage space amounting to 1GB where you can safely store all your presentation documents,video and audio conference capabilities.
It also allowsscreen sharingand allows note taking on typical virtual whiteboards. In reality,only a selected few can offer you such an assortment of collaborative tools under such a reasonably low pricing which makes it the best choice for anyone whose main concern is cost.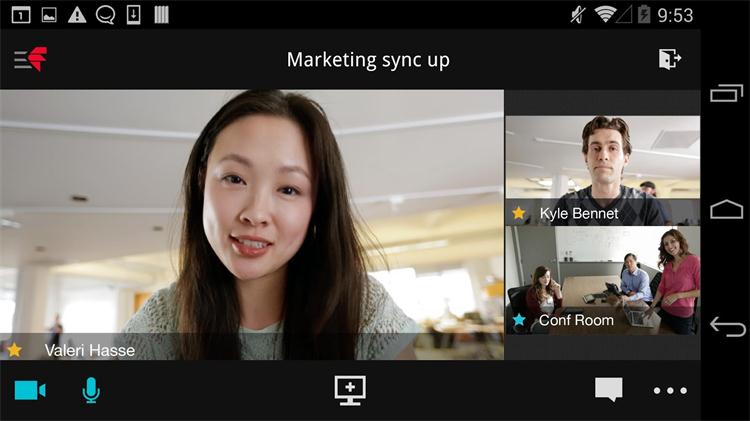 3. iMeet
iMeet is yet another amazing video conferencing solution which unfortunately has no free plan but does come at fairly affordable rates the key,however,is to go for annual payment plans as opposed to the monthly one. Moreover,it comes with particularly scalable plans that allow easy switching from a level to the next with the growth of the business.
With respect to its basic plan,it allows a maximum of 10 attendees to have unlimited meetings,file and screen sharing capacities and of course video and audio conferencing.
For organizations and businesses that boast a larger number of participants,iMeet offers a different plan known as the PLUS plan which allows 35 participants and the final plan referred to as XL plan which accommodates an even larger number of participants.
Nonetheless,despite the latter two plans boasting similar features to iMeet's basic plan,they offer an additional feature-Call Me dialing together with premium customer care.
It comes with a simple and clean user interface allowing even a technology novice to easily navigate through it. Nonetheless,if you require assistance,it also offers you a wide collection of online resources to help you have an easy time.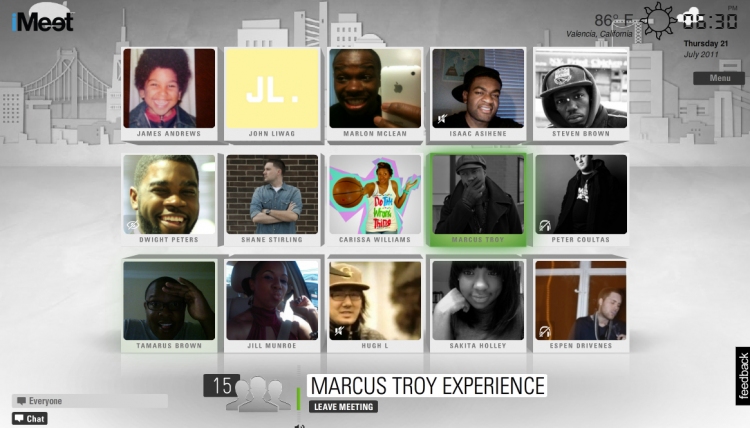 4. ClickMeeting
Businesses are no strangers to conference calls marred by poor connectivity or even disruptive background noises during video call sessions. With ClickMeeting,you can wave these issues bye bye. Despite not having the capacity to regulate content as discussed in a gathering,it avails numerous tools to enhance the overall audio-visual experience.
With numerous presentation tools,VoIP call and Dial-in provisions and video chat supporting several participants,ClickMeeting sets out to help you inspire engaging meetings- whether for discussions,lively participations or even seminars. It comes with an appealing interface that is simple to utilize perfectly designed to provide you with an amazing,hassle-free meeting experience.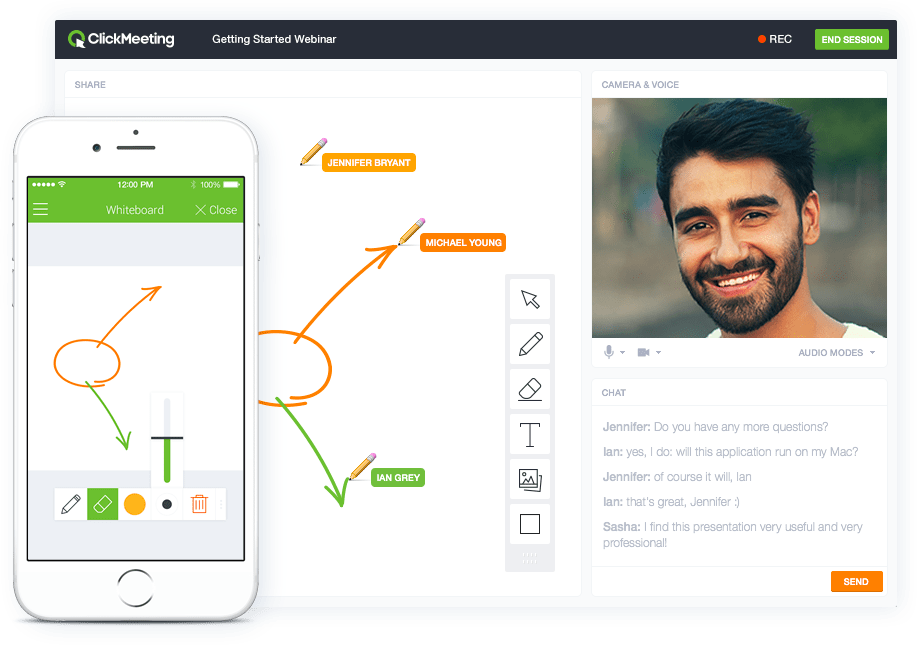 5. Adobe Connect
If you need to make your business meetings and collaborations with your clients and comrades more engaging,this is the perfect tool to help you do so. Adobe Connect provides you with a wide assortment of video conferencing instruments for a smooth and uninterrupted experience.
It boasts numerous audio-visual features like document and desktop sharing,video chat and inbuilt VoIP for a quality audio experience. However,Adobe Connect does not include a dial-in option and as such,if their Voice-over-IP (VoIP) does not suit your needs,you are free to utilize third-party options which you can integrate with your own account. As such,you avoid disseminating separate screen sharing and dial-in invites while also enabling you to record all video and audio.
Adobe Connect is an effective instrument in facilitating open meetings setups. It further provides a wide array of options to tailor meeting spaces for effective collaboration and video linking.
Adobe Connect is an amazing inclusion to your arsenal of meeting tools and especially if you are already accustomed with and utilizing dial-in conference functions.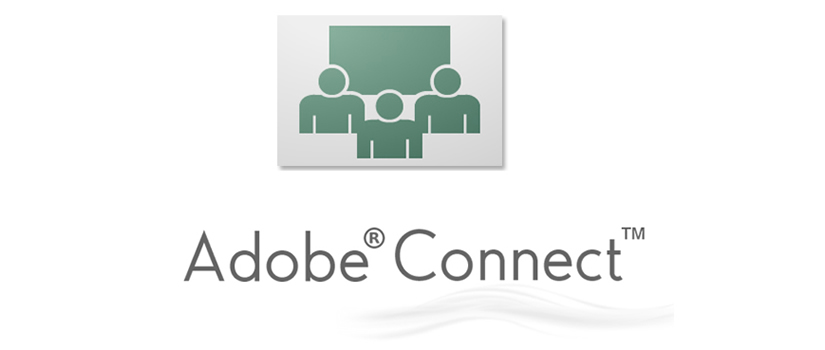 Conclusion:
Numerous organizations are quite familiar with conventional phone conference types of meetings; however,they are searching for better and efficient communication methods with their employees,customers and even vendors. Although face-to-face interactions can never be completely replaced,they can also be quite tasking and expensive especially where business travels are involved. With video conferencing equipment,the dynamics can completely change. When you need to communicate with your staff,relay instructions,make decisions and or search for solutions,you can now do it in minutes!