What Is Remote Collaboration
The trend of working from home or from far of place from the location of the main office of a business is increasingly gaining popularity since last few years. Several big companies are opening their regional offices across the country as well as the world to expand their business in other areas. But to improve productivity and efficiency of the teams working remotely the management at the central office of the business will have to develop communication with their remotely placed team heads and managements to achieve their goal. So you must know what is remote collaboration?
What Is Remote Collaboration?
Remote collaboration can be defined as a process that can be used to eliminate limitations of geographic location and developing team-spirit between the members of the teams of a business, regardless of their location in this world.
The success of remote collaboration depends upon the efforts made by an individual to develop communication between the members of the remotely placed teams and the central office to work like a team to achieve same target. It can help in maintaining balance between work and private life of the workers. It also helps in improving the productivity of the teams along with finding new opportunities without any consideration of their location.
It can be difficult to remain connected, brainstorming, resolve problems and improving the profits of the business unless the team connected to a project work in the same building or ground. But today many businesses have used remote collaboration techniques to expand their businesses throughout the world. Remote collaboration not only allows the businesses to improve their customer base but also increase their productivity by accessing wider range of talent away from their mainland. It also helps them in increasing their business without spending more on commuting their local workforce to remote locations.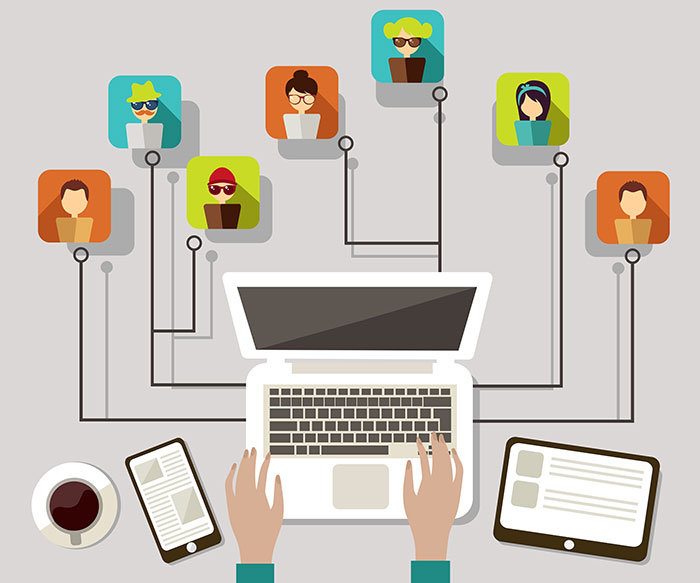 Tools for Remote Collaboration
Remote collaboration has become possible with the help of several remote collaboration software options developed in recent years. These remote collaboration tools can help in bringing the members of remote teams closer to each other through conversation. Some of the popular remote collaboration tools are briefly discussed here under for your consideration.
ezTalks Meetings
It is one of the best tools for remote collaboration as it can be used on all types of devices working on various platforms including Windows, Android, iOS and Mac etc. It allows you to communicate with up to 100 people all over the world at a time free of cost for up to 40 minutes. It is a great remote team collaboration tool because its HD quality video conferencing option allows you to talk with every team member regardless of his location in the world. Along with it ezTalks Meetings also helps in audio and video conferencing, remote control, recording and playback of the proceedings of online meetings, white boarding, annotation and sharing screen with any or all team members.
Evernote
This remote collaboration tool can be used efficiently managing notes and information while with team members of a project. It can help you to collect, share and save the documents easily. It is the best tool for the team members who want to share everything with each other to achieve the goal.
Skype
This world famous remote collaboration tool keeps the member of your remote teams connected with each other through its free video call service. You can link up with up to 10 persons at a time with its video conferencing option. Skype also allows crystal clear voice calls and directly calling the phones along with sending files and documents to your team. It can be used on all types of computing devices including desktops, tablets and mobile phones.
Dropbox
This remote collaboration tool helps the team members in uploading the things and keeping them accessible like a remote folder. Main reason of the popularity of this cloud based file sharing service is the free storage capacity provided by it for 2 GB which can be increased up to 18GB by referring it to your friends. It also allows your team members to post their comments on your current proposals and synchronize files and documents the computers of their colleagues along with assigning tasks to each other.
Thus, by using any of the remote collaboration tools discussed in this write-up you can easily improve the productivity of the members of your remote teams working on the same project.