10 Tips to Create A Successful Email Campaign for Black Friday
The inboxes may be crowded, but email marketing still provides an impressive ROI. 77% of marketers have seen an increase in email engagement over the last 12 months. This channel is still the best channel for this year's Black Friday campaign.
Successful Black Friday email campaigns can yield insane sales results for your business.
Here are 10 practical tips to create a successful campaign for Black Friday.
Tips for your Black Friday Email Campaigns
1. Grow your email list
A huge email list is key to a successful campaign. Triple the size of your list and you could easily triple your ROI on marketing campaigns. Invest more time and money into growing your list. You could use email harvesting software.
2. Collect and analyze data early
Before you start designing this year's plan, take another look at last year's performance. Did you try out multiple sales copies or Black Friday email templates? Which ones worked best? You can reuse models that worked best last year and eliminate what marred the results.
3. Learn from the competition
What is the competition getting right? Look into your competitor's previous Black Friday emails to see what tactics made the difference. Although this holiday season will ask you to be unique, a bit of inspiration from competition could go a long way.
4. Start now, send pre-promotions before inboxes get crowded
It is wise to send pre-announcements to customers and prospects. Remember, the inboxes will soon be crowded. Pre-promotions prepare your customer's minds for your offers and create anticipation.
5. Create irresistible offers, especially for gift-givers
There's no such thing as a Black Friday without scintillating offers from brands. Make your offers stand out! Studying your customers and understanding their needs will help you create sound offers, especially for gift-givers in this unique holiday season.
6. Keep offers simple, plain, and human.
One thing's for sure, those inboxes will be super crowded this season. So keep your offers simple, and personalized. With brands scrambling for attention during this holiday season, well-thought personalization will make the difference.
7. Have a plan for retaining shoppers afterward
Develop a plan for how you'll retain shoppers after the campaigns are over. You've gathered their shopping preferences that you can now use to personalize offers subsequently. Don't forget a special treatment for your VIP customers. 
8. Follow best practices to stay out of spam folders
Bad practices such as using colors, adding attachments, and making it difficult to unsubscribe could lead your Black Friday sale emails right into spam folders. Learn and apply marketing best practices to make sure your messages reach your target.
9. Email every day. Convey urgency
You're battling for attention in your customer's inbox. So, communicate every day. They won't want to miss your special offers. Also, These offers won't work without Urgency.
10. Remember customers from last year
Repeat customers spend 33% more per order compared to new customers. Craft specific messages and offers that target and convert customers from last year.
Email examples for the Black Friday marketing campaign 
Here are 3 Black Friday email examples to inspire you.
#1. Forever 21. Hello…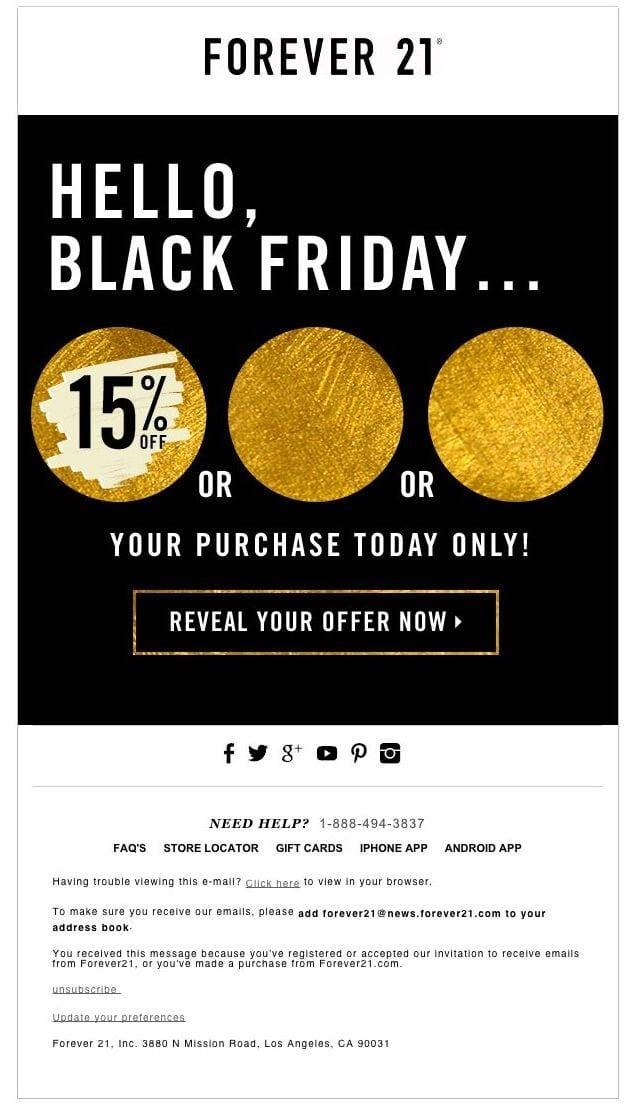 #2. STORQ, TANKSGIVING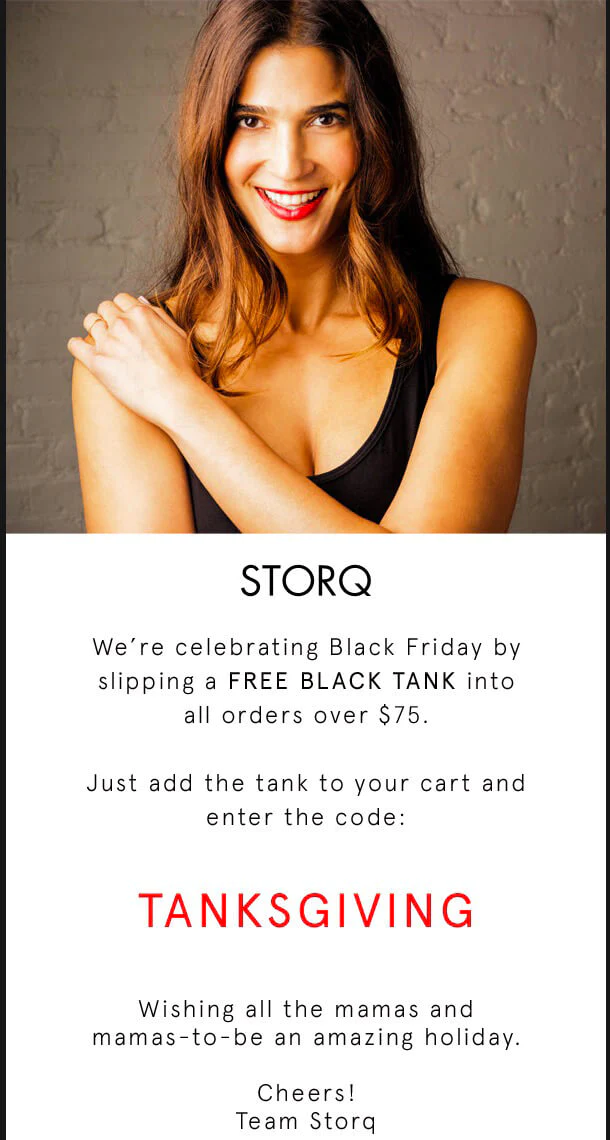 #3. Julep. Can't stop won't stop
Mistakes to avoid in Black Friday email campaigns
Here are common mistakes you should avoid with your Black Friday campaigns:
Targeting the wrong customers
Failing to plan ahead
Failing to work with professional designers
Not diversifying audiences
Using generic messages
Failing to diversify offers
Not collecting data on customers
Final thoughts
Learn from your past campaigns, learn from competition, and craft the most compelling offers and designs ever. But most importantly use the best email marketing service on the Internet, Mass Mail Software.
See you on Black Friday!