How to Set Up an Executive Conference Room
An executive conference room is used by companies to hold executive meetings,host office events for fellow employees and to host other businessmen visiting. The way a company sets up its conference room can greatly affect how its partakers experience a meeting,as to those sitting behind may not be able to hear or see anything that is going on at the front. Below,we are going to look into how one can set up and decorate an executive conference room.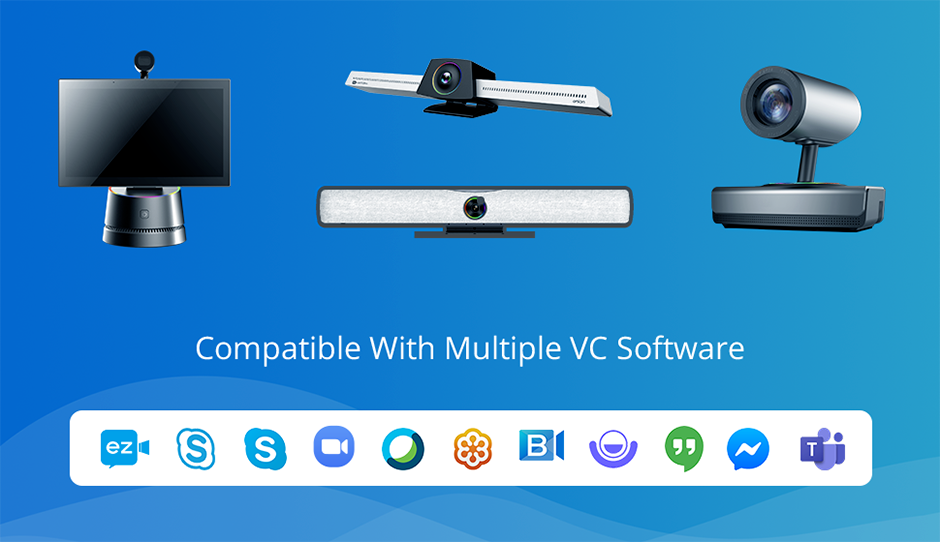 ezTalks Hardware
Supports Multiple VC AppsezTalks all-in-one video conferencing devices work with most popular VC apps like ezTalks,Skype for Business,Skype,Zoom,WebEx,GoToMeeting,BlueJeans,Lifesize,Google Hangouts,Facebook Messenger,Microsoft Teams and more as you require.Request A Demo
Components needed for executive conference room setup
Technology
As digitalization has taken the 21st century by storm,audiovisual equipment is now an enhancement to the meeting experience. Some prominent selection to include in your technological requirements are screens,displays and a two-way remote video conferencing equipment. Again,consider how technology will be utilized in the room. Some conference rooms will need only just whiteboard and marker while executive conference rooms will require sophisticated teleconferencing tools like high-quality cameras with microphones and a software like ezTalks Rooms Software solution.

Getting this software in your executive conference room or executive home office can guarantee you a sophisticated conference experience. It has the ability to allow you schedule meetings with calendar integration,make multi-screen video communication,and easily handle conference calls and display sections.
Furniture
When furnishing the executive conference room,it is important to understand how the room will be used and identify the requirements that are most important. Surely for an executive office design,there have to be chairs and tables involved,but for a conference room,it just more than that. For example,will participants need to move their tables or chairs around or swivel 360 degree to look at the screen? If so,a requirement might be to get chairs on casters which is free to swivel around. However,if the room is just meant for creativity,you might want to make provision for an alternative seating arrangement which could encourage more freedom.
As for tables,you should consider not just the sizes but the usage. Would people mostly stand or sit in their meetings? If they use the executive conference room for standing meetings,you might consider getting a standing table,or better yet a height-adjustable table. Also,would the tables be required to be moved around?
Lightening
This part of decoration is very vital in setting up the executive room experience. Too much of soft lightening might make the audience dose off and on the other hand,harsh lightning might affect the eyes when reading or viewing screens. Understanding the purpose of your executive conference room is necessary for the lightening requirements. For conference rooms or even an executive home office that is designed to be comfy or cosy,softer lightening is required. Larger conference rooms might require extra brightness and rooms with projectors or screens would require lights with the ability to be dimmed at will.
Lightning is a very essential part and it is also dependent on the location of your boardroom. If you plan on having an executive conference room where there is excessive natural lightning,you might consider getting blinds to reduce excess lightening. If your executive conference room has no windows,lightning must be a primary consideration when designing it.
Steps required to set up an executive conference room
Technology
• Determine if there is a need to go digital.
• Buy equipment for video conferencing such as video cameras,microphones etc.
• Set up your ezTalks Rooms Software to make video conferencing as smooth as possible.
When setting up remote video conferencing,the ezTalks Room Software is a great solution to ensure you get the best out of video calling. You can set up your video conference calling by following these steps:
•Download and install the ezTalks room Software on a windows computer then open the Rooms software. On the rooms page,you would get an ID and a Verification Code that would be used in the app.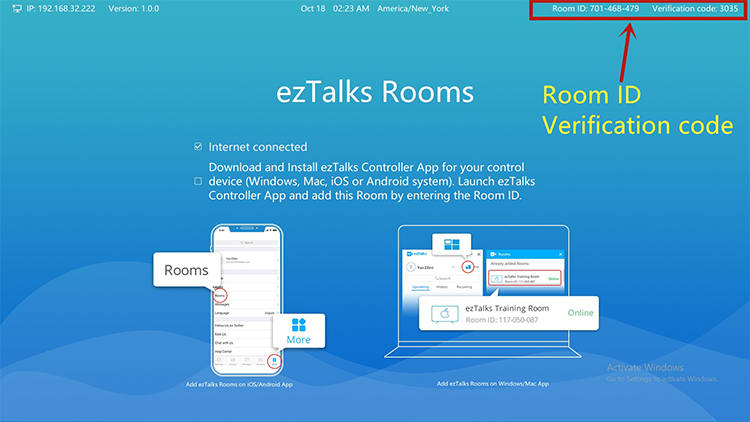 • Install the ezTalks app on other devices (Windows/Mac/iOS/Android) by going to www.eztalks.com/download.
• Add the ezTalks rooms on the ezTalks app. For desktops,go to rooms icon on top of the right corner and click the + button to add the room ID. For the mobile app,go to more,then rooms to add a room.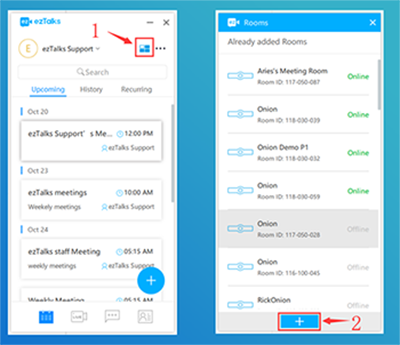 • You can start the meeting with the ezTalks Room.
• Other users can join a meeting with ezTalks Room. Once you start hosting,other users can join the meeting with their mobile phones or desktop computers through the mobile apps or the ezTalks room section.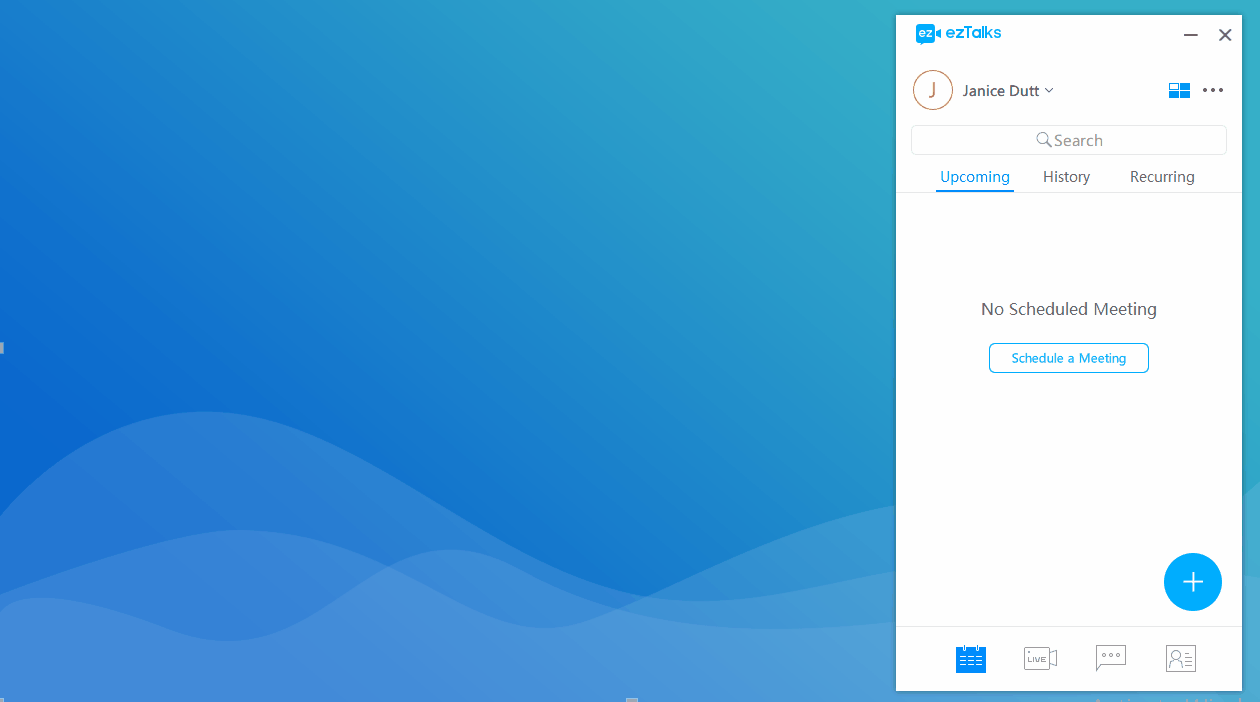 Furniture
• Find out the type of conference room you want
• Select a wide range of tables and chairs available
• Get an office designer if you can't handle it alone and tell them your specifications.
Lightening
• Keep in mind the position of your executive room.
• Use dim light where there is excess natural light or bright light if there are no windows at all.
• Consult an expert to get the best ideas for your executive conference room.
Conclusion
Effective and strategic planning can improve the content of the meeting but it is extremely important for you to consider the meeting environment and processes as for how to decorate an executive office. Having a lovely designed executive office or an executive conference room will help run and boost team spirits. Also,the conference room is one of the most visited places by guest businessmen in your company apart from your personal office. A well-designed office with a sophisticated two-way communication system will tell them that you really mean business.