5 Best Free Screen Sharing Tools
You can provide access to what is happening on the screen of your monitor in many different ways. It can be Skype, ezTalks Meetings or some other convenient software. Some programs are more interesting, but also are more difficult to master. It might be caused by completely new principles of work or a bizarre interface.
There are many tools to share the screens online and each has its own characteristics. In this article, we will tell about the 5 best screen sharing tools free of charge in the market.
1. ezTalks Meetings
ezTalks Meetings is a simple and free screen sharing tool. If you want to get in touch with your partners or share your screen with them, the best solution is ezTalk Meetings. With this free software, you can easily open or attend any meeting, no matter where you are at the moment. This is one of the widest spread online communication apps used for online lectures, online meetings, and video conferences.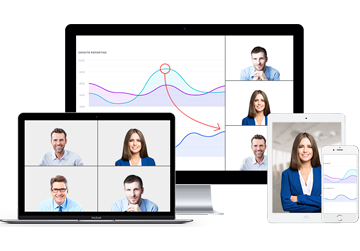 Easy Screen Sharing Software
Free for up to 100 Viewers
Clear and Fluent Screen Sharing
Whiteboard and Co-annotation
Group Video/Audio/IM Chat
Remote Control and Record
SIGN UP FREE NOW
You can get the max out of this application by just download it on your smartphone or browse their site. Joining is very simple and you can get a lot of features for free which you can't get in any other screen sharing tool free software available in the market.
2. Skype
Millions of users from over the planet use this program regularly. Some use it for business correspondence, others for dialogue in video mode, and third to share personal photos and interesting videos.
Almost any user at least once used Skype, but not all are familiar with one very important function. You can set up a screen demonstration via Skype in a quick and easy way.
In some situations, it is required to demonstrate to the interlocutor what is happening on the screen of your computer. In order not to explain in words, spending a large amount of time, a function such as a demonstration of the screen was invented.
This function provides ample opportunities. You can share photos, show presentations, be trained, receive or provide technical assistance.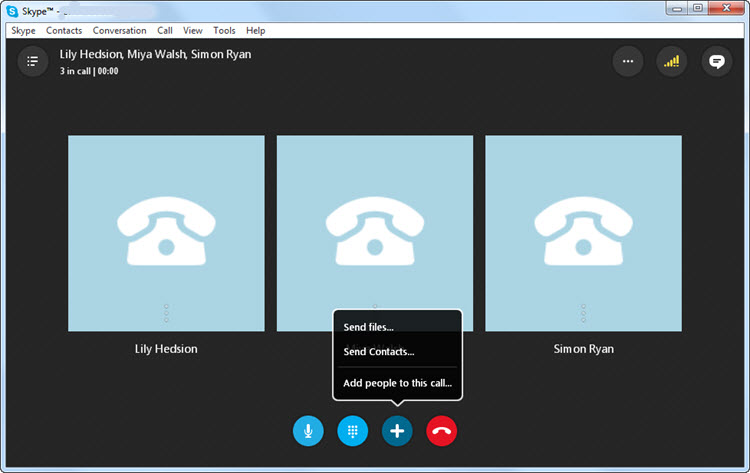 3. Mikogo
Mikogo is another free online screen sharing tool, with the function of demonstrating your desktop in real time. And for this, you don't even need to leave your workplace.
With the help of Mikogo, you can perform a wide range of tasks for business, education or personal needs, including webinars, online meetings, online conferences, screen demonstrations, online presentations, and remote tech support.
With this program, it is always convenient to provide remote technical support to your customers, conduct product demonstrations for partners, and work together on a common project.
4. LinkChat
LinkChat is an online service for connecting to a remote computer. The program offers a demonstration of the screen in one click without going to other sites and installing additional software. Good picture quality is provided even on weak communication channels.
In the free online service LinkChat, designed to show the screen through the Internet, it is now possible to install the screen access widget on your website. It is a new feature that is very convenient for many users. Now clients don't need to go to the website of the service, you can access the screen directly from your personal cabinet. The service is available only to registered users. HTML code of the widget for installation on the website can be obtained in your personal account.
5. Vyew
Vyew has a free account version that doesn't limit you as much as most of other screen sharing software, but it does include ads. It's a browser-based app, and it offers some unique features. Vyew lets users customize the interface colors and logos for branding goals publish conferences on your site or via direct URL and it also has "always-on" meeting rooms.
The standing or "always-on" meetings let you sign in at any time, catch up that has happened since they were gone and it will automatically save and archive the session. The app has a host of interesting and unique features. You can find an exhaustive list on the website.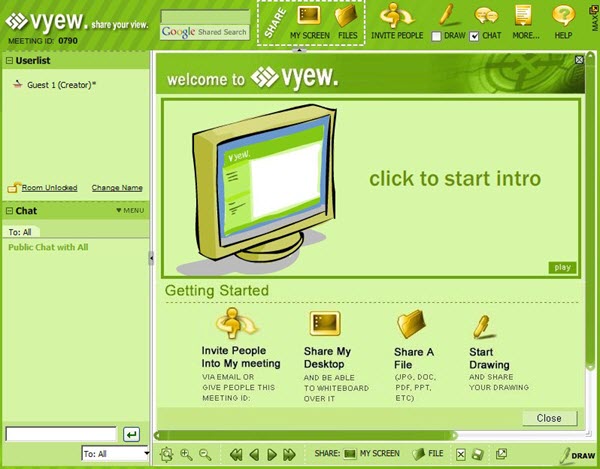 Conclusion
Each of these programs copes well with sharing screen and each has its own advantages. You can use any of the tools listed in this article, but one of the best free screen sharing tool is ezTalks Cloud Meeting.