How to Use Screen Sharing In Video Conferencing
Video conferencing has become a major tool used by businesses to connect with employees,clients,suppliers and partners globally. Using this technology,participants can enjoy live presentations with a number of tools that allow for sharing of information and files in real time. One of the prominent features of a typical video conferencing systems is the screen sharing software. This is simply a program that allows video conference participants to view another computer screen live while the presentation is going on.
Ideally,when you share your screen,other participants will see what's happening on your desktop screen as it happens. They can view documents,videos,websites,graphical presentation or any other information displayed on your computer screen. Using the screen sharing software,you can get everyone on the same page without them having to refer to their manual documents or look for information elsewhere. The good news is that you don't have to go through a lengthy training to know how to enable screen sharing.
When Is It Appropriate to Use Screen Sharing?
Screen sharing can be used in many instances during a live presentation over a video conferencing system. The applications may vary depending on whether it's a business meeting or an educational presentation. Either way,the screen sharing software provides a convenient way to debate on an issue live and get done with.You can use screen sharing feature when doing any of the following:-Making presentations and comparing annual reports
-Carrying out training sessions for new employees
-Demonstrating how to achieve team collaboration
-Carrying out sales demos
-Teaching a class online over a video conferencing software
How to Use Screen Sharing in Video Conferencing
The essence of screen sharing is to get everyone that's attending the meeting to see what you're demonstrating. However,different video conferencing software provide different options for using this feature. ezTalks Meetings offers a quite easy way of using screen sharing during live presentations.
Using this feature,up to 100 participants can view you screen live,if you're using the ezTalks Meetings free pricing and plan. If you're hosting a meeting with the paid plan,then up to 500 participants will be able to view your screen at once.
Here are the detailed steps on how to use screen sharing in video conferencing with ezTalks Meetings.
Step 1. After downloading and installing the software on your computer or mobile phone,you can sign up ezTalks with your email or directly sign in with your Facebook or Google account.

Step 2. While on your live video conferencing page,click on the menu and find the "Share Screen" button. Simply click on the "Share Desktop" and all attendees will see everything on your desktop screen in real-time.
Step 3. If you want to share an interactive whiteboard,you can easily click the "Share Whiteboard" button.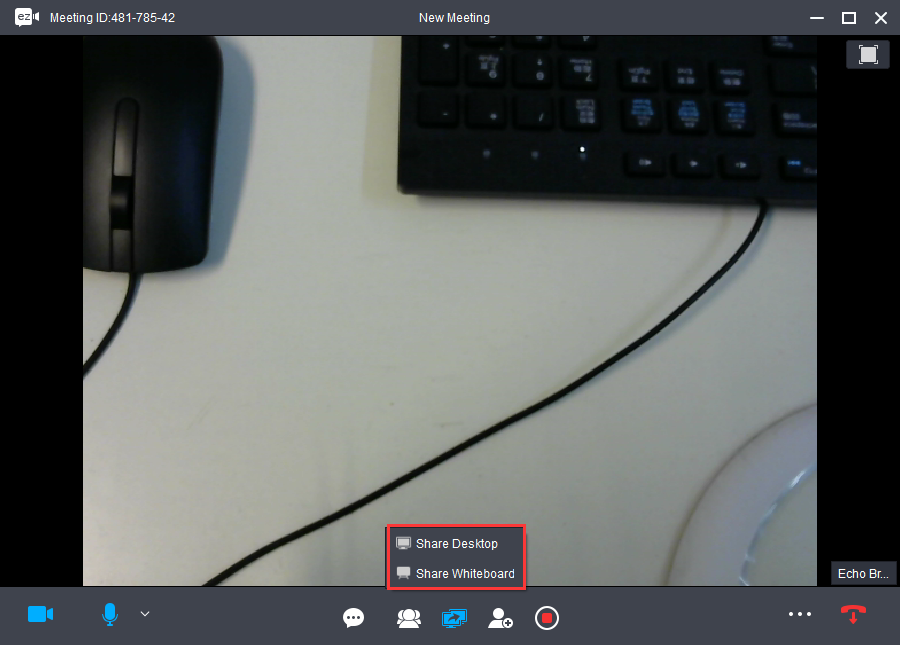 Regardless of the kind of mode you choose to work with,ezTalks will always give you the share toolbar on your screen to help you do so. You can pause,restart and/or stop webinar screen sharing at any time. It's also easier to select attendees to share in the live meeting using the "Control by" button. And what's more,with the annotate option on the menu; you can add notes or diagrams to your presentation to help participants understand your demonstration even more.
Conclusion
Screen sharing is definitely a great tool that aids in making illustrations or demonstrations during a live video conferencing presentation. With a robust screen sharing program,it can be easier to share reports,demonstrate teamwork and even carry out training. ezTalks screen sharing software provides all the tools a presenter needs to bring the point home. And with the ability to accommodate up to 500 participants on the paid plan,it can be convenient and cot-friendly to share vital information with employees or suppliers located anywhere in the world. The screen sharing feature can simply be used for any video conferencing presentation so long as it meets the desired needs of the target audience.