The 7 Best Webcasting Services
With global internet connectivity and advanced computer technologies, communication these days can be accomplished anywhere and anytime. There are many such telecommunication services, and one of them is webcasting. So, what is webcasting services?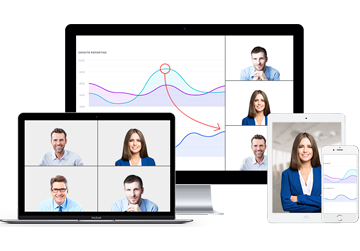 ezTalks - Best Webcasting Service
Free for up to 100 Participants
Fluent Group Video/Audio/IM Chat
Screen Sharing and Whiteboard
Webinar Cloud Recording
Webinar Custom Branding
Sign Up Free Now
Introduction
The term webcasting was derived from a combination of two words: web and broadcast to imply that on-demand or live presentation is conducted over the internet. Viewers can see the actual presentation and actively participate in the session. Most webcast hosting services have had their servers designed uniquely to allow participants from other countries, states, or even cities to field questions and have them responded on a real-time basis. 
Webcasting services have expanded in leaps and bounds to find applications in diverse fields. It should be noted that these advanced telecommunication technologies are no longer restricted to the business world only. Streaming events over the internet are essential to tutors offering online courses & pieces of training, investor presentations, group presentations, strategy marketing & sales training, human resource onboarding meetings, and so on. 
The 7 Best Webcasting Services
Whether you are interested in real-time or on-demand audio or video webcasting services, the very first thing is to find the best webcasting service. While there are tens of hundreds of such platforms, a few of them are great. In this article, we have advanced 7 best webcasting services for effortless online webcast.
1.ezTalks Webinar
It is apparent that ezTalks have had strong roots in unveiling telecommunication service, and now ezTalks Webinar is taking webcasting services to whole new level! With this platform, you will forget about having technicians around since it is incredibly easy to operate. Since its launch, it has found great use for hosting marketing events, online courses, sales negotiations, remote training, and much more.
The followings are some of the greatest webcasting features. First, if you do not have a laptop or desktop computer, you need not to worry as you can still participate in a webcast on a mobile device. Its scalability is immense because it can host up to 10,000 audiences every webcasting session. Secondly, it comes with wonderful tools for audience interaction, which include an interactive whiteboard, text chatting, screen sharing, and polling. Thirdly, it offers cloud storage so users don't need to worry about recording an entire session for later review or later share on other social network platforms.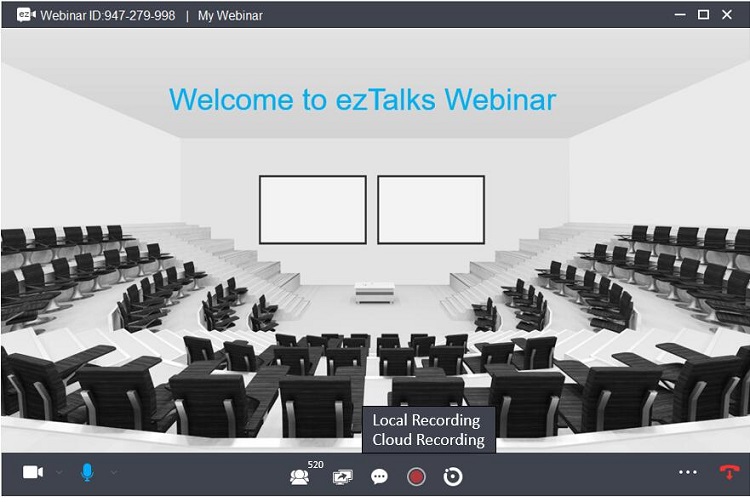 Other features making this webcasting software incredible include automatic e-mail notification custom and Thank-you page allowing organizers to invite and thank participants, showing great respect and courtesy. In addition, since this is a cloud-based product, an audience can record the entire session for future references without worrying about data storage. The most important thing is that ezTalks Webinar is highly affordable and it comes with a free trial service to "test-drive" the product. By virtue of its report and feedback functions, you can analyze your webcast performance easily.
2.ClickWebinar
ClickWebinar offers an award-winning webcasting service thanks to its intuitive and simple interface for presenters and attendees. This product allows users to sign on to the platform and build/host webcasts quickly without going through the hassle of downloading additional plugins. It is easy to set up. This software boasts of flexible tools that gather for a large audience for a given webcast. 
ClickWebinar supports third-party integration, allowing users to integrate with social media platforms and Outlook. This feature enables the audience to send, receive, and act on private messages. Those attending the event can also sign up to the webcast using their Twitter, LinkedIn, or Facebook accounts–the convenience is at their hands! But some users reflect that the whole tool of it is a bit old-fashioned and needs a newer version.
3.Adobe Connect
Adobe Connect is one of the best online webcasting services designed with a heap of sophisticated and versatile tools that make it extremely easy to do your presentations in a professional manner. The teleconferencing capability of this software is enhanced by obtaining or purchasing some extensions, most of which are much more expensive than other competitors. 
This webcasting software allows users to manage all sorts of presentation from a PC device to mobile devices. Just like other great webcasting service platforms, attendees are engaged through taking polls, sharing desktop applications, watching, and listening from your device. 
4.iMeetLive
If you are looking for a cloud-based free webcasting platform, iMeetLive will meet your needs. It has designed professionally to host over 10,000 audiences in a single webcast from anywhere. If you are running out of memory space in your phone or computer, this software has you covered, as it requires no download or installation. Those participating in the session are supposed to join through a URL invite. Audiences using this platform never got bored because the event organizers engage them through surveys, polling, audio & video streaming, and text chatting among others. But the main drawbacks of it are it is not professional enough and it lacks audio/video conferencing. If you prefer to choose the professional webcast tool, ezTalks Webinar may satisfy you better.
5.Cisco WebEx Event Center
WebEx from Cisco is yet another powerful webcasting service ever developed. This one allows up to 8 webcast videos at a go. Event presenters are spoilt with presentation options. Besides using PowerPoint Slides, they can easily share applications with the audience from their computers. The most stunning feature about this software is that it can translate the chat texts into several international languages like Chinese, German, Japanese, French, and Spanish among others. In addition to having everyone understand chats in his or her native languages, this software offers secure encryption as well as optional passwords, thus webcasts are highly confidential.
This webcasting tool integrates seamlessly with MS Outlook, making inviting and scheduling attendees easier. Besides that, users can program follow-up. Please note that the resolution during screen sharing is sometimes affected and you can download other plugins for better screen sharing.
6.GoToWebinar
If you are looking an interactive and user-friendly webcasting service that enables you to present professional web-based seminars to as many as 20,000 attendees, GoToWebinar from the Citrix is your perfect match. It supports up to 6 streaming webcams at a go, ideal for team presentations. Those participating in the webcast can be invited through several options, which include personal invitation, through the service's program, through Outlook integration, via social media, or even during the webcasting itself. 
This platform supports audio participation through VoIP and toll-free integrated audio service. There is also a chat option thanks to its highly interactive e-mail feature. There is Q & A section where presenters can choose to respond to raised queries privately, publicly, or not at all. According to the user reviews, many people cannot receive a confirmation for this as the email is sent to their spam rather than to their inbox, causing a breakdown in communication. Besides, it costs $89 monthly (billed annually at $1,068), resulting in added cost.
7.Webcast Ottawa
Webcast Ottawa is not a kind of software, but a company that supports webcasting services. It is a division of Webcast Canada and is Ottawa's oldest and most experienced webcast team. Webcasting Services Ottawa provided have been growing ever since, based on a commitment to provide full service live and recorded webcasting with high production values.
Conclusion
Do not allow anything barrier jeopardizes your events regardless of the geographical locations of your participants. After careful comparison, ezTalks Webinar out-performs others in online webcast services and usability and is ideal for users who want to reach large audience on a webcam-based environment. Therefore, we highly recommend anyone to consider it if you are want to get optimum performance without necessarily testing other products.