How to Fix Google Hangouts Screen Sharing Not Working
The advancement in the technology and the increased number of smartphone users has made the world compact. The world is now all connected. Also,with the wave of digitalization,the world has witnessed advancement in the ways to stay connected with one another. There are some softwares like ezTalks,Sky,Google Hangouts,etc,which not only allows video calls but also screen sharing features.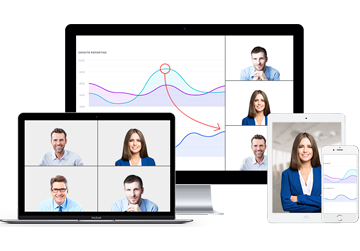 ezTalks Screen Sharing Software
Free for up to 100 ViewersClear and Fluent Screen SharingWhiteboard and Co-annotationGroup Video/Audio/IM ChatRemote Control and RecordSIGN UP FREE NOWFor many of people who are not tech savvy and are still not aware of the various technologies by which we can make video calls and stay connected to our distant relatives,friends,etc. Google Hangouts is one of the easiest platforms that give a whole new experience of communicating with our loved ones with its innovative and unique images,videos.It adds life to the conversation by letting the users use any image,video,emoji. The users also get a feature of video call in individual or in groups,and offer an instant and one-touch connectivity to your wished people but amidst all these benefits that this user-friendly app offers,it also has some problems that sometimes puts a break on the enjoyment of using this app. Here we are talking about one such issue.
Google Hangouts Screen Sharing Not Working:
(There are many alternatives to google hangouts like ezTalks,if you want to try more.) Just like many apps that are available to stay connected and for communicating with the world,Google Hangouts also has its own shortcomings and troubles. One of the troubles that the world witnessed with this app was that the screen sharing feature stopped working suddenly.
This sudden break on this feature of the app made troubles for many people. Some faced issues of not being able to coordinate with their remote clients,users while some had a tough time completing their assignments.
Screen sharing helped the Hangout users to share any item on their screen with their attendees. It eliminated the need of attaching the files over the mail and then downloading the same from the other end. With screen sharing,it became easy for people to share attachments,files,images,etc. instantly to the various attendees.
Some have an opinion that it is because of server failure while some believe that the app has lost its charm and will now be overtaken by its competitors. The real issue behind this problem cannot find out as people are facing many different problems with it. But,we have tried figuring out some of the issues and their possible solutions.
How to Fix Google Hangouts Screen Sharing Not Working:
With many things talked about the problem of Google Hangouts screen sharing not working that many of us are facing we have tried to search how exactly it can be solved or managed to the form that causes a minimal loss in the working.
If you are using Chrome,then you must first remove the extensions followed by adding them back after trying to find the one that is not letting you use the feature.
Try using Google Hangouts with some other browsers.
Other than these methods you can also try clearing the browsing history of the Brower and then restarting it.
You must also try clearing the temporary files that occur in the system when you use the internet for downloading the files.
You can also try to use some Google Hangouts alternatives,likeezTalks,Skype,ooVoo and Facebook Messenger,etc.
These are some of the best possible ways that you can try to overcome the issue of screen sharing not working.
Conclusion:
Like we say one bad chapter does not mean a bad life likewise having one such temporary problem with the app does not make it any less than the other available apps. The unique features and the ease that this app has given us will always remain above all such minor issues and this will not let spoil the image of this great app.
We will recommend all the users who are still having issues with screen sharing of Google to keep calm and look for the best possible solution. Also,if you are not sure if to re-use this app for your working just remember the advantages this app has given to all of us many times. Don't miss out the chance of experiencing the most interactive and the most innovative app just because of any such issues. This too shall pass.
Some things never lose their charm even after facing the toughest battles. Google Hangouts is one such example under this category. We are sure that this app will again gain its earlier popularity and will bounce back again on the top. Till then,let's hang out with hangout once again. Wallpaper Images via Wallpaperkin & Flywallpaper