How To Introduce A Webinar Perfectly?
Webinars are excellent tools to teach a few persons or large audiences. If done well, it can convert to hot leads, increased sales, and business opportunities for the presenter. One of the most important parts of the webinar is the introduction.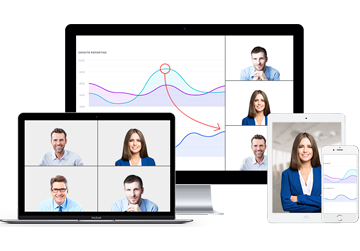 ezTalks Webinar Tool
Free for up to 100 Participants
Fluent Group Video/Audio/IM Chat
Screen Sharing and Whiteboard
Webinar Cloud Recording
Webinar Custom Branding
Sign Up Free Now
A confident, engaging, introduction can make or break your webinar. If done right, it can spread the word and increase attendance to future events. Here's how to introduce a webinar so you get off on the right foot.
1) Creating Your Webinar Introduction
The first step is to create your webinar and the introduction. For this example, we will use the ezTalks Webinar to easily set up the webinar. Once you sign up or download the mobile app, you can create your webinar on the dashboard. Click on the webinar icon. Input the start date, topic, registration, and click publish.
The Waiting Room allows you to insert an image on the cover. Here you can upload an image that covers one or two key points you would like to start off with or. Next, use the webinar agenda section to type in introductory information. This will come up when they log in to the webinar, as well as a customized email invitation you sent.
The best way to introduce a webinar is to keep it short and value packed. Create slides with PowerPoint or Google Slides or prepare webinar introduction script to cover the content.
2) Welcome Your Audience
If you're the moderator, spend a couple minutes introducing the speaker. If you're the speaker, quickly jump into a quick hello, a warm welcome, and introduce any other speakers or panelists. Take a minute to say what you do and your authority to speak on the topic.
3) Housekeeping Rules
Many webinar introductions spend too much time on the behavior expected, how you will handle questions, and social media practice. You can easily lose your attendees here. They are there for value, not to be policed. In a few sentences, cover basic rules, aiming for three minutes or less. If necessary, put on one slide. If you've used the Agenda section in ezTalks to set housekeeping rules, you save valuable time.
4) Immediately Add Value
The introduction is where participants hear what they will get out of the webinar. Spend most of your introduction time here. Reiterate why they joined the webinar and exactly what they can expect to learn. Focus on how you will solve their problems, but not just following other webinar introduction examples.
5) Uploading Your Introduction
The introduction and webinar slides can be shown on your screen with Slides, or PowerPoint. If you're recording the webinar for future use, example an on-demand webinar, you can save your introduction and webinar in the Cloud storage section. Future participants can see the great intro and be intrigued and engaged.
Tips for an excellent webinar introduction
Companies and presenters can have presentations packed with high value. However, if they are unable to introduce the content effectively, they can end up with disinterested attendees. This means lost sales! Here are some extra tips on how to start a webinar introduction.
a) Get in the webinar room early
As the presenter and moderator, you should log into your webinar room at least fifteen minutes before time. Check sound quality, test the audio with someone else, and make sure your slides load. Technical issues can turn your webinar into a disaster. If you spend the first five minutes tinkering with audio, you could lose valuable participants.
b) Set the tone
Engagement is the name of the game. If someone joins your webinar, they not only expect value, they expect some entertainment. Don't sound like a robot. Try to sound upbeat, and excited to share something that can change the lives of participants.
c) Keep it short
Our attention spans are dwindling each year. You have a few minutes to get to the point. Don't spend extra time on housekeeping. Also, spend no more than a couple sentences introducing yourself and why they should listen to you. If it feels monotonous or self-centered, you can quickly lose interest.
d) Keep it clutter-free
In addition to keeping it short, keep any slides that introduce the topic clutter free. Don't list all housekeeping, achievements, and objectives on one or two slides. In fact, your introductory slides should have two or three sentences, max. One slide states what the webinar is about, one describes who you are, and one for any housekeeping rules.
e) Practice
Practice your introduction with your moderator or partner. Get honest feedback on tone, pace, and content. It's difficult to inspire confidence in attendees if you're going through your content at the start. Practice builds conviction. It will help you reach the point where you introduce the content so well that attendees can't help but stick around to hear more.
Conclusion
For your webinar to be successful, it should consist of valuable content, a strong sell (or Call to Action), and an engaged audience. Yet a large part of your audience can miss what you can do if you don't capture their attention with the perfect introduction. Follow these steps on how to introduce a webinar. It can make it fun and engaging and you will see increased success and sales.