EasyWebinar Review and 5 Best EasyWebinar Alternatives
Webinars are a great tool to drive engagement and action in a dynamic way. EasyWebinar is one of the popular platforms for webinar hosting which provides flexible and useful features. Easy Webinar WordPress plugin makes onboarding easy for WordPress users. However, according to EasyWebinar review, EasyWebinar support is not responsive and pricey Easy Webinar pricing plans are unacceptable for startups. Also, some have complained that it's a little bit complex for those using this webinar software for the first time or lacking for technical skills.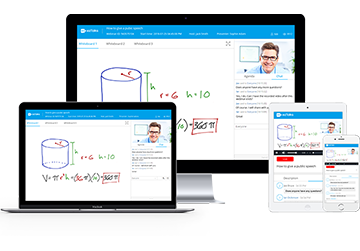 Best EasyWebinar Alternative
Free for up to 100 Participants
Fluent HD Video/Audio Quality
Screen Sharing and Whiteboard
Polls, Survey and Recording
Rebranding and Paid Webinars
Sign Up Free Now
Best 5 EasyWebinar alternatives are listed below, so you can compare the best webinar solutions available.
Best 5 EasyWebinar Alternatives
1. ezTalks Webinar
ezTalks Webinar tops on the list of the best alternatives to EasyWebinar, which is easy to set up and use. It provides a collaborative and versatile platform to host unlimited webinars with outstanding HD audio & video quality in terms of online marketing, online training, team communication, etc.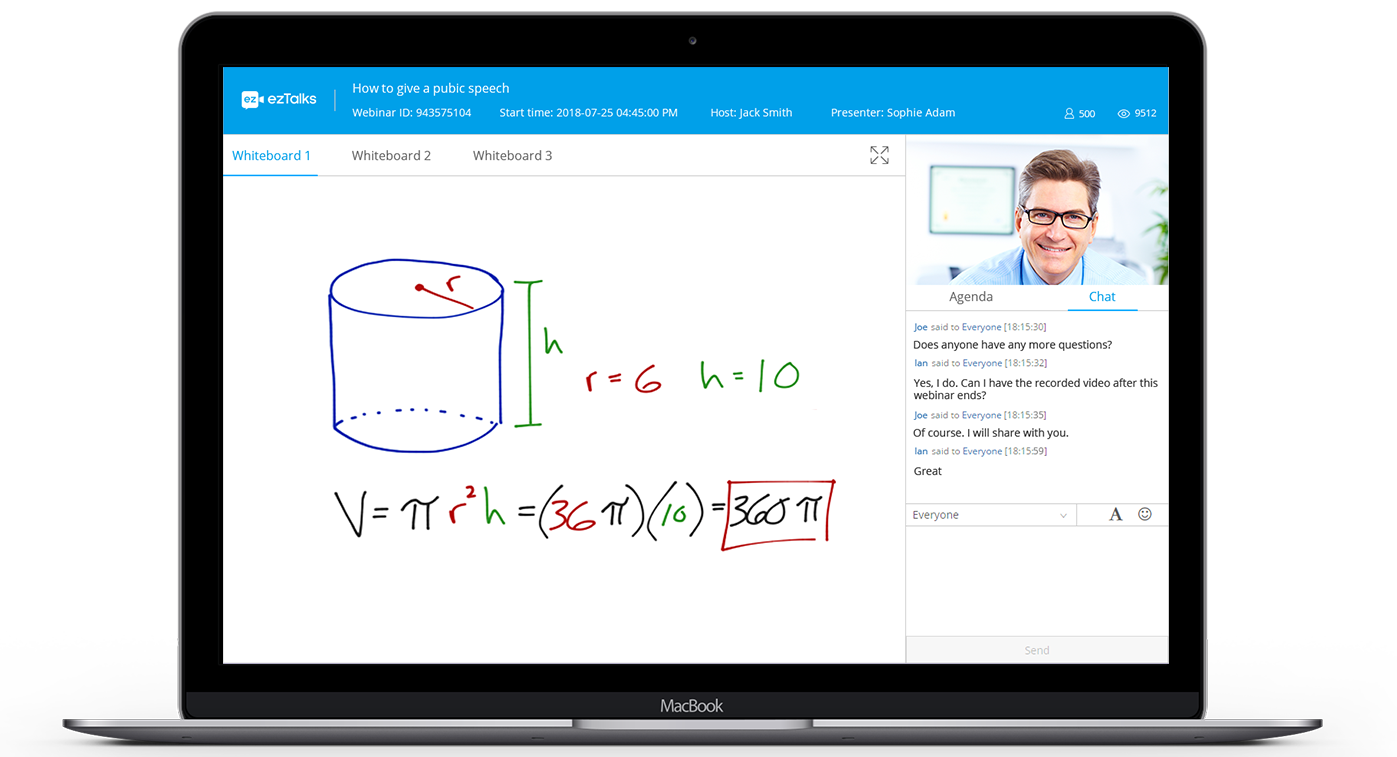 Pros:
★ Better organization, better results.
a) Host up to 10,000 attendees with up to 100 active video participants, accessible on different devices;
b) Collect useful information about your leads by adding custom fields to your webinar registration page;
c) Promote your brand by adding your logo, background image and agenda;
d) Send automated email notification once the webinar is scheduled;
★ More effective communication, more conversions.
a) Screen Sharing - Give your attendees a creative tour through anything you've built;
b) Polls & Survey - Launch polls & survey to get instant results and valuable insights from your attendees;
c) Whiteboard - Use drawing tools, highlighters and eraser to illustrate your ideas and enrich your webinar content;
d) Instant Messaging - Send private messages for confidential communication and send public messages for active discussion without disrupting the flow of the webinar presentation.
★ More stable relationships, wider impact.
a) Record virtual events and share them on social media such as Facebook, Twitter and YouTube to increase their reach;
b) Get essential analytics by virtue of its strong reporting feature to track the trends and attitudes, improving your next webinar performance.
Cons:
Sometimes you should update the app before launching.
Price:
In addition to the free trial version, it starts as low as $21.67/mo/host for up to 25 participants and $40/mo/host for up to 100 interactive participants.

If you are going to conduct high-quality webinars with fantastic pricing plan and want to keep steps simple and efficient, ezTalks Webinar must be the best choice to go for.
2. WebinarJam
WebinarJam is also one of the EasyWebinar alternatives. As for Easy Webinar vs WebinarJam, though they come from the same company, the latter focuses more on live webinars. It offers plenty of interesting features and tools like scheduling events, creating webinar registration pages, sending automated emails etc.
Pros:
a) It is good for webinar live streaming online as it supports broadcasting to Facebook Live and YouTube Live;
b) It is accessible to get whiteboards, hand-raising, quizzes, and attendee management when you are inside the webinar;
c) Fully compatible with Windows, Mac and even Linux operating systems, your webinar can be seen easily even through any modern browser like Chrome, Firefox, Edge and Internet Explorer.
Cons:
a) Pop-up ads may frequently appear on your displays once you go for the official website.
b) It only allows up to 6 co-presenters in a session.
Price:
WebinarJam price starts at $39.99 per month (only when paid annually).
3. WP WebinarSystem
WP WebinarSystem, like EasyWebinar Plugin, is also a WordPress Plugin, meaning you can host webinars directly within your WordPress site. You can organize live webinars, create automated evergreen webinars and even sell webinar tickets.
Pros:
a) You can organize live webinars with Hangouts on Air, Youtube or Vimeo;
b) You are able to customize the styling of every webinar page;
c) It has a replay available for registrants that missed out on the webinar;
d) Live chat feature allows attendees to ask questions during the live event.
Cons:
a) It may be a complicated webinar hosting process for those who don't have a WordPress account;
b) Very limited features are available for the free version;
c) You should pay much more for more necessary features.Price:
Price:
Lite: Free (although very limited)
Single Site: (has all the features just only on one site) $197/year
Agency with Multisite: $497/year
4. Webinato
Webinato is another EasyWebinar alternative which focuses purely on pre-recorded and automated webinars. It offers the hosted webinar service that is going to enable you to achieve much more with your marketing or training webinars.
Pros:
a) It has no software to install and is easy to use and set up;
b) Webinato has an easy user interface to navigate and smart skin makes your webinar style like your website;
c) You can save time by pre-recording webinars and running them on AutoPilot.

Cons:
a) Only 60 hours usage/month and 20 AutoPilot recordings for each type of pricing plan, not sufficient for most organizations;
b) No free trial version is available and its pricing plan starts at an expensive price.

Price:
Small: $119/room/month if paid annually or $170 month to month
Medium: $249/room/month if paid annually or $356 month to month
Large: $399/room/month if paid annually or $570 month to month
XL: $600/room/month if paid annually or $999 month to month
5. GoToWebinar
When you compare Easy Webinar Vs GotoWebinar, you can find GotoWebinar has more highlights. GoToWebinar is equipped with a rich set of tools, allowing you to create powerful presentations.
Pros:
a) It allows you to share eBooks and course materials;
b) It enables you to promote your webinar with our custom webinar invitations, registration page and automated email reminders;
c) It is possible to integrate with your marketing automation, CRM and more to manage everything in one place.
Cons:
a) There is only 128-bit AES encryption for protecting the webinar in progress;
b) It only provides a free 7-day trial;
c) Its pricing plans are quite expensive. Its Starter Plan costs $109/month with limited features.
Price: 
STARTER: $109/month
PRO: $249/month
PLUS: $499/month
Conclusion
If you want to increase your leads or enhance your sales funnel by introducing webinar platforms better than EasyWebinar, there are lots of alternatives to EasyWebinar to consider. Considering different kinds of needs like cost, features, functionality etc., ezTalks Webinar is definitely your solid choice.