How to Make Online Presentation during Video Conferencing
Modern technology is making business transactions and collaborations easier. Communication is an indispensable and vital role in every organization. There is always a need to connect, share, and collaborate with the different people behind an organization. Such communication involves the sharing of presentations in meetings. Traditionally, this is done with the audience physically present inside a room. However, video conferencing software make it possible to deliver online presentation.
As a business or organization, it is important to learn how to make online presentation during video conferencing. Here are the steps and advantages in making a successful online presentation.
How Can A Video Conferencing Tool Make Online Presentation Easier?
Video conferencing tools make meetings and collaborations easy and effective. It is not only limited to business use. Video conferencing is also becoming popular in schools and other institutions that have frequent and heavy communication and document sharing needs. Anyone with internet access can successfully make presentation online.
Making presentation online is easy and simple. It doesn't need an expert to make online presentations in a video conferencing tool. More and more business owners, educators, leaders, and even ordinary people have appreciated the good things about video conferencing. For more information, our list below shows how a video conferencing tool makes online presentations easier:
• Online presentations are accessible.
Sharing presentations to clients, employees, colleagues, or anyone from an organization is easy. All you need is a video conferencing software to connect and collaborate. By virtual attendance, it minimizes the cost of traveling from place to place for just delivering presentations or watching one.
• Video conferencing enables you to keep track of things.
Meeting participants in a video conferencing offer you options that can help you keep track of things. You can refer back to certain points of a presentation. With video conferencing, you can ask the meeting host for clarification on certain slides. As a video conferencing host, you can also provide for a better presentation.
• Video Conferencing provides real-time communication.
Perhaps one of the best advantages of video conferencing is the way it connects people real time. Most video conferencing software can include multiple meeting participants for real-time delivery of presentations online.
• Video Conferencing lets you share presentations for a wider audience reach.
You can keep track of virtual meetings in a video conference and share it through different media platforms. This will let you have a wider audience reach.
• Video Conferencing helps you remember presentations effectively.
Most video conferencing software gives its users the option of recording virtual meetings. Unlike traditional meetings, you can easily record the online presentation and get back to it at a later time.
How to Make Online Presentation during Video Conferencing with ezTalks Meetings?
Your geographical location will no longer be an obstacle in delivering presentations. Whether you are located anywhere around the world, you can still manage to present your ideas to anyone. There are different kinds of video conferencing software available. These video conferencing tools also allow online presentations. However, not all of them can deliver it with precise clarity and uninterrupted speed.
ezTalks Meetings is an all-around video conferencing software that is used by large companies nowadays. It has reliable and useful features for sharing data. It is easy to install and it also has simple features.

1. Once you have downloaded the ezTalks Meetings software, log in to your ezTalks account on your computer or device.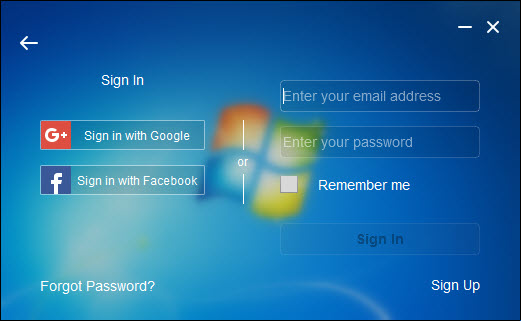 2. Navigate to the live video conferencing page.
3. Look for the"Share Screen"button and click it.
4. Then, click on the"Share Screen"button for real-time sharing for all video conferencing participants.
5. Open your presentation as the screen is shared with all participants.
Making online presentations during video conferencing is possible and beneficial to any business or organization. A video conferencing software is a useful tool for successful communications and better idea sharing. It is a worthy investment that can help you in the long run.