What Is Phone Conferencing?
From the last several years,several inventions of new technologies and software have changed our day to day user experience and made it easier. Phone conferencing is one of them which turn our business solutions and interaction easy and innovative.
What Is Phone Conferencing?
Phone conferencing definition is that it is the form of meeting and conferences online through the web. The host can host any meetings,conferences or seminars via mobile phone. The most convenient benefit of phone conference is that you can host or join any meeting from anywhere and anytime. You don't have to waste any time or money for traveling purpose.
What Are the Advantages of Phone Conferencing?
If you run a business and want to host a meeting with your clients or teammates to discuss the launch of your new product or want to share a business plan with your teammates located in various places,the best option is to host meetings online. This will allow you to interact with them no matter where they are. Here are some of the benefits that you can find about phone conferencing.
Ease of use: Most of the phone conferencing software are user-friendly. Thus,you don't need to be an IT person to use the software.
Convenient: You can host or even participate in any of the meetings and seminars from anywhere you are. You don't need to expend your time and money for the travel. You can join the conference from wherever you are. This is one of the best benefits of phone conferencing.
Interaction face to face: This is sometimes very important to interact face to face to understand the thought of a team member or a new client. This,in turn,helps you to gather the knowledge about that person before you assume something in your mind. Phone conferencing gives you the opportunity to do that as well.
Cost effective: Most of the phone conferencing software are very cheap and cost effective. Thus,you don't have to spend a lot of money on your business meetings or conference. It even saves the cost of traveling expenses as well. Here,ezTalks Cloud Meeting is the clear winner among all the competitors as this conferencing program gives you the maximum benefits from all the other programs for free.
ezTalks Cloud Meeting – the Best Phone Conferencing Software
In the part mentioned,we have introduce you the phone conferencing definition and advantages brought phone conferencing. By now,the best phone conferencing software available in the market is ezTalks Cloud meeting. This is the software which gives you maximum benefits for free. Through this software,you can access multiple useful tools to use while you are joining your conference or hosting one. Here are the few features which you can get free of cost.
• It allows you to make HD audio and video calls and conferences with the team members no matter where they are.
• You can record your conference and video seminars for your future purpose.
• ezTalk Cloud Meeting allows you to send text messaging privately or publicly with the members of the conference.
• Scheduling,rescheduling and cancelling any meeting can be possible with reminders for the conference members.
• Sharing your screen for better interaction is very easy and convenient to use.
• Some of the great tools like interactive whiteboard feature,remote control feature,are also available for free.
• This app supports all the platforms like iOS,Android,Mac or Windows. No matter which device you use,ezTalks Cloud Meeting supports it.
• The most amazing feature is – you can add up to 100 members in your conference for free. This is the best feature which you can't find in any of other phone conferencing programs for free.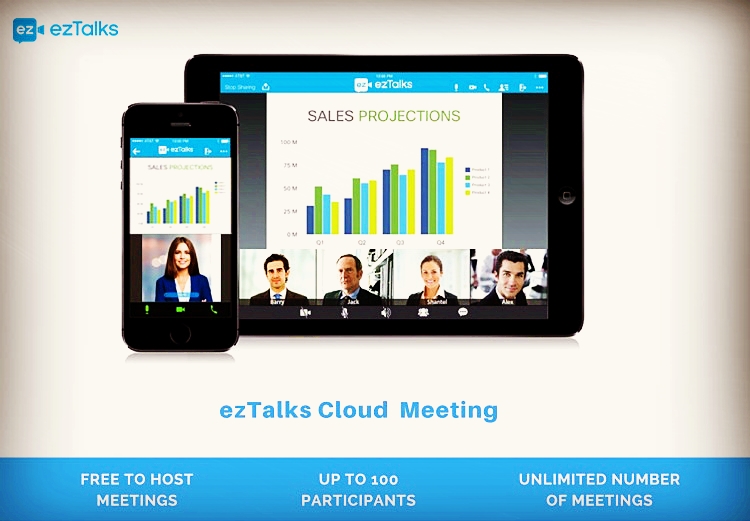 So,to experience the best phone conferencing program,use the ezTalks Cloud Meeting. This will indeed help you take your business to another level.