What Is Video Conferencing Interview And How It Works
With the increasing popularity of the video conferencing interview,many companies have adopted the use of video conferencing interviews. This social,mobile and cloud technology has changed recruitment tremendously. This technique also allows interviewers to meet and interview many more candidates than those in normal face-to-face interviews.
Part 1. What Is Video Conferencing Interview?
What is exactly video conferencing interview definition? Video conferencing interview is a kind of conference call that connects the candidates with companies that are in different locations. This advance brings technology to the workplace in the best way. It minimizes travel and other expenses,but still allows interviewers to meet the candidates using a human-like interaction.A video conferencing interview is just like any other face to face interview. The only difference is the fact that technology bridges the distance between the interviewer and candidates. Just like a telephone call,a video conferencing interview has multipoint that allow two or more people in different locations to take part in the interviewing process. The interview can be conducted from a desktop at work,a home computer,laptop,smartphone or a tablet.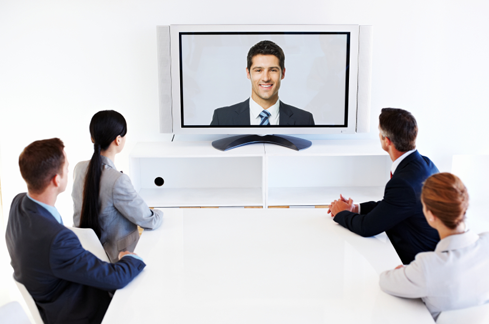 Part 2. Why Use Video Conferencing Interview?
By conducting video conferencing interview,companies can equally enjoy cheaper remote hiring costs and a better engagement with its candidates. Video conferencing interview also creates better experiences for the candidates. They can be able to diligently answer all questions without feeling nervous as they are not sitting in front of a live panel.
· Convenience
Companies can be able to organize interviews and set up logistics in a virtual conference room with lesser logistical resources and in a shorter time period.
· Save Time
A video conferencing interview does not just save money,but also saves time for both interviewers and candidates. There won't be any need to travel and interviews can be fit into a single day's work.
· Create A Comfortable Interview Environment to Outperform
Video conferencing interviews do not give the interviewers a chance to really connect with the candidates. It allows candidates to communicate with the company's interviewers without tension at comfortable home. This helps the candidates perform well.
· High Productivity
Video conferencing interviews improves productivity by shortening interview processes and selecting the best candidate on the internet no matter whether the candidate are located or not.
· Interviews Are Recordable
Video conferencing interviews are easy to record. As such,interviewers can use these recordings if they need to refresh themselves about the interviews.
Part 3. Make Adequate Preparations for A Video Conferencing Interview
For a successful video conferencing interview experience,the following should be considered:
· A Quiet Background
Any distracting background noises like incoming calls,should be avoided in order to maintain focus from both ends during the video conferencing interview.
· Maintain Eye Contact
By looking directly at the candidate,the interviewers will be able to leave a good impression on the candidate.
· Have A Clear Microphone
Before the video conferencing interview,the interviewers should test their microphones in order to maintain a clear communication channel between the candidate and them.
· Prepare All the Right Questions
It is important to have all the right questions before an interview. The company should prepare all behavioural,situational and open-ended video conferencing interview questions that require answers.
· Always Be Professional
Interviewers should not neglect the video conferencing etiquette and get relaxed in the way that they conduct a video conferencing interview just because the candidate is not physically present. It is important to maintain the same level of professionalism and importance as a face-to-face interview.
More information on preparing for video conferencing interviews>>
Part 4. How to Conduct A Video Conferencing Interview
To conduct a video conferencing interview,interviewers ought to rely on a third-party tool,like ezTalks Meetings. It is a professional and easy-to-use video conferencing software that allows interviewers to host interviews on online easily.
What ezTalks Meetings Stands Out:
· Provide HD video and crystal-clear voice.
· Provide a brief interface for easy handle.
· Integrated with screen sharing,whiteboard sharing,voice control,text messaging and many other features.
· Support recording functionality for the recording of interviews.
· Work well on Windows PC,Mac,iOS and Android devices.
Fully compatible with an all-in-one video conferencing equipment - ezTalks Onion.
Steps to Conduct Video Conferencing Interview with ezTalks Meetings
Step 1. Download and Run ezTalks Meetings
To conduct a video conferencing interview,first of all,both interviewers and the candidate should download and install ezTalks Meetings on Mac,Windows PC,or Android/iOS devices. Run it. For interviewers,they must log into ezTalks Meetings by creating an ezTalks account or signing into with Facebook or Google account. For the candidate,he doesn't have to sign up for ezTalks Meetings. Instead,he can directly join the video conferencing interview.

Note: If you're a Windows user,click the button above to download and install ezTalks Meetings. Otherwise,click ezTalks Download center to download a Macintosh,iOS or Android version.
Step 2. Conduct A Video Conference Interview
After running and signing into ezTalks Meetings,the interviewers come to the main window. Click Start Meeting to enter a virtual video conferencing interview room. Then,contact the candidate and invite him to attend the video conferencing interview by sharing him the interview room ID or sending him an email. When the candidate is in,interviewers can start the interview in no time.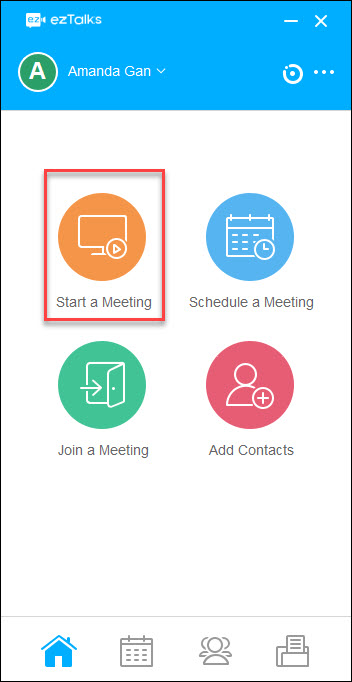 The above mainly emphasizes on what is video conference interviews and how to use it. Video conferencing Interview is very helpful and attentive to companies' needs. It helps companies' interviewers screen candidates more thoroughly without having to bring them into companies' offices,which enables companies to hire more outstanding employees.