Use of Telecommunication in Business Today
Telecommunication technology has advanced drastically over the past few years. That has been largely fuelled by the growth of internet networks,computers,wireless telephones and telecommunication applications. These advancements have not only affected the way individuals communicate but also improved how businesses carry out their operations.
For any business,reliable and timely communication within and outside the organization is a critical part of success. And to facilitate that,a business needs to have a robust communication system in place. An entire telecommunication setup may constitute computers,video conference equipment,teleconference software,internet-based communication platforms or business-oriented applications. All these tools can be used by both small and enterprise-level businesses to achieve their communication needs.
Why Are Telecommunication Tools Valuable to Businesses?
Today's telecommunication offers a range of tools that can be used by businesses to connect with employees and customers from all over the world. Apart from the traditional voice calls,companies can use video conferencing,video calling,telepresence video streaming and data sharing applications to communicate with major business players. The value derived from the use of these tools is far much greater than any business would think.The following are some of the major benefits that any business can enjoy from adopting the latest telecommunication system and tools:
1. Cost Savings
The use of telecommunication technology has allowed many businesses to save more while enjoying efficiency in communication. For instance,using video conferencing systems,company employees can connect and interact with their colleagues from different locations in real-time. There's no need to book flights,hotel rooms or meeting space. Meeting participants can simply interact on an online-based virtual space.
Video conference software like ezTalks Cloud Meeting,can allow a business to invite up to 100 participants to join in a meeting from different locations simultaneously. This package is usually available for free. On the other hand,ezTalks paid plan allows up to 500 people to meet over a video conference system at once. With such huge meeting capacity,a business can maximize on employee interaction while saving money that would have otherwise been used to organize for physical meetings.
2. Time Saving
With the use of such tools as computers,smartphones and video conference systems,sending and receiving messages in real-time is more efficient than ever. For instance,using an audio or video call system,a customer can present a complaint to the support team and have the problem solved immediately. Telecommunication also makes it easier for a business to link with employees,suppliers and partners from any location in the world instantly. And what's more,with the use of video conferencing systems and telepresence video streaming,participants can enjoy interacting with one another as if they were in the same room. That eliminates the need to travel,book meeting rooms or send emails,which often consume a lot of time.
3. Team Collaboration
Cross-functional team collaboration is a critical aspect for the success of any business project. Whether a company is working on a new product,corporate initiative or marketing campaign,getting employees from different departments to share ideas is important. And to ensure all key employees are involved,regardless of where they're located,it might be necessary to host meetings through video calls or video conference systems. With ezTalks Cloud Meeting,a team of employees can interact through full HD audio and video streaming. They can also enjoy screen sharing,applications,whiteboards and other files that might be important for the project. That can facilitate detailed discussions that can inspire the success of the project.
4. Flexibility
The use of telecommunication systems and tools in business has brought flexibility to the workplace. Today,employees can not only enjoy working from home but can attend corporate meetings from anywhere and at any time. That's largely facilitated by video conferencing,video calling and telepresence systems. Such flexibility not only saves on time and money but also leads to improved performance.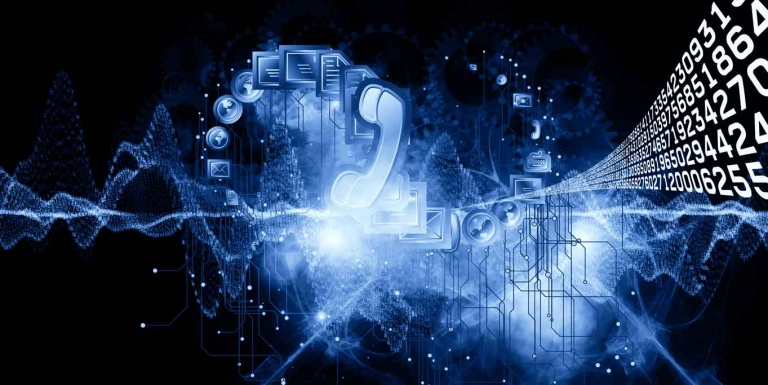 Use of Telecommunication in Business
1. Information Transmission
One of the most basic functions of a telecommunication system is transmission of information. Using this technology,people can transmit information through video conferencing,interactive television,instant messaging,email and more. These modes of communication can allow users to gather,analyze,share and synthesize information in a variety of ways. With proper data transmission channels,a business can easily coordinate the major functions of the company to steer performance and success.
2. Customer Support
Telecommunication is an important part of any business or organization's customer support. Using a robust call management system,it can be easier to handle incoming calls from different customers. The customer support team won't even need to worry of busy lines as calls can be routed to other employees with skill and expertise to deal with the issues. Customers are always free to make inquiries,complaints and recommendations through telephone lines or emails. That plays an important role in reinforcing business-customer relationship.
3. Marketing and Advertising
The growth of telecommunication technologies has really transformed the way businesses market and advertise their products and services. Nowadays,a company can advertise or market its products through telephone calls,social media networks and other online-based platforms. By sharing commercial images and videos over telecommunication platforms ca business can help expose the target audience to its products and services. And if the information is well-packaged,it can do much in generating more sales and expanding the customer base.
4. Business Reporting
Creating annual reports is one of the ways of showing how a company has progressed over a certain period of time. A business might have several branches all over the globe and may need to assess the reports from each station. The only viable way to get a real-time update of the progress report and discuss it can be through video conference system.
Presenting a report through a video conference,particularly a telepresence system,can make the presentation lifelike and sharing of report files more convenient. For instance,ezTalks Cloud Meeting can allow for instant sharing of screen,applications and files related to a given report. With this form of reporting it is easier to get every attendee on the same page and make them follow through the presentation quite easily. In fact,with this form of reporting,senior management won't even need to go to their emails to download and view annual reports.
Conclusion
As you can see,adopting a robust telecommunication system can help a business improve on major aspects of its operations. While some of the benefits of using telecom systems are immediate,others can be realized in the long term. But one thing is clear; a business working with the latest telecommunication systems can save a great deal of money and time in organizing for meetings. A company can also take advantage of team collaboration and marketing & advertising opportunities that come with these systems. Achieving all these aspects of operation can facilitate efficiency,improve collaboration and inspire performance and growth in the long run.