Polling during a meeting on ezTalks iPhone app
ezTalks has been sustaining the improvement of quality and features of the video conferencing software. Polling during a meeting,which is an amzing feature has been released on the ezTalks iPhone app. This feature is available on ezTalks Android and iPhone apps,and will be coming soon on Windows and Mac apps.
Part 1 Why polling is important during a video conference?
Video conference requires more interactive communication to make sure all the participants are concentrated on the topic. Polling is an important way of interaction during a group video conference. The host can get a quick collection of opinions on a subject by launching a poll. And it gives the participants a chance to speak for themselves instead of letting one person speak on behalf of all.
Part 2 How to launch a poll on ezTalks iPhone app?
ezTalks iPhone app allows you to launch polls during the meeting. The steps are quite simple:
1. Launch a poll during the meeting
2. Make your topic/question with single or multiple options
3. Send the poll to the participants
4. Check the polling results
You can make more than one poll during a meeting for different topics/questions as below: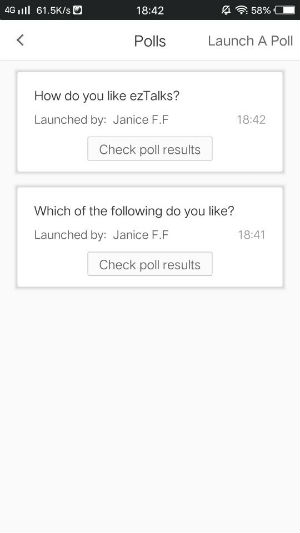 Read this article to get the detailed steps of how to launch a poll on ezTalks iPhone app.
Download the app now: